The Shopify app store is one of the major benefits of using Shopify to run your e-commerce business. It contains more than 4,200 apps that Shopify users can use to customize their online store to their exact needs. With Shopify apps to build your online store, handle email marketing, keep inventory organized, and more, there are plenty of apps to choose from to help run your online store. While Shopify apps are free and some cost money, not all apps are created equal. Just like there are some amazing apps for free, there are also some paid apps that aren't worth the investment. Instead of letting you figure it out yourself, we've outlined the best Shopify apps to increase sales in 2022. This list includes must have Shopify apps from all categories, across multiple price points, for entrepreneurs running online businesses on Shopify.
Best Shopify Apps for Dropshipping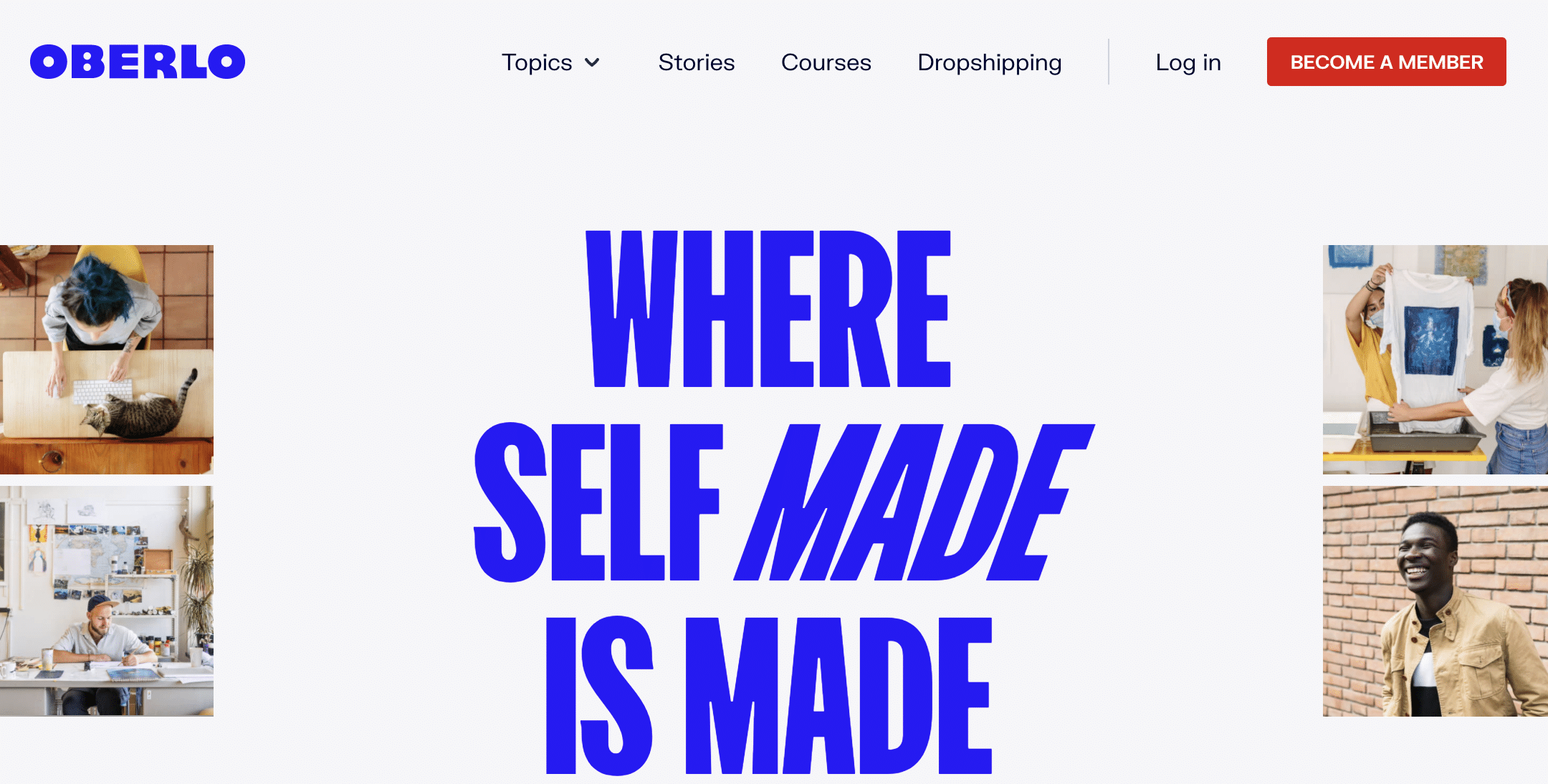 Shopify-exclusive app, Oberlo is one of the free shopify apps that makes it easy to upload products from AliExpress and the Oberlo Marketplace into your Shopify store. With a variety of products from clothing to electronics, you can easily find products that work best for your brand and bring in good profit. Because it is a Shopify-specific app, it integrates seamlessly and simplifies the many steps usually involved in running and setting up a dropshipping store.
Key Features and Benefits Oberlo?
Access to millions of products to dropship
Seamlessly import goods from the Oberlo marketplace and Aliexpress directly to your Shopify store
No need to manage or keep inventory
Orders are automatically fulfilled and shipped on your behalf without any work on your end
Easily customize product listings in your store
Pricing: Starts with a free "Explorer" plan for up to 500 products with unlimited monthly orders. The paid "Boss" plan is $29.90/month, allowing you to have 30,000 and additional features.
Spocket

With the Spocket app, you can source affordable products from all over the world for your Shopify dropshipping business. With this Shopify app, it just takes one click to add products to your Shopify store. The products available on Spocket are sold to you at a deep discount of up to 60%, meaning higher profits than many other dropshipping suppliers. Plus, if you want to focus on products that can ship quickly, you can filter by suppliers that are US or EU-based.
Key Features and Benefits of using Spocket
Access to vetted dropshipping suppliers based in the US or Europe for faster, more reliable shipping times for your customers
Ability to order samples in your Spocket dashboard to test out products yourself
Branded invoicing so you can represent your unique brand name
No upfront cost to get started
24/7 support team available when you need them
Pricing: Free to sign up and browse, but their lowest plan to start selling is $24/month for up to 25 unique products in your Shopify store.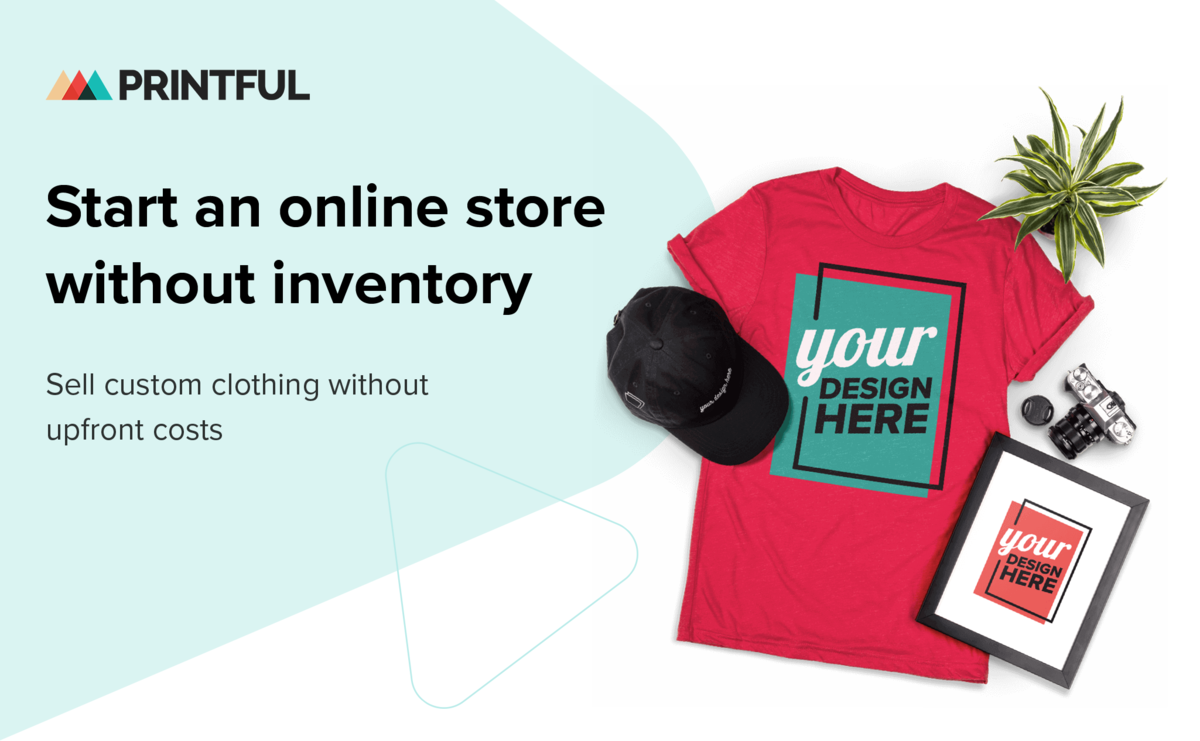 Dropshipping print on demand products is the best (and easiest) way to launch your own custom designs without having to pay for, or carry inventory. Printful makes this easy and the Printful app for Shopify integrates directly with your online store. Once you've chosen your products, uploaded some designs, and published them in your Shopify store, the hard part is done! Once an order is placed by a customer, it'll automatically be sent over for production at Printful who will fulfill the order and ship it to your customer on your behalf.
Printful app key features:
Integrates directly with your Shopify store so orders are sent to Printful automatically
Printful does all the printing and shipping for you
Tracking is provided to your customers to reduce inquiries about when an item will arrive
Printful provides a mockup generator on their website to visualize your designs on their products
Pricing: Free shopify app, you just pay for the products that actually sell.
Best Shopify Apps for Conversion Optimization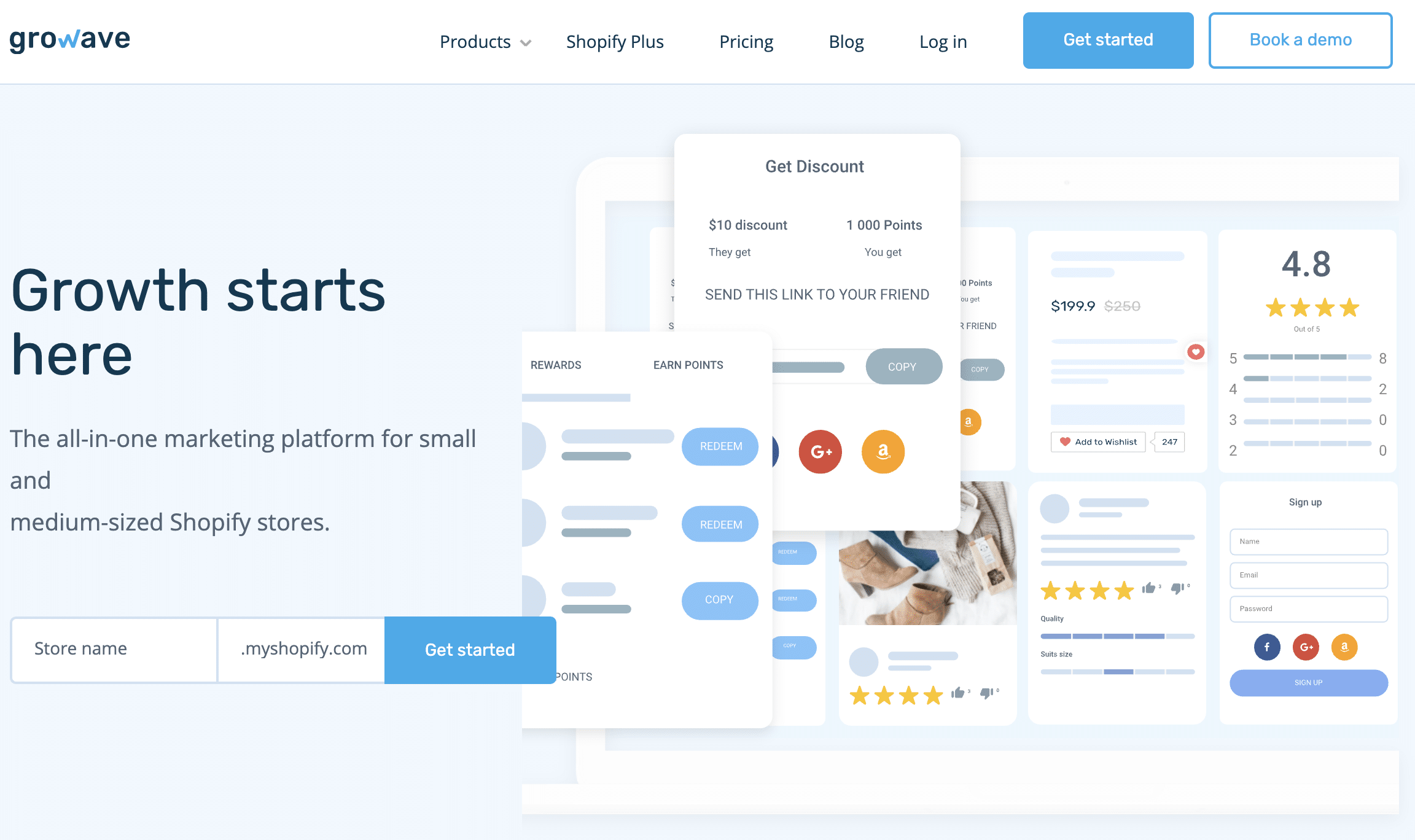 GroWave is an all-in-one marketing app for Shopify designed to help small and medium Shopify stores with marketing to increase their conversions. GroWave guides you through the process of optimizing your site by driving conversions, boosting sales, and building customer loyalty. To do this, GroWave adds powerful tools to your Shopify store with one multi-functional marketing app.
GroWave Key Features:
Collect reviews automatically to share across your website, social media, and google search, google shopping
Loyalty program to increase repeat purchases and reward repeat customers
Wishlist feature makes it easy to send targeted emails to customers
Use Instagram feed and user-generated content to convert visitors into buyers
Pricing: Free plan available with reviews and wishlists. Premium plans start at $29.99/month for additional features.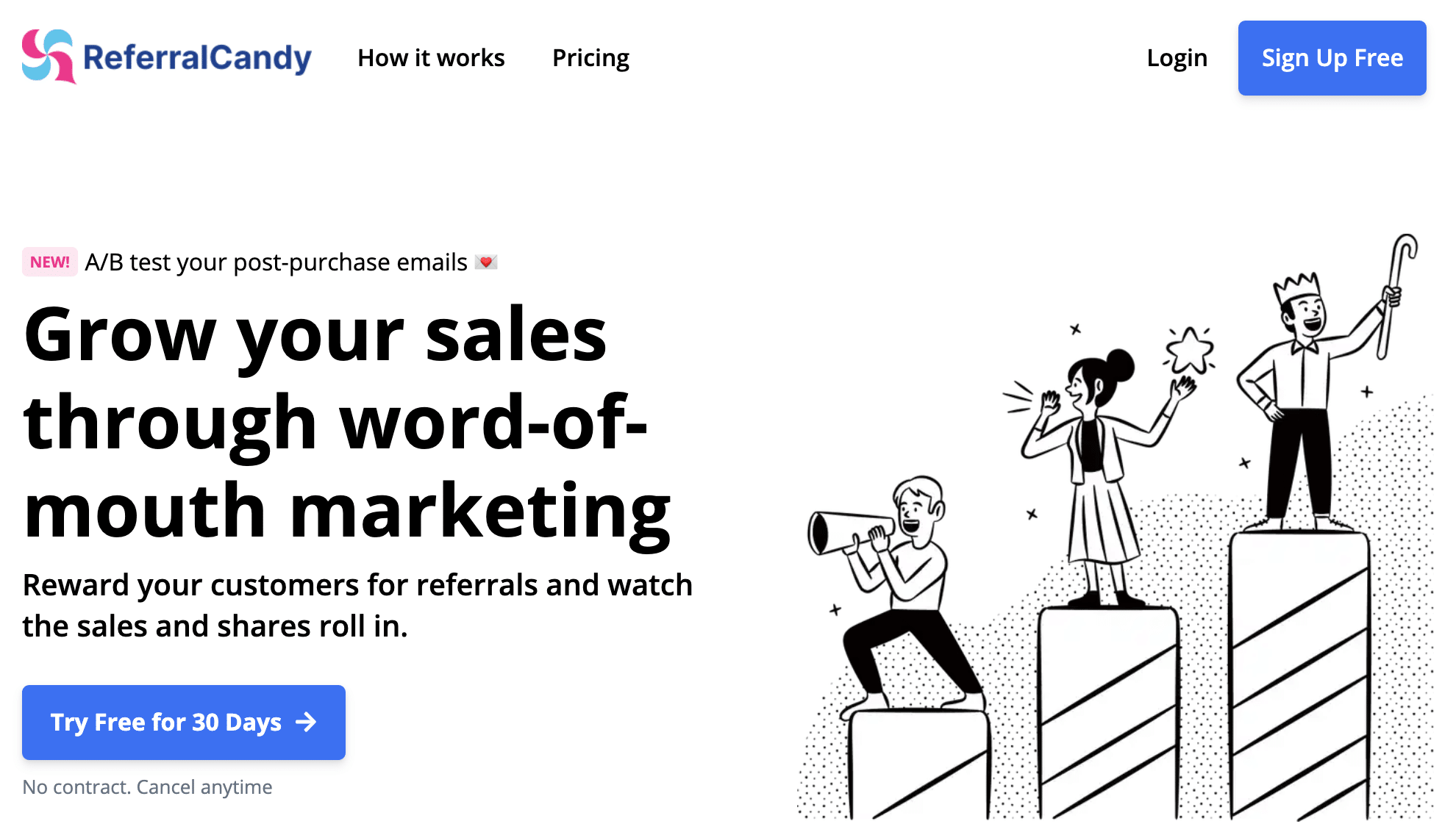 Referral Candy is one of the most popular marketing apps for Shopify. With Referral Candy, you can increase your sales through word-of-mouth marketing. It's a simple strategy that drives sales by building a rewards program into your Shopify store. With Referral Candy, you can encourage satisfied customers to share personalized referral links across social media and email to help market your store and earn cash rewards, store discounts, or custom gifts.
Key Features and Benefits of Referral Candy:
Rewards are automatically paid out to save you time and effort
Provides analytics to track traffic sources and your top referrers
Customizable reward options such as cash rewards, discounts, or even custom gifts
One-click integration to Shopify so you can get started right away
Pricing: The premium plan is $49/month plus commission based on your monthly referral sales driven by Referral candy. Tiered commission rates range from 5% for your first $1,000 earned down to .25% for everything above $100,000.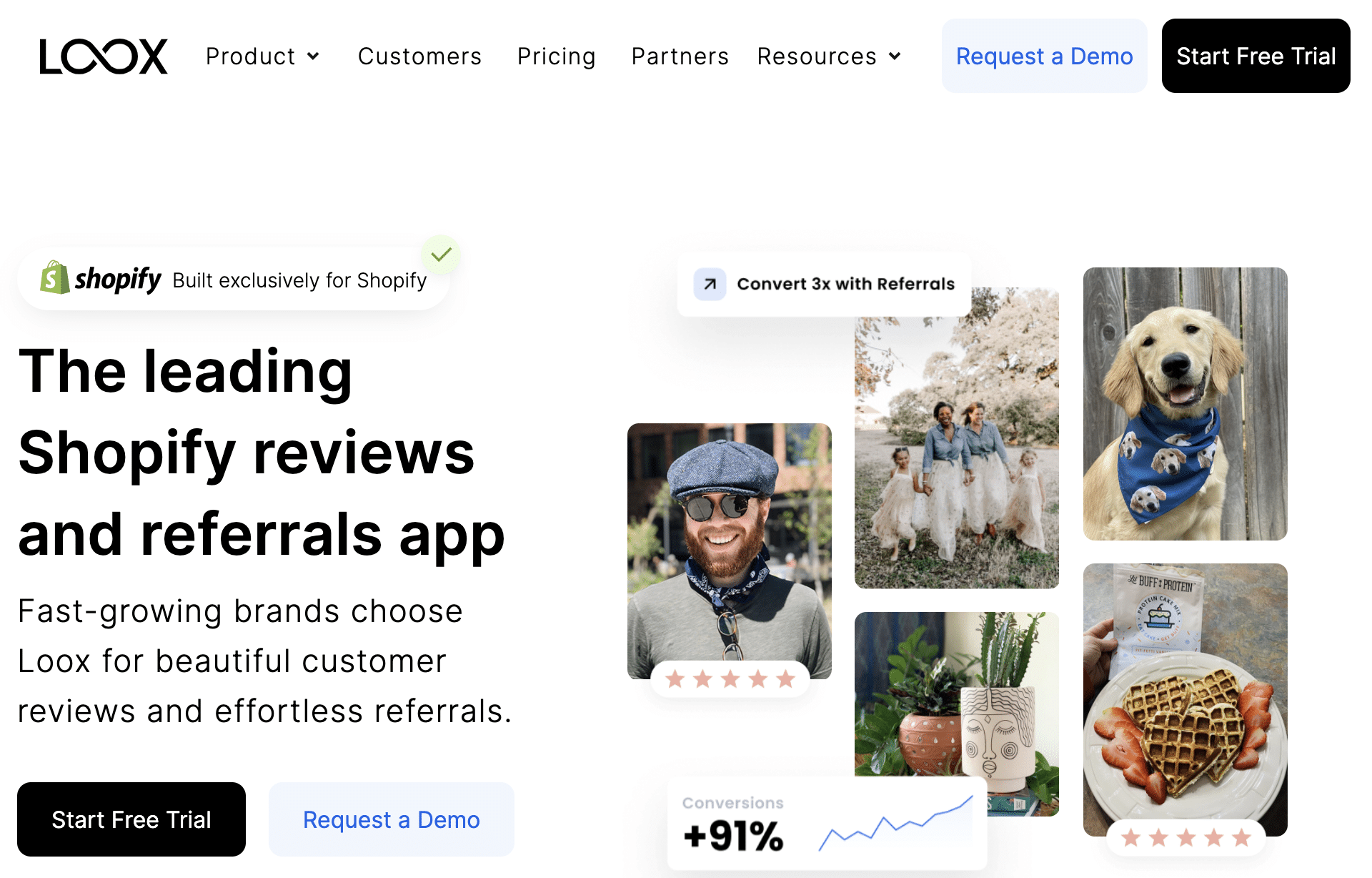 Built exclusively for Shopify, Loox is the leading Shopify product reviews and referrals app. With Loox you can gather photo reviews on autopilot and increase your social proof with zero effort on your part. Over 100,000 Shopify merchants utilize Loox to help turn customers into marketers through reviews.
Key Features and Benefits Loox:
Automatically collect customer reviews and boost social proof
Offer discounts to reviewers for including photos or videos
Access to beautiful widgets and galleries to display your reviews
Exclusively built for Shopify for seamless integration
Pricing: Starts at $9.99/month for the "Beginner" tier which includes review request emails and customer discounts for photo reviews for up to 500 processed orders.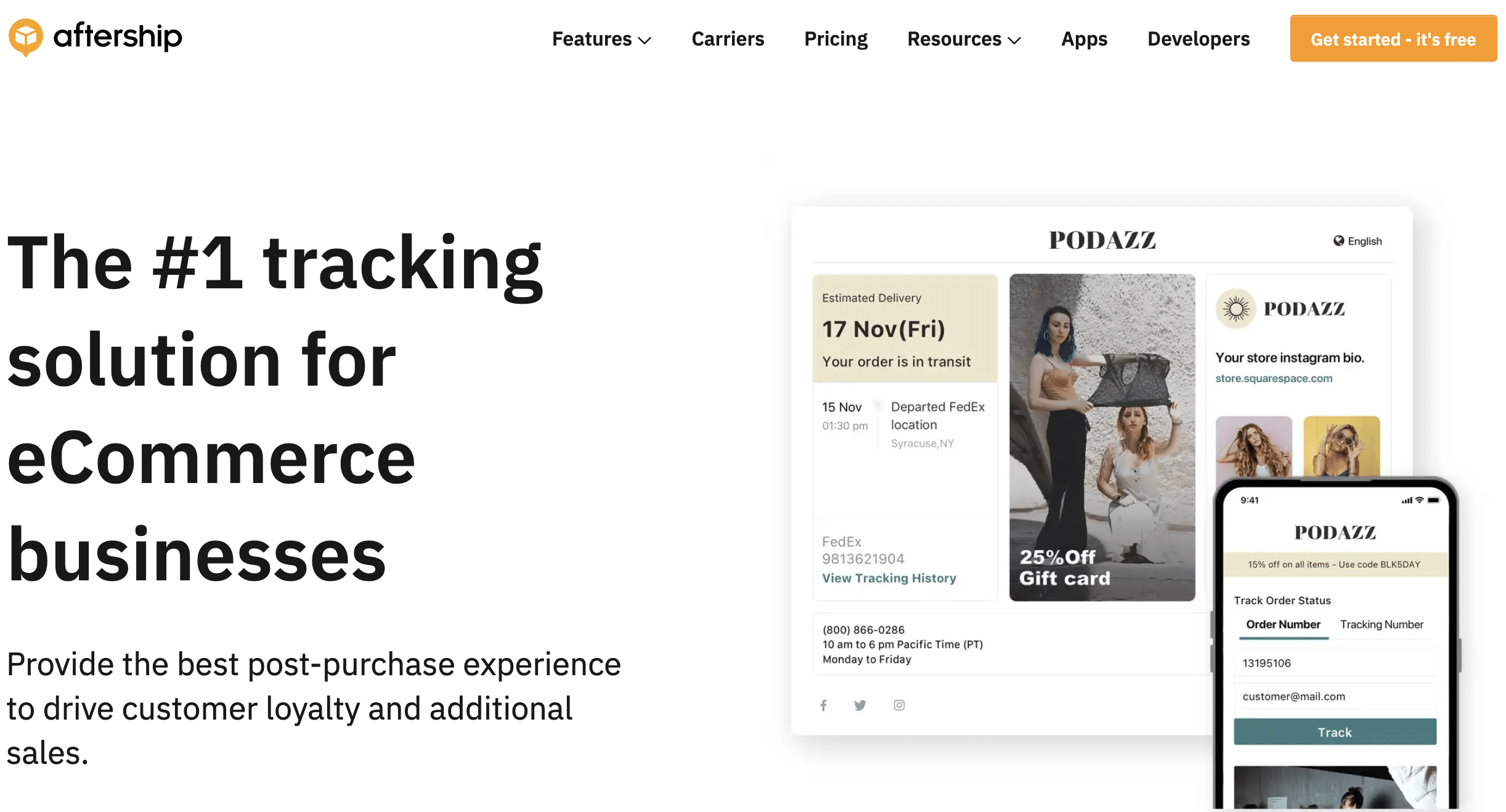 Increase customer engagement and provide a positive post-purchase experience by automatically notifying buyers of their order status with the AfterShip Shopify app. With this app, you can create branded tracking pages with features like marketing banners and Instagram feeds to engage customers who log in to check their order status. Additionally, AfterShip allows you to create and send automated personalized emails and texts so customers can look up their order status, reducing customer inquiries.
AfterShip Benefits & Key Features:
Automated shipment notifications with delivery date prediction to set realistic delivery expectations
Branded tracking page to increase brand awareness and drive post-purchase engagement
Analytics to provide insight to improve the delivery experience
Order lookup widget to add tracking capabilities to your website without any coding
Pricing: Free plan for limited features and up to 50 orders per month. The lowest paid plan is $9.99/month for up to 1,200 shipments per year and it goes up from there.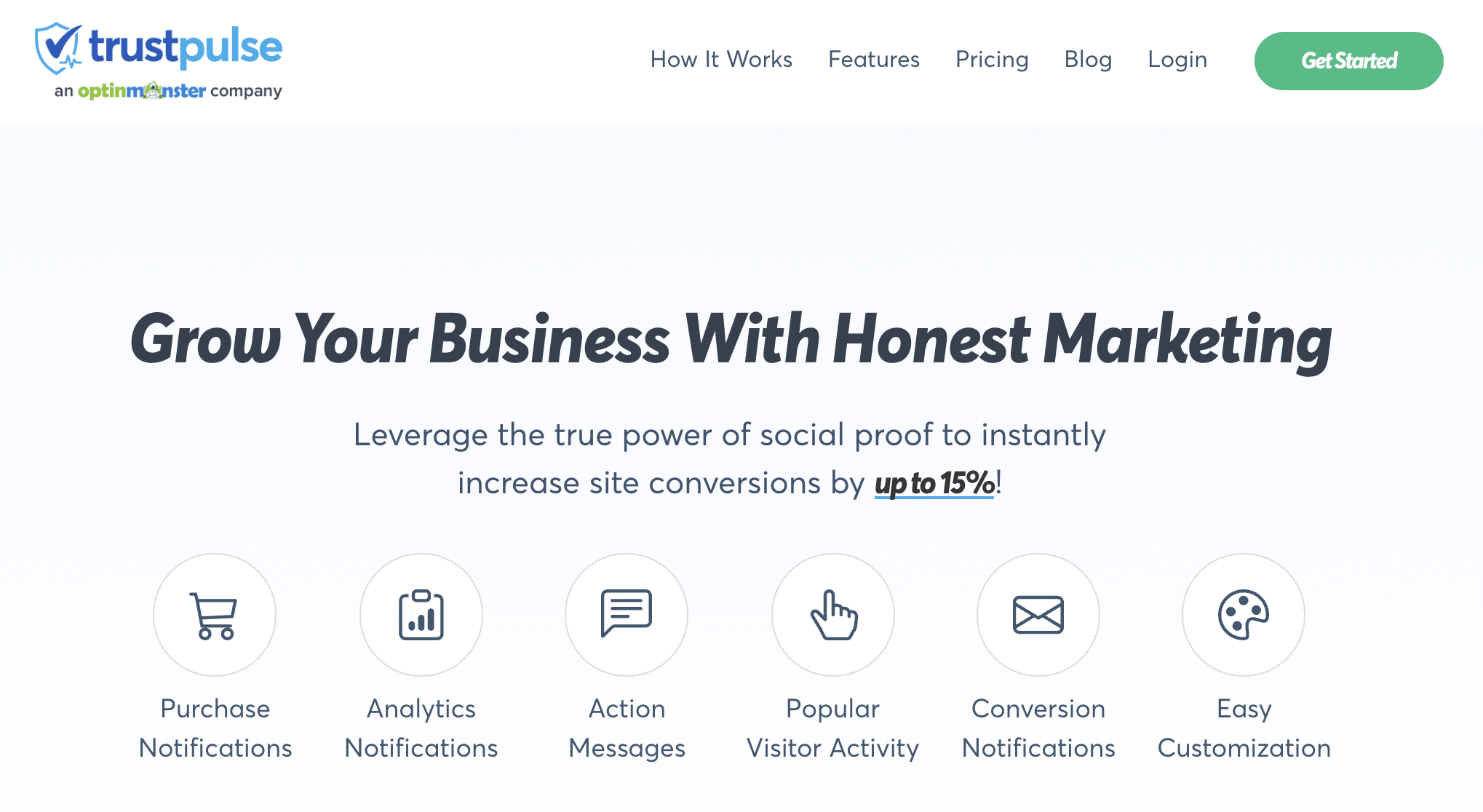 Did you know 92% of customers are more likely to trust peer recommendations over advertising? TrustPulse is a social proof app that allows you to leverage the activity of other users on your site so their actions (purchases, registrations, etc.) can do the selling for you. Visitors will see this real-time information in a small notification popup about what others are doing, which builds trust, customer loyalty and helps them feel more comfortable taking action themselves.
TrustPulse Key Features
Tracks events in real-time including purchases, registrations, email opt-ins, and more
"On Fire" notifications are great for landing pages and checkout pages to show visitors how many people are taking action within a certain time period to create FOMO (fear of missing out)
Customize your pop-ups with flexible design options to match your website's branding
Use smart targeting to show your social proof to the right people at the right time to boost conversions
Access to analytics so you can see what's working and boost your conversions
Easy 5 minutes set up, no coding needed!
Pricing: Starts at $9/month for up to 2,500 unique visitors per month.
Best Shopify Apps for Mobile Optimization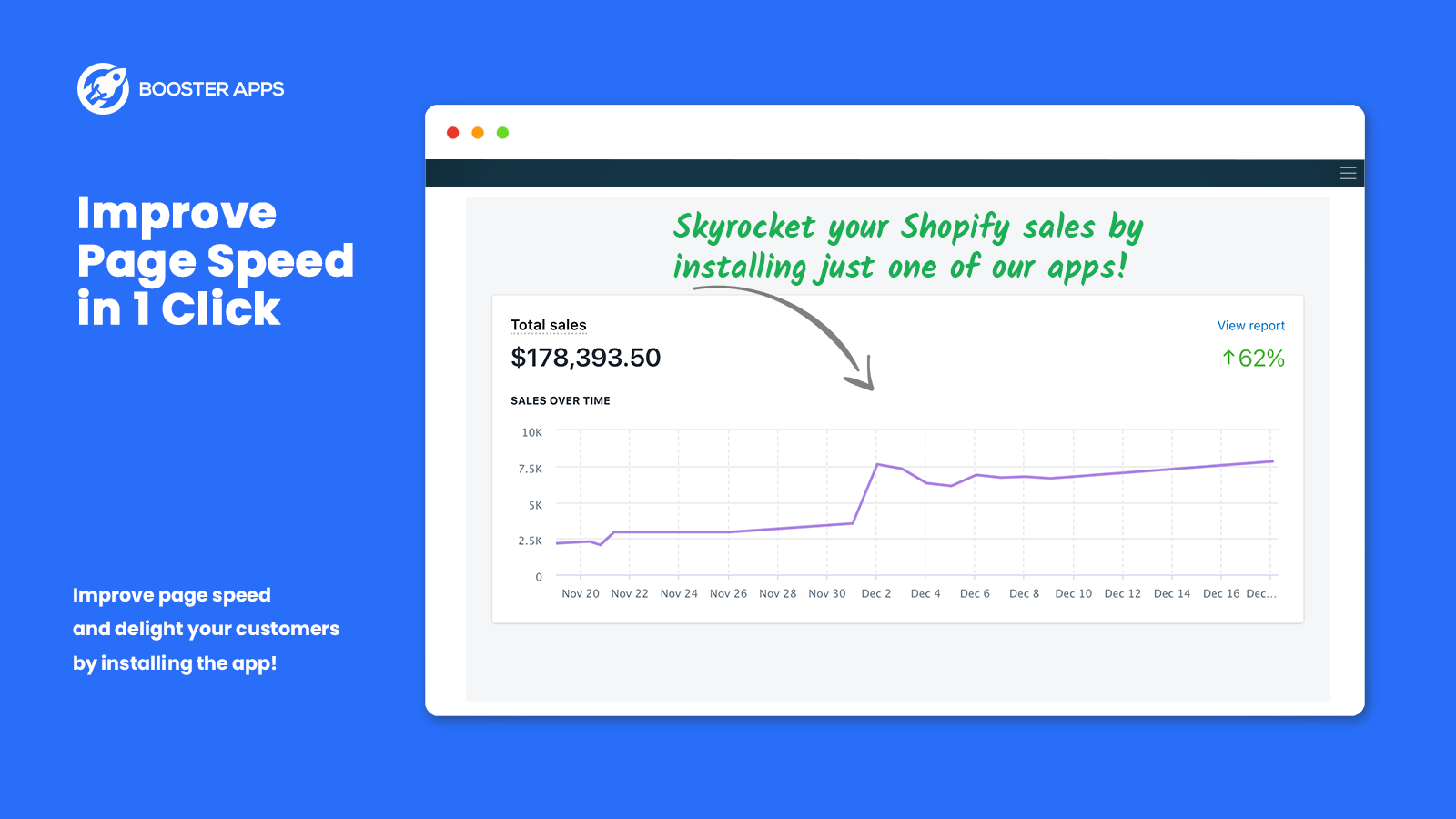 Instantly speed up your Shopify store with Page Speed Optimizer. This app can benefit Shopify stores of any size with its one-click page speed improvement (no coding required)! You can instantly turn this simple app on and off to increase your page speed and increase conversion rate with a site that loads quickly.
Key Features of Speed Optimizer by Booster Apps?
Simple shopify app to improve your store's loading speed with just one click
No coding or developers required
Potentially boost conversion rate and reduce your bounce rate with a website that loads quicker
Price: Free Shopify app

Short for "Accelerated Mobile Pages", AMP is a Shopify app that allows you to create Accelerated Mobile Pages which are cached by Google for mobile search to optimize organic SEO and improve page load speed. This app includes plenty of built-in integrations to improve your mobile pages to improve customer experience and potentially increase your sales.
AMP Key Features
Easily edit AMP templates with the intuitive page builder
Designed to work directly with Google
Convert your home page, product pages, collection pages, and more into AMP format with beautifully branded designs
Built-in integrations to add features and improve conversions
Quick loading pages that are automatically cached by Google
Pricing: Free plan available

If you want a faster store with improved image SEO (Search Engine Optimization) and happier customers, you're going to want to speed up your store's loading time with Crush Pics Image Optimizer. It's an easy-to-use Shopify app that automates image compression for faster store loading times.
Why use Crush Pics Image Optimizer and Compression?
Advanced image compression options based on your needs
Fully automated image compression once you've chosen your compressions settings once
Automatically renames all of your image files and ALT tags to help with SEO
Original images are stored for 30 days with the ability to restore all or individual images if needed
Pricing: Free plan available to compress up to 25MB one time. The Micro plan is $4.99/month for up to 500MB of images per month and plans go up from there.
Best Shopify Apps for SEO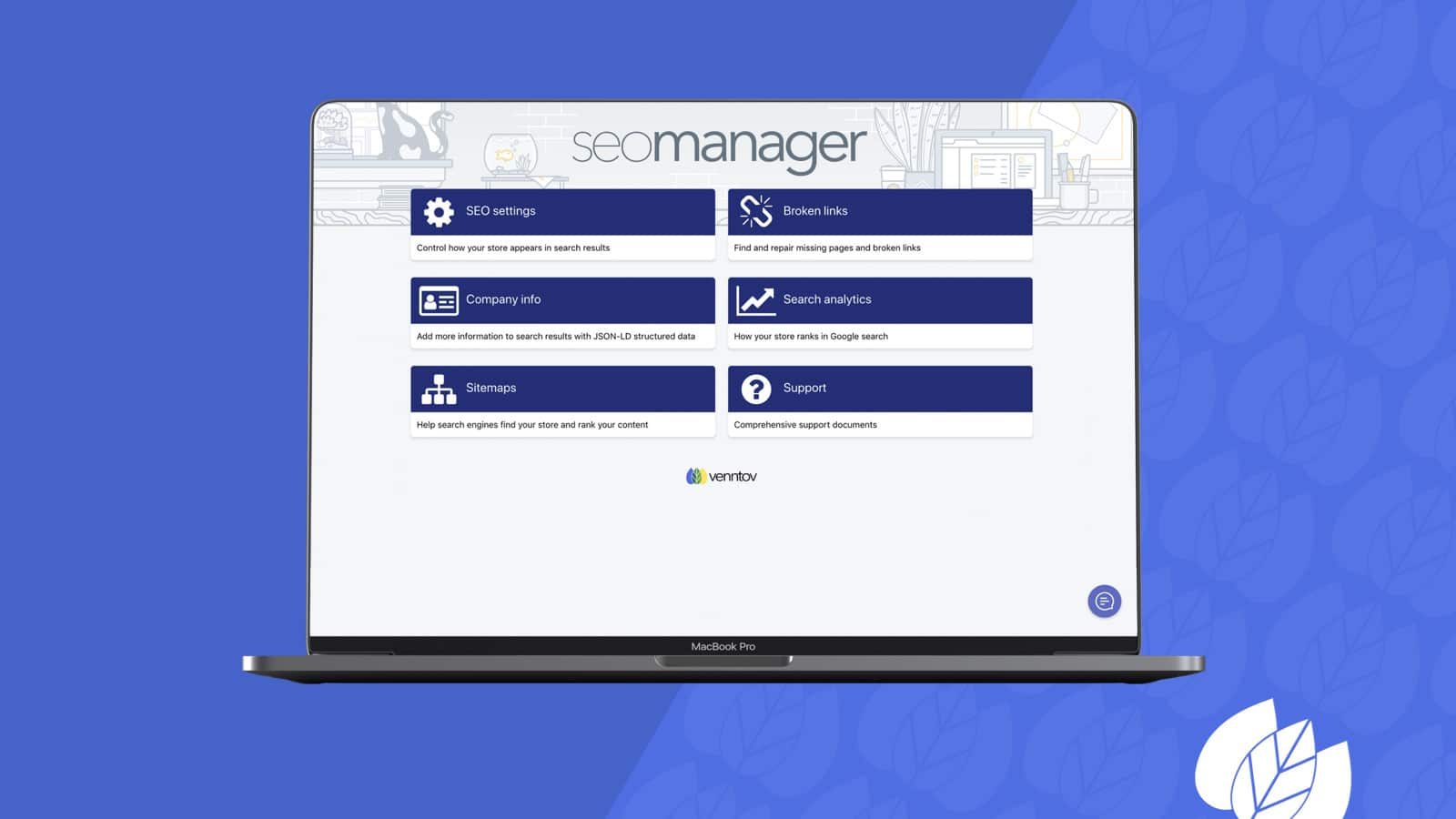 Being found on Google is the ultimate way to increase your traffic and sales. Not everyone understands SEO, which is why this shopify app is special. With SEO Manager Shopify app, you can easily improve your ecommerce store SEO. It is simple to use and allows you to implement SEO measures to help your store rank in google without needing to be an SEO expert.
SEO Manager key features
Easily edit titles, descriptions, and keywords
Google result simulator so you can see what your pages look like as google results
SEO issues scan with suggestions
Focus and keyword suggestions
Connects with Google search console
Plus many other features and tools to help you improve your store's SEO
Pricing: 7 day free trial and then $20/month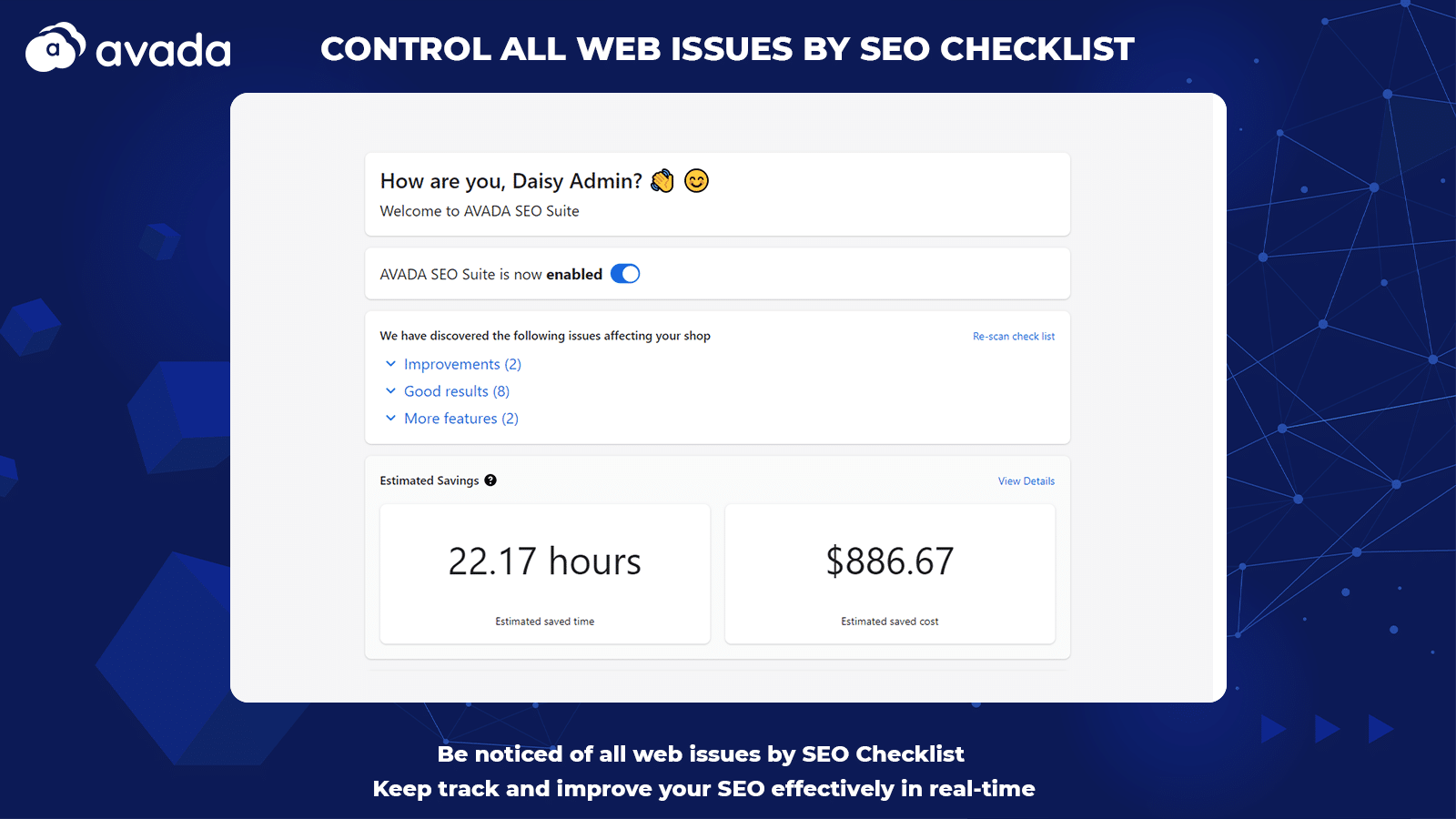 If you're looking for an image optimizer app, AVADA SEO Image Optimizer may be the perfect Shopify app for you. It comes with everything you need to ensure your images are compressed and optimized for search engines to help improve your SEO. Beyond image SEO, it also includes other SEO features like an HTML sitemap generator and site verification.
Why use AVADA SEO Image Optimizer?
Compresses and optimizes images for faster loading times
Assists in making sure your website is Google search friendly
Everything runs automatically with just one click
Pricing: Free plan includes image optimization of up to 50 products per month. Pro plan is unlimited at $29/month.
Best Shopify Apps for Email Marketing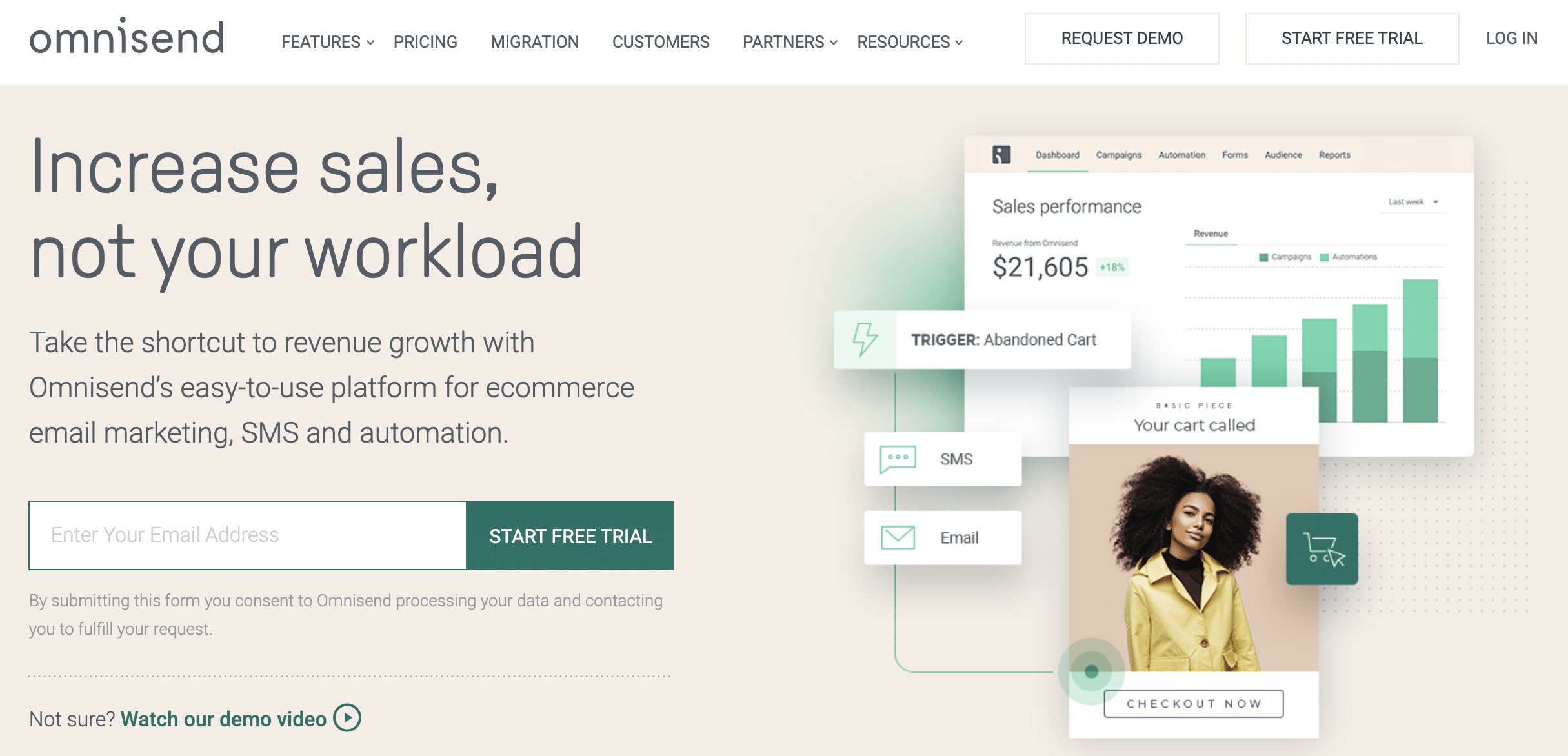 If you're running a Shopify ecommerce store, why not use an email marketing platform built specifically for ecommerce? Omnisend is an easy-to-use platform specializing in e-commerce email marketing, SMS, and automation. With Omnisend, you can segment your customers based on their shopping behavior to improve your targeting and increase conversions with personalized emails and SMS marketing. You can use their pre-built automation to increase sales and add SMS marketing to capture customers who prefer or respond better to contact via text message.
Key Features and Benefits of using Omnisend
One-click Shopify integration
Create branded shoppable emails with prebuilt templates and a drag and drop editor
Use the prebuilt workflows and automation for cart recovery, welcome messages, and more
Capture new customers with popups, landing pages, wheel of fortune, and sign up boxes
View your sales dashboard for detailed campaign and automation reports
Pricing: Free plan for up to 15,000 emails per month and limited features. Paid plans start at $20 per month.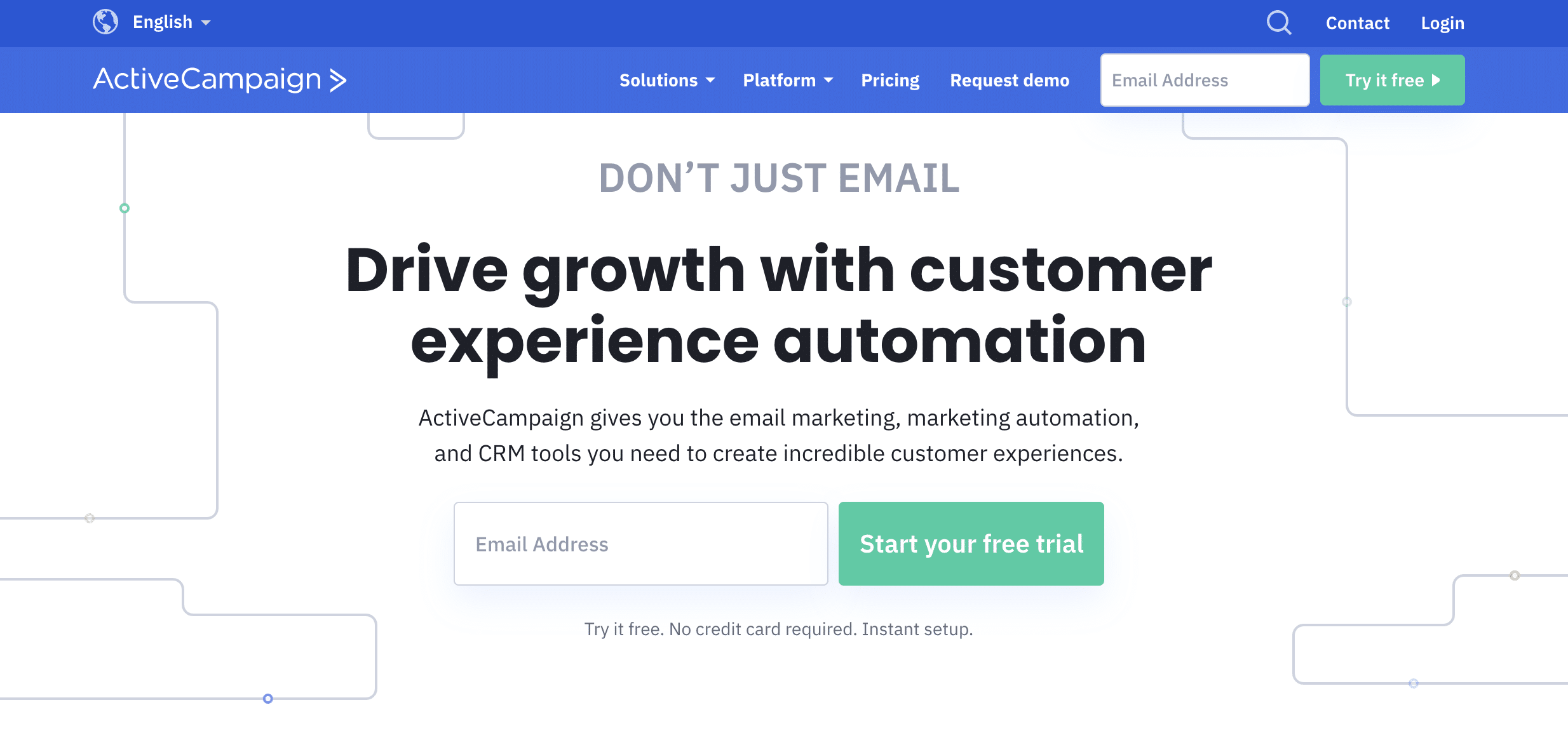 ActiveCampaign is an award-winning email marketing platform that will help you to grow your Shopify store. With ActiveCampaign, you can create automated, highly detailed workflows and rich customer profiles for increased personalization and improved customer relationships. The Shopify integration allows you to improve your customer's experience with your store and engage with them along their buying journey. It's the first customer experience automation app available for Shopify and brings ActiveCampaign's expertise in email marketing automation to your store.
Key Features and Benefits ActiveCampaign
Easily build brand loyalty and increase sales by sending emails about products they actually want
Re-engage shoppers with automated upsell and cross sell post-purchase
Automatically ask for reviews, offer promotions and send abandoned cart alerts
Customize any of their pre-built automation for after purchase follow up, abandoned cart reminders, reminders to repurchase, and more
SMS marketing automation
Pricing: Plans start at $15 per month for the Lite plan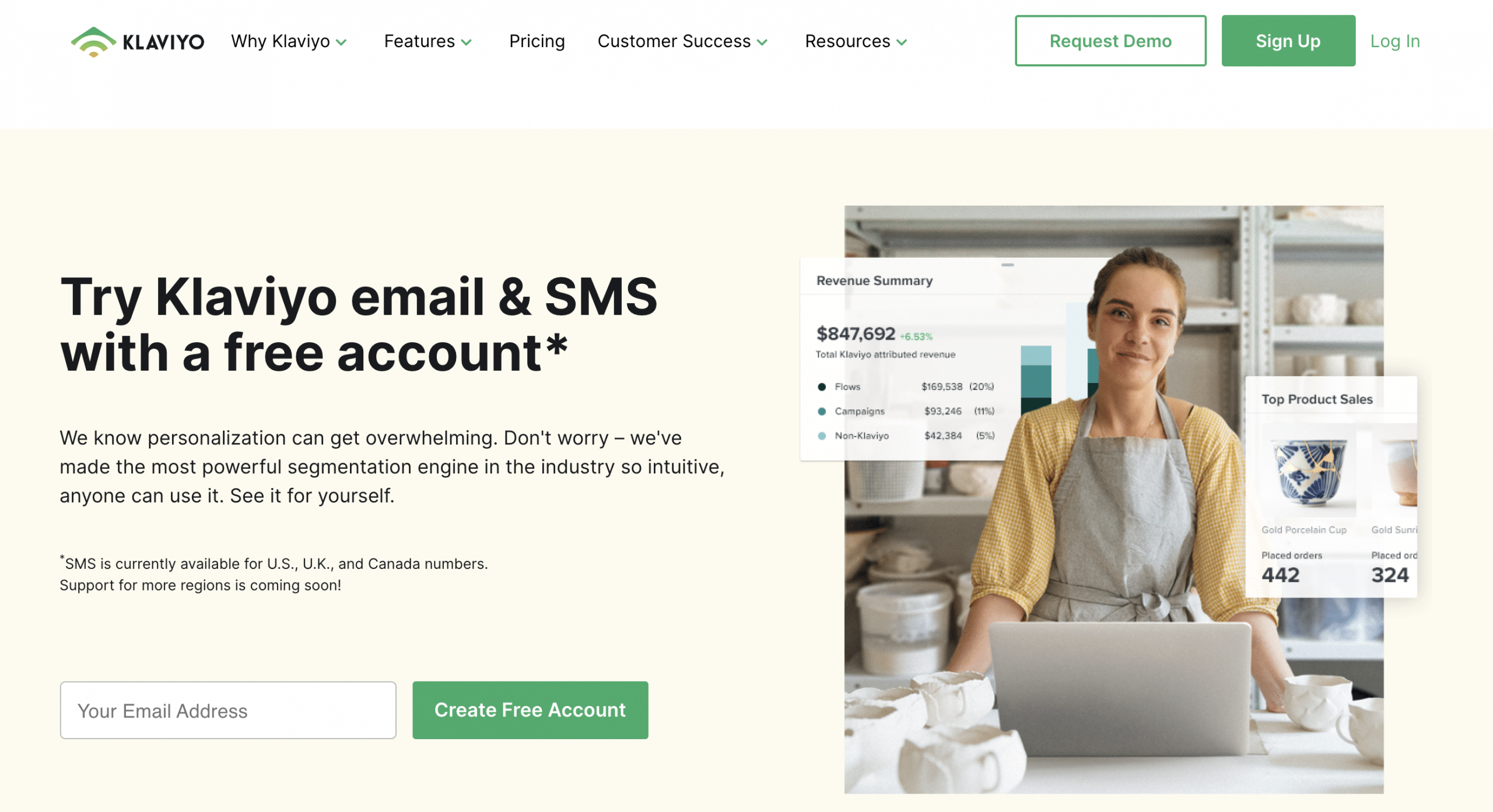 Klaviyo is one of the must have shopify apps for email marketing made specifically for ecommerce, making it a great option for Shopify store owners. Their powerful segmentation engine is easy to use, even if you don't feel equipped for advanced email marketing techniques. With the Klaviyo Shopify app, you can unlock the power of personalized marketing for your ecommerce store in just seconds.
Klaviyo Key Features
Powerful segmentation options without limits allowing you to use a combination of profile properties, events, locations, and more
Personalized automation based on dates, events, list membership, or segments
Predictive analytics for lifetime value, churn risk, optimal send time, and more
Ability to engage customers through multiple channels and target high-value customers
Automatically sync all historical data from your Shopify store
Pricing: Free plan for up to 250 contacts and 500 email sends. Paid plans start at $20 per month with unlimited email sends.
Best Shopify Apps for Marketing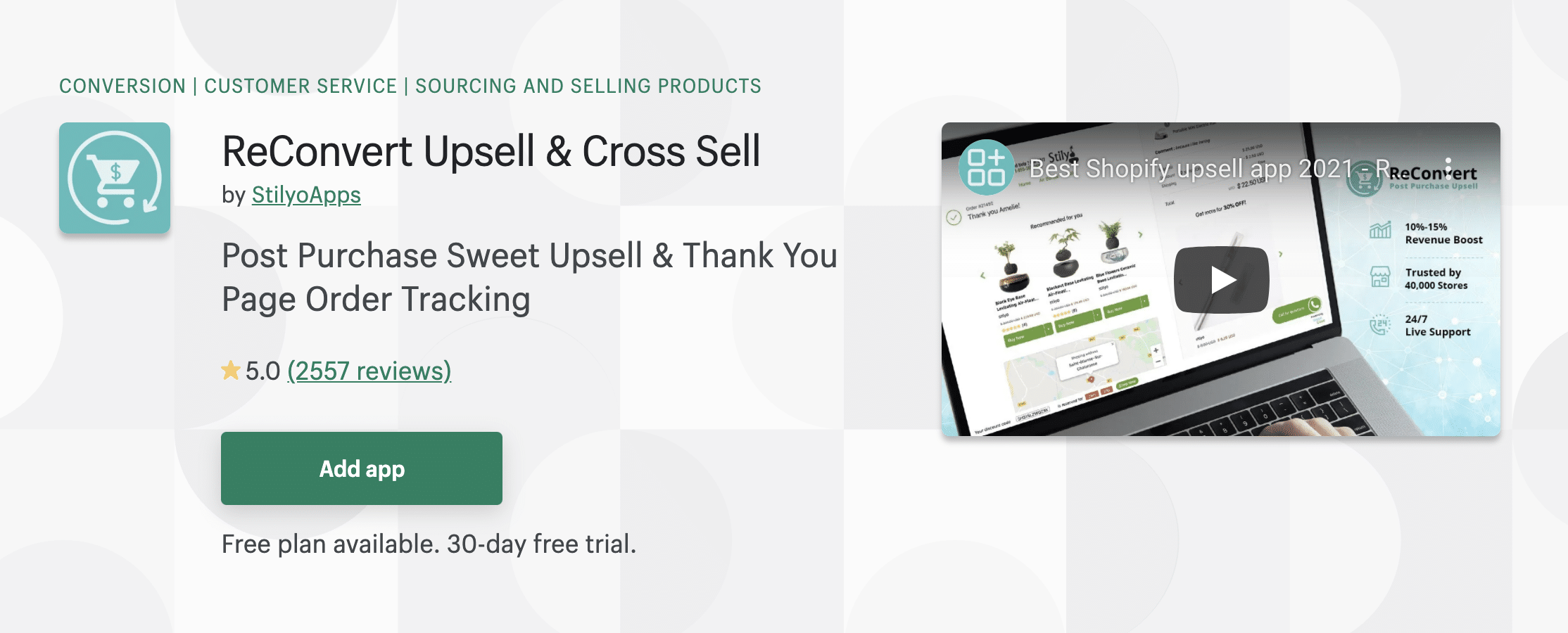 ReConvert is one of the best marketing apps for Shopify that focuses on upselling and cross-selling to increase your average customer and average order value. This app utilizes your store's thank you page to boost sales before they even leave your page instead of leaving you to rely on social media or email marketing after they've already moved on from your ecommerce store. With easy-to-use thank you page widgets, ReCovert makes it simple for anyone to improve their sales by converting customers who have just purchased from your ecommerce store.
Key Features and Benefits of using ReConvert
Over 16 customizable thank you page widgets
Discount popup with countdown timer
Ability to display different thank you page offers based on order details, customer details, or products purchased
Provides built-in templates or the ability to start from scratch
Pricing: Free plan available for up to 50 monthly orders with paid plans starting at $7.99 per month for up to 100 monthly orders.
Refersion let's shopify store owners quickly launch an affiliate marketing platform to allow your customers to make money marketing for you. Refersion provides the technology needed and simplifies it so you can focus on building partnerships with affiliates like bloggers, influencers, or previous customers! Refersion lets you recruit affiliates and easily track their performance and payouts through an intuitive interface that requires no technical knowledge.
Why use Refersion for your Affiliate Marketing program?
New affiliates can quickly and easily register for a seamless process that won't scare away potential affiliates
Each affiliate gets their own personalized dashboard to perform, create custom links, and run reports
Ability to create coupon codes for affiliates to track their sales for platforms where it's hard to add links
Access to a growing network of affiliates when you join the Refersion marketplace
Pricing: 14 day free trial and then $89 per month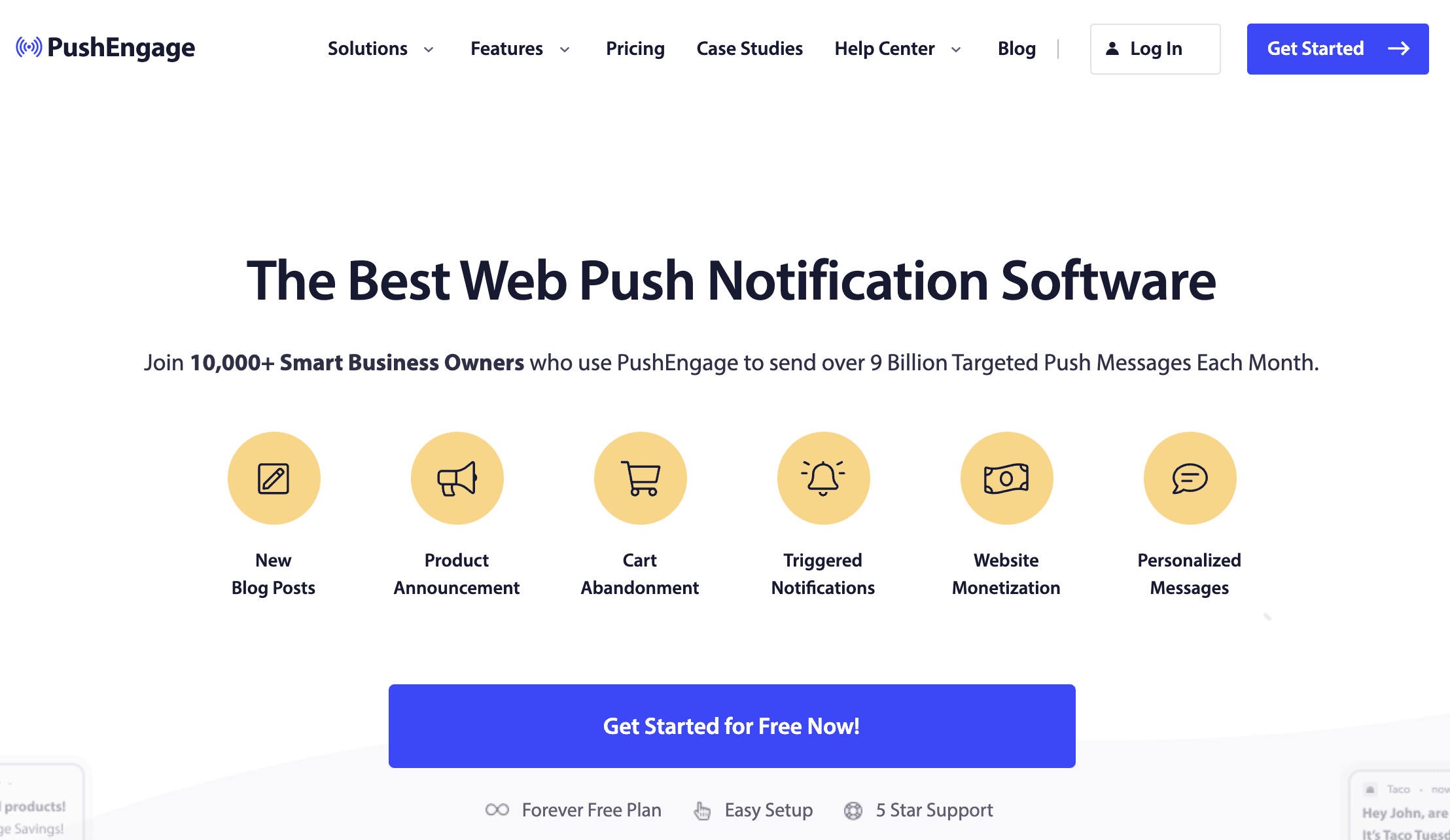 Would you like the ability to convert an abandoned cart to a sale with push notifications? PushEngage is a Shopify app that automates web push notifications to increase your sales. With this app, you can re-engage with users without having their email address, even when they're not on your website.
How PushEngage can increase your sales
Send web push notifications for abandoned carts at a time interval of your choice
Send price drop alerts to automatically update a potential customer
Let customers know when an item is back in stock using an inventory alert campaign
Choose from 7 different types of push notification opt-ins with options to select different opt-in's for desktop and mobile
Pricing: Free plan available for up to 2,500 subscribers and 120 notifications per month. Paid plans start at $29/month with a 15 day free trial.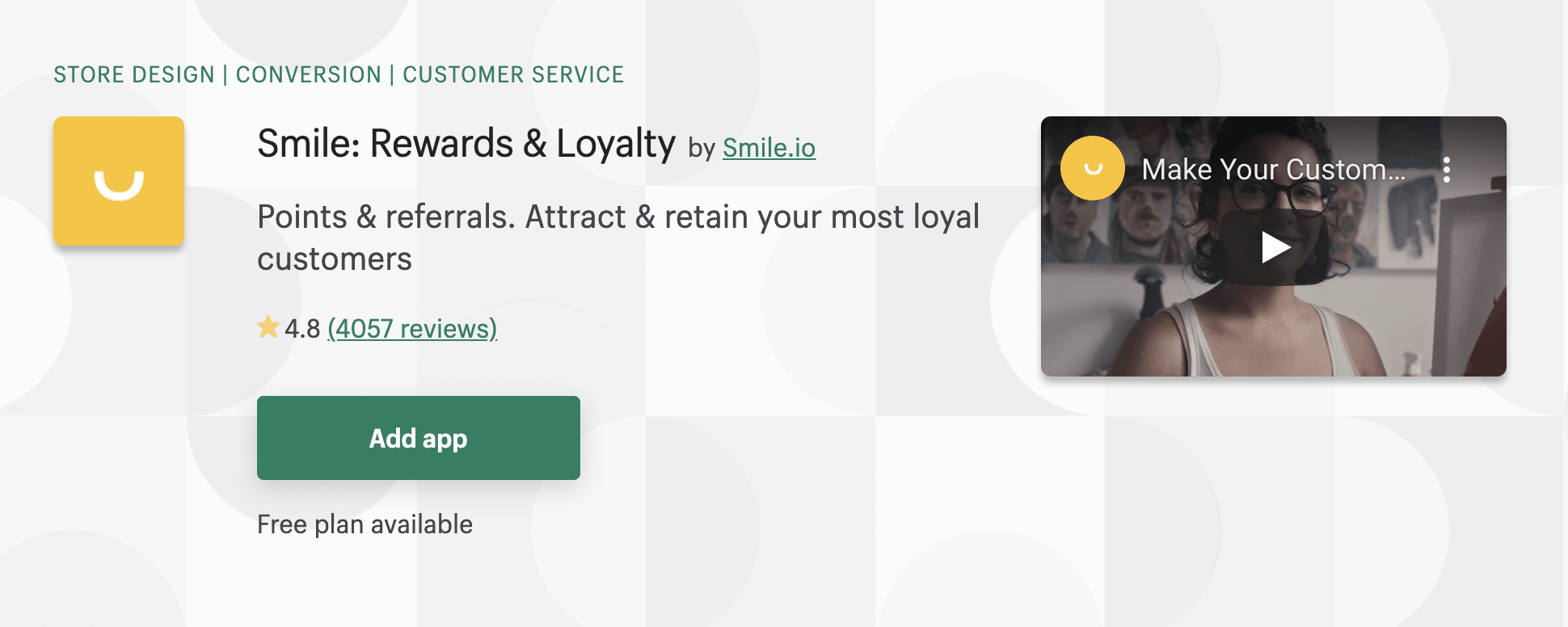 Quit spending money on ads that may or may not convert and focus on who you know is buying: your current customers! With Smile.io you can build an engaging rewards program to boost sales from your existing customer base. Not only does this shopify app help encourage repeat purchases, but it also gives current customers a specific reason to shop with you: to collect rewards! Provide your customers with a loyalty program, referral program, and/or a VIP program to keep them coming back and spreading the word about your Shopify store.
Key Features and Benefits of using Smile.io
Create a branded rewards program that suits your brand and impresses your customers all the way to check out
Set up a VIP program with statuses and perks for your most involved and loyal customers
Allows for one-click integrations with other Shopify apps
Launch in as little as one day with the easy to use app
Pricing: Free plan available with limited features. Paid plans start at $49 per month.
Best Shopify Apps for Sales Channels
Did you know Shopify stores can be easily synced with eBay? The eBay Shopify app gives you the ability to increase visibility on your items by listing them on eBay instead of solely relying on your Shopify store. With this app, you can sync products on eBay and manage your eBay orders fluidly so you don't have to keep track of both marketplaces separately.
Why sync your items with the eBay app?
Adding your items to eBay will put your items in front of the millions of buyers already shopping on eBay
Ability to consolidate your Shopify inventory and order management on both eBay and Shopify
Pricing: Free shopify app, but you will have to pay eBay fees.
With the Amazon Importer Spreadr app, you can easily add Amazon products to your Shopify store to be dropshipped to your customers, or as affiliate links to make a commission. With this Spreadr app, you can give your customers access to the millions of products available on Amazon and make a profit yourself when they buy them.
Why use Amazon Importer – Spreadr App?
With over a million products available on Amazon, you can add virtually anything your customer could want to your store
Choose whether you want to drop ship items to your customer or sell it to them as an affiliate
Ability to modify the titles and descriptions of items you add to your store rather than be stuck with the Amazon information
No need to manage inventory, ship items, or manage customers – Amazon will do all of that for you
Pricing: Free plan for stores in the Shopify free trial period. Paid plans start at $5/month for unlimited imports or $10 per month for unlimited imports with auto sync.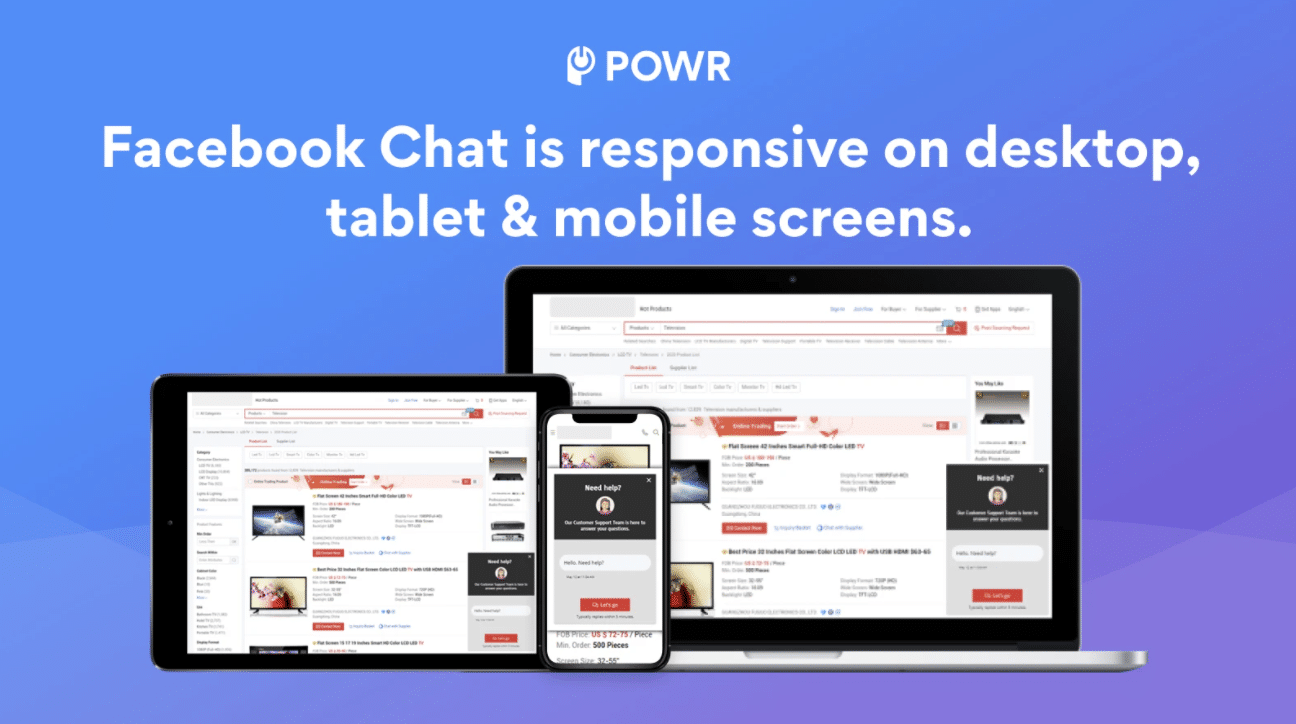 If you're going to add a live chat option to your Shopify store, why not use Facebook Messenger? Because millions of people already use Facebook and are familiar with Facebook Messenger, using this as your live chat option is a no-brainer. With this app, you can chat with customers, answer questions, provide customer support, and make more sales all within a social media platform the customer is already familiar with.
Key Features of POWR Facebook Chat
Use any Facebook page to add live chat via Facebook Messenger on your Shopify website
Add custom images to personalize your Facebook Messenger live chat
Add brand-enhancing options like custom colors, backgrounds, and personal welcome messages
24/7 customer support available
Pricing: Free plan available with limited features and POWR branding. Paid plans start at $4.99 per month and adds customization features while removing POWR branding.
Best Apps for Shopify Customer Service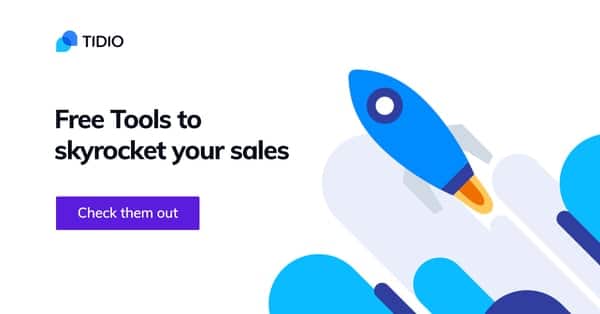 Did you know that replying to customer support inquiries instantly can increase sales by as much as 40%? To do this, Shopify store owners can use the Tidio app to utilize live chats, bots, and marketing automation to increase customer satisfaction and boost sales. By allowing you to answer in real-time when you're available and letting a chatbot take care of your customers when you're busy, you can ensure that your store's potential customers feel taken care of 24/7.
Key Features and Benefits of using Tidio
Chatbot takes over chatting with your website's visitors when you're unavailable ensuring that someone is always there to answer basic questions
Reduce abandoned carts and increase sales by providing customers with the answers they're looking for
Plenty of automation and bot templates to choose from
Combines your live chat, email, and messenger communication all in one place
Quick and easy 30 second set up
Free Shopify app with conversations up to 100 visitors
Pricing: Free plan for unlimited chatbot conversations for up to 100 visitors per month. Paid plans start at $15 per month and go up to $25 per month depending on your needs.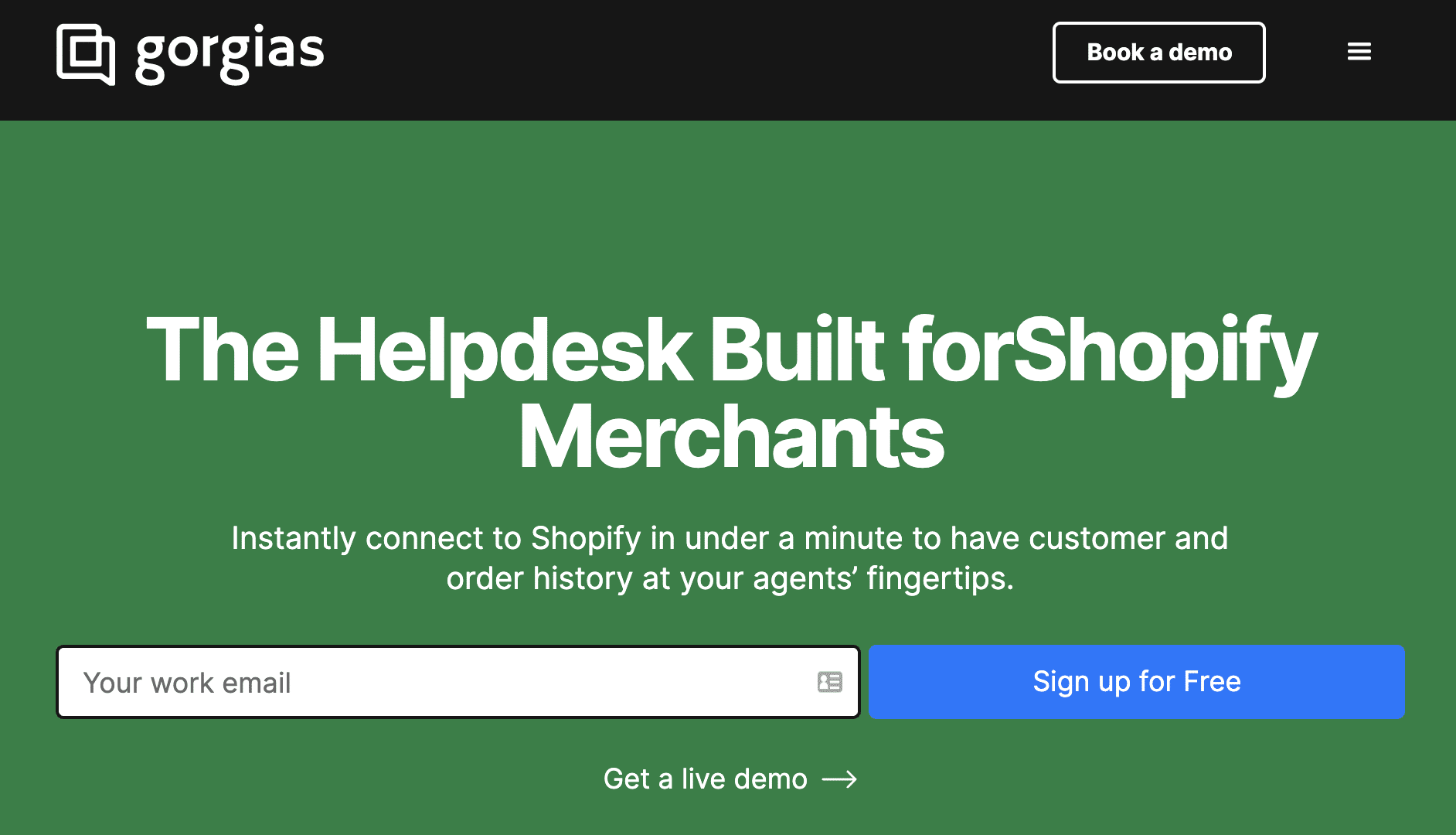 Georgias is a helpdesk app built to help Shopify stores provide customers with extraordinary customer support. With this shopify app, you can automate and enhance customer support for your Shopify business, increasing your sales and customer satisfaction. With features like a live chat, ticketing system, social media integrations, autoresponders, and more, you'll have everything you need to take care of your customers at your fingertips.
Key Features and Benefits of using Gorgias
Gorgias is the first customer support app to receive Shopify Plus Certification
Connects with Shopify in under a minute so you can get up and running instantly
Uses Shopify data to easily personalize communication from names to shipping addresses
Ability to update Shopify orders directly from the Gorgias help desk
Automation of tasks such as answering common questions and looking up recent orders
Pricing: Free trial and then $50/month (billed annually) for the lowest plan which includes 350 monthly tickets.
Best Shopify Apps for Products and Inventory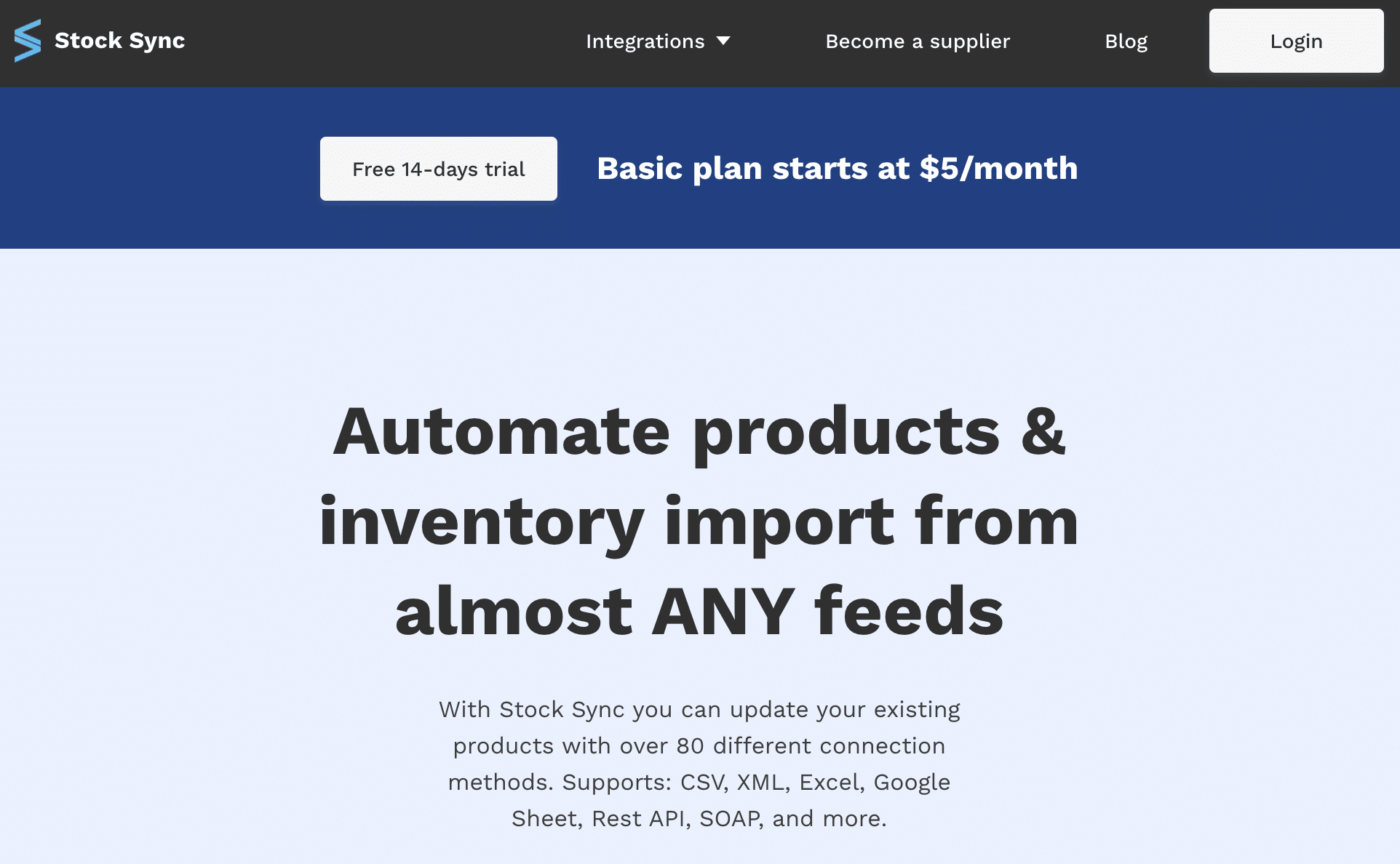 Looking for a way to quickly and easily update your inventory? Stock Sync Inventory Update is a popular option for Shopify stores that want to update their inventory automatically. With Stock Sync, you can add new products and update the inventory for existing products with one of over 80+ methods to load inventory feeds. Whether you want to integrate with your external inventory or update via your dropshipping supplier inventory feed, you'll be able to do so easily with this app.
Key Features and Benefits of using Stock Sync
Automatically sync your Shopify store with your supplier's inventory to avoid selling out of stock products
80+ methods for loading inventory feeds
Ability to manage multiple supplier or dropshipper feeds
Easily remove discontinued or unwanted products
Ability to update over 20 product fields like title, description, image, etc.
Pricing: Free plan available with limited features and up to 2,000 SKUs. Paid plan starts at $5 per month for advanced features and connection methods.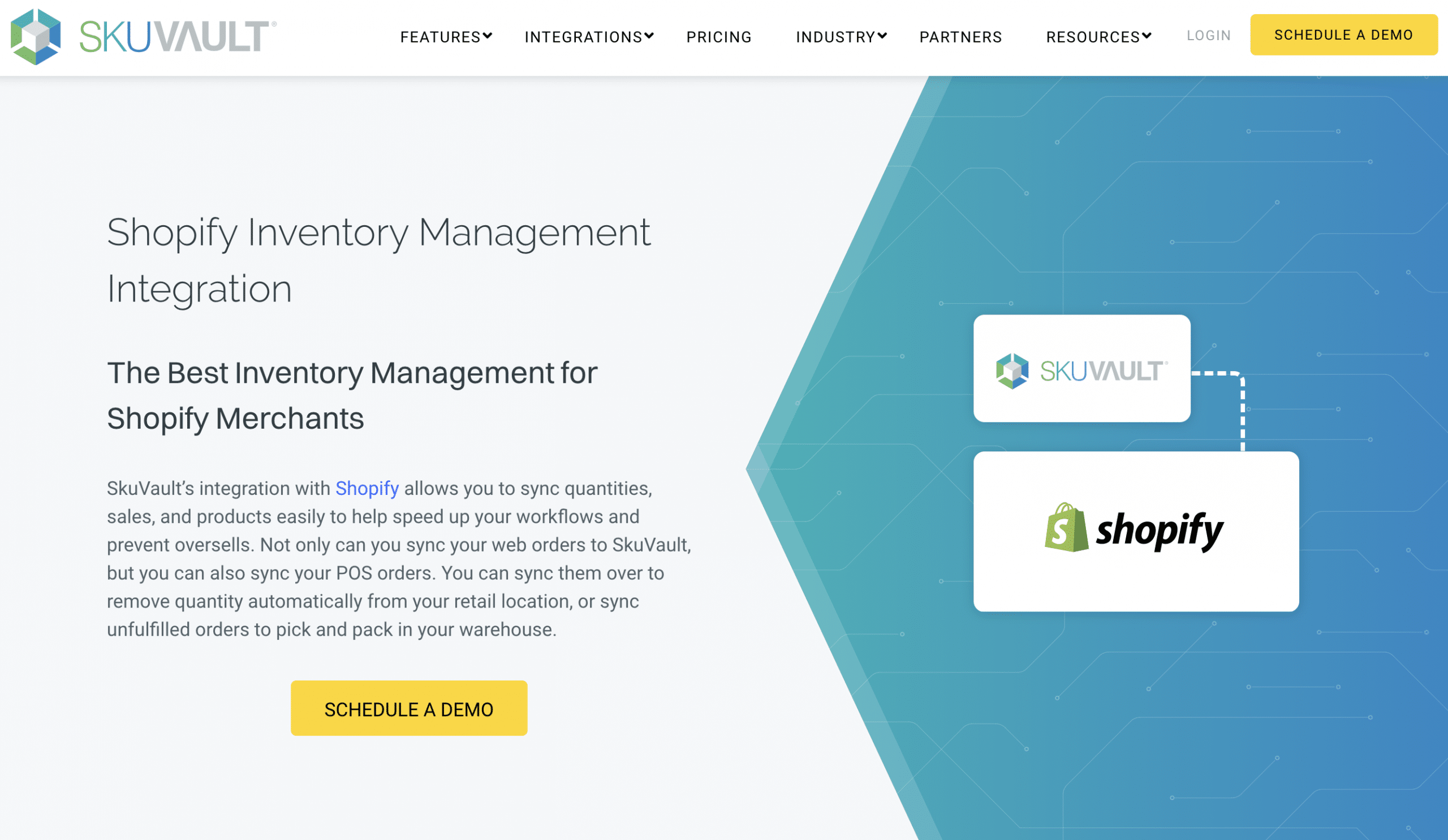 When you install SkuVault's Shopify app, you can easily sync inventory quantities, sales, and products. Additionally, if you have a POS system, you can also sync those transactions to save time, ensure your inventory is up to date, and avoid overselling. This app will allow you to sell, pick, and ship faster thanks to fast data syncs that occur every 5-7 minutes which allow you to see exactly what's happening in your business while it's happening.
Key Features and Benefits of using SkuVault
Sync inventory quantities from your POS and Shopify
Inventory is synced every 5 minutes
Orders are pulled from Shopify every 5 minutes
Generate powerful reports about your inventory
Pricing: Starts at $269/month billed annually for up to 2,000 orders per month.
Best Shopify Apps for Payment Plans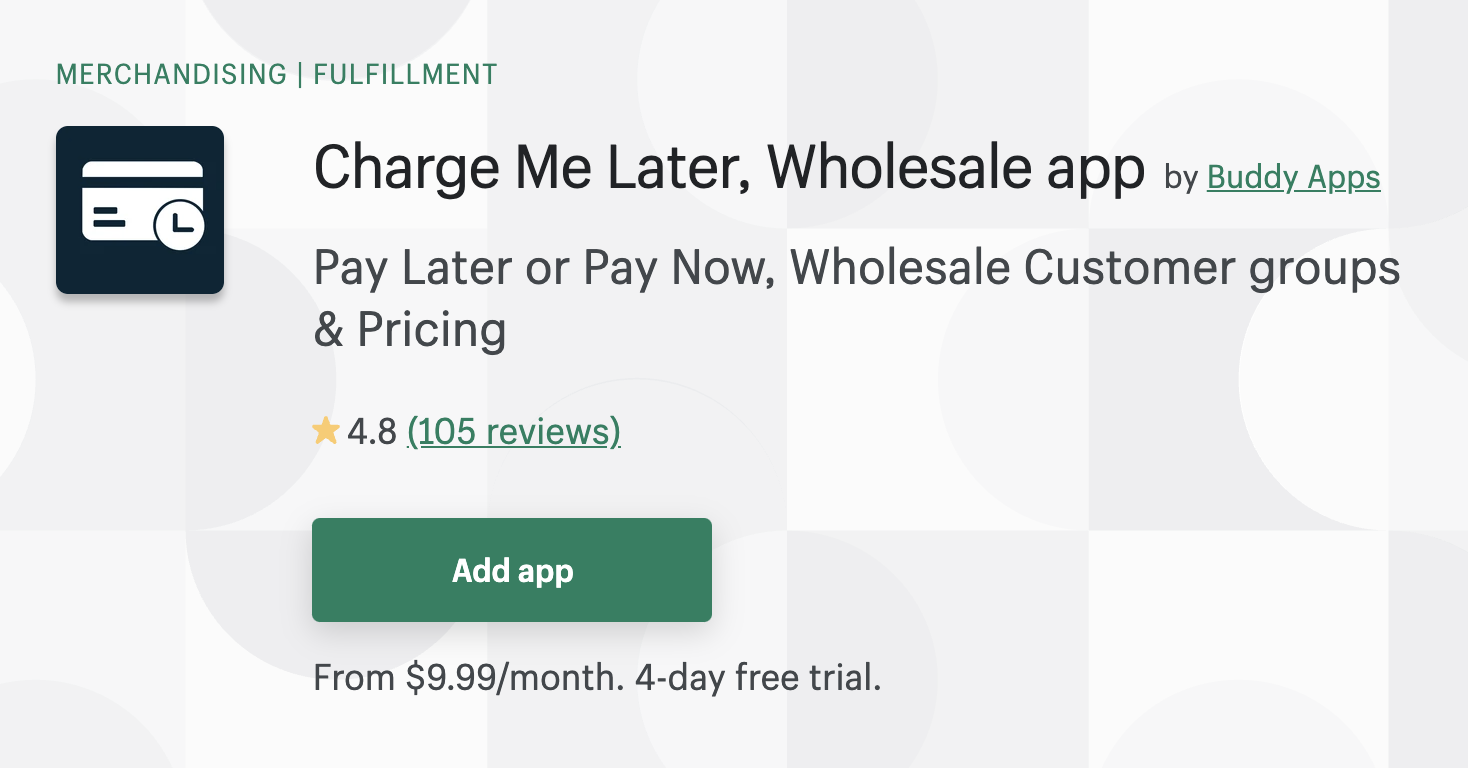 If you want to add a little flexibility to your Shopify payments, then Charge Me Later is a helpful, easy-to-use app that allows customers to place orders without paying immediately. This is especially helpful for wholesale businesses where you want to allow customers to create an order and then send an invoice, days, weeks, or months later.
Key Features and Benefits of using Charge Me Later
Allows customers to create orders without paying immediately
Schedule invoices to be sent automatically in the future or send them manually with one click
Choose if all customers, or just specific customers, can pay later
Plus plan allows you to offer wholesale or custom pricing to specific customers
Pricing: 4-day free trial and then starts at $9.99/month
Conclusion
One of the biggest appeals of starting an ecommerce business with Shopify is the thousands of available apps that can be easily integrated to add virtually any function you need to your online store. With all of the options available, this list should help you narrow down your choices and discover some new apps that will be beneficial for your shopify business.