So you've decided to start selling online, but you're not sure which type of e-commerce business model is right for your business. For those interested in launching an e-commerce business that doesn't require buying inventory upfront, you might be thinking of dropshipping vs. private label dropshipping.
These types of e-commerce business models can be profitable, but they each come with their pros and cons. So it's essential to consider the benefits of each before starting.
Now, if you're someone who is entirely new to e-commerce, the best way to start is with dropshipping.
We recommend starting with Dropshipping because it doesn't require you to have a significant upfront investment. You don't have to have any inventory to start. Once you become successful dropshipping and find a profitable product, you can then go ahead and private label your products.
In this article, we'll go ahead and describe dropshipping vs private label. You can then decide which business model is suitable for you.
WHAT IS DROPSHIPPING?
Dropshipping is a business model where you don't need to own any of your products. You sell someone else's product through your own website, social media, or any other platform.
With dropshipping, a customer makes a purchase on your store. You then purchase that product from the supplier. The supplier then sends the product directly to the customer on your behalf.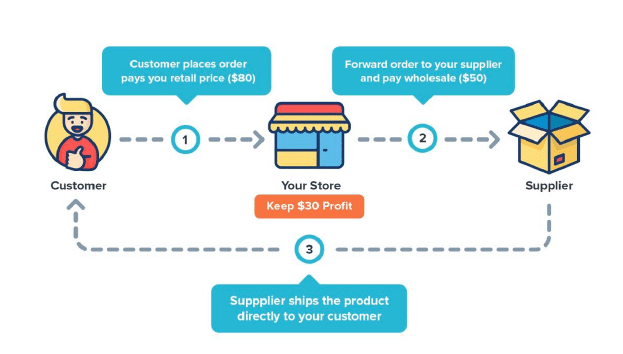 PROS AND CONS OF DROPSHIPPING
Advantage of Dropshipping
Low Investment
Because you don't need to buy products upfront, dropshipping is a lot more affordable to start. Your investment initially will be pretty low.
Wide Selection of Products
With dropshipping, you can change your type of product at any time. So you can constantly change what products you're testing and try out new markets.
Low Risk
Dropshippers don't need to have the product in stock. If some of your products aren't selling it all, you don't hold the risk of inventory sitting title. That way, you're free to change your product at any given time.
All these benefits might sound great but let's go over some of the cons of dropshipping.
Disadvantages of Dropshipping
More Competitive
Now because dropshipping is easier to start, you can expect to have more entrepreneurs using dropshipping as their business model. Many might also sell the same products, so it will be a little bit more difficult for you to stand out.
Product Branding
Another disadvantage of dropshipping is product branding. Most dropshipping suppliers sell unbranded products. So, dropshipping usually isn't the best business model for your brand in the long run.
This is where the benefits of private labeling come in.
What is private labeling?
Private labeling is where you sell products that have your private label or brand name on your products.
Private labeling is different from dropshipping. With private labeling, you have more control of the product than dropshipping.
Pros and cons of private labeling
Private labeling has its advantages and disadvantages as a business model compared to dropshipping, making it a better option for some entrepreneurs.
Advantages of Private Labeling
Branded Products
Private labeling allows you to sell products with your brand on them. With this business model, the manufacturer will put your brand and logo on the product and will enable you to customize your product using your colors or branding guidelines.
Product Pricing
With private labeling, you can have more control of product pricing. Since you're sourcing products from a specific manufacturer, you can find better pricing and product control than with Dropshipping.
Original Products
The fact that you can Brand your own products gives your brand its own identity will make you stand out versus your competitors. You're also able to bundle any products you want and create a custom customer experience.
While these are significant advantages of private labeling, this business model has its disadvantages.
Private Labeling Disadvantages
Higher Upfront Investment
If you are new to e-commerce, know that you will require a more significant upfront investment with private labeling. When it comes to private labeling, most manufacturers or suppliers will need a minimum order quantity (MOQ) for you to have private label products. So for beginners, dropshipping will be a better business model.
More Risk
With private labeling, you will have to have inventory on hand, which will carry more risk. So we recommend private labeling when you have a product that has already been proven to sell. If your product doesn't sell, you will be left with sitting inventory.
Dropshipping vs Private label or Alternative
Briefly, private labeling is when you're selling products using your own brand or label. This allows you some control over the branding and development of your product. You also can sell ready ship products with your own brand or logo on them.
With dropshipping, you're selling another company's products with either their brand or generic products without having to hold any inventory.
The main difference between private labeling and dropshipping is that you don't need to have inventory with dropshipping. So there's less risk involved but less control when using dropshipping.
There's also a combination of both, which is private label dropshipping.
Private label dropshipping allows you to Dropship products with your own brand on them without managing any inventory.
Private label dropshipping versus white-label dropshipping
For entrepreneurs planning to dropship branded products, many suppliers or manufacturers will have two options; private label vs. white label dropshipping. These models allow you to sell branded products we have to manage inventory, but there are a few differences.
With private label dropshipping, you hold the exclusive right to sell a product from a specific manufacturer or supplier. This allows you to change the product color, branding, and other product details.
When selling white label dropshipping products, your dropshipping either generic or branded products from a manufacturer or supplier. This is a life's expensive form of dropshipping, but the product options that you have with private labeling aren't there. With white label dropshipping, you can change the branding or logo. Still, you will generally not be able to customize the product. You also don't have any exclusive rights to that product. So anyone else can white label the same product.
Private labeling gives you more product control and exclusive rights. Although private labeling can be costlier, the potential for higher profits is there.
With that said, let's briefly go over how to Dropship private label products.
How to private label Dropship products
1. Product Research & Product Ideas
The first step in private label dropshipping is the same as any e-commerce business model. You're going to want to do market research and find out the trending products in your market.
One way of doing research is to go on Tik-Tok and search "Tik-Tok made me buy." you can then browse through all the videos and see what products people are purchasing. Tik Tok is now the world's largest social media platform, so you'll find many videos of products bought and used.
Once you find a few products you think you want to sell, search that specific product on Amazon to see how well it sells online. You can also use Google Trends to verify Trends on Broad markets or niches.
For those of you who want a more tailored product research method. Below is a list of five of the best product research tools available to help you With product ideas.
2. Find private label dropshipping suppliers
If you're planning on starting private label dropshipping, You'll want to make sure you partner with the right companies to source your products from.
Private label dropshipping suppliers will allow you to Source Products that you can brand and customize to give your customers the best shopping experience.
One method to finding the best private label Dropship suppliers is to use some free dropshipping apps and then contact suppliers individually. This strategy is straightforward. You simply find the products you want to private label end message the supplier to see if they offer private label drop ship products.
Below we have included some of the best private label dropshipping suppliers and shopify apps that you can use for your store.
Zendrop is a drop-shipping platform that connects you with suppliers and manages fulfillment. It also has an extensive catalog of private label Dropship products that you can choose from.
We recommend Zendrop as one of our favorite dropshipping private label dropshipping suppliers. Zendrop saves you time by already providing you with a list of products that you can easily brand and cell as your own.
With zendrop, you'll have U.S fulfillment, fast shipping, and around-the-clock customer support to help you with any aspect of your business. They also have subscription boxes that allow you to sell products to your customers for reoccurring revenue.
Ali Baba is the largest directory of product suppliers and manufacturers. While Ali Baba primarily offers wholesale products, You can message suppliers directly or work with an agent to set up private label dropshipping.
We recommend finding the product you want to private label on Ali Baba, then message the supplier directly and ask about setting up private label dropshipping for that specific product.
You might have to message several suppliers before finding one willing to provide private label dropshipping.
Most of you are familiar with AliExpress. It is one of the largest dropshipping marketplaces that connects with many apps and multiple e-commerce platforms.
AliExpress allows you to find almost any type of product from suppliers worldwide.
The benefit of using AliExpress is that the products available are all from dropshipping suppliers. This makes it much easier to find a private label dropshipping supplier.
With AliExpress, you simply have to message each supplier and see which one offers private labeling. You're also able to filter products based on the shipping speed and country of origin, making it much simpler to find the right product for your business.
Printful is undoubtedly the best solution for private label dropshipping for print-on-demand products.
Printful integrates with virtually all e-commerce platforms and includes various products ranging from apparel To home decor.
Printful has warehouses worldwide that allow you to ship products with fast shipping times no matter what country your products are delivered to.
If you're planning on starting your own branded clothing line, Apliiq Is one of the dropshipping clothing suppliers. Apliiq is a dropshipping private label and print-on-demand supplier.
Their inventory is kept up-to-date with current fashion trends end includes a large variety of styles that you will not find on Printful or other similar supplier sites. Apliiq Create all the products themselves and strive to deliver high-quality apparel.
Another bonus is that they provide direct shipping information to the customer saving you time and money when dealing with customer service Shipping questions.
3. Create A Dropshipping Store
Once you find the right product and supplier, the next step for you is to create a drop-shipping store for your private label dropshipping business.
Your Dropshipping store is the face of your business, so you'll want to make sure to create an engaging website.
When creating your store, we recommend using Shopify, the world's leading eCommerce platform. Shopify has thousands of themes that you can use to customize the look and feel of your store.
If you're looking to save time, you can also hire someone to create your Shopify store or buy a ready-made store.
Below is a step-by-step tutorial on how to create your Shopify store.
4. Launch and Promote Your Private Label Dropshipping Store
Once your store is ready, it's time to launch and start promoting your dropshipping brand.
When it comes to marketing your store, the two ways will be free traffic or paid traffic (ads).
When you first launch your store, we recommend taking advantage of any free traffic sales channels. These include SEO, Facebook groups, and Tik Tok, to name a few.
If you have the investment to promote your product, we recommend paid advertising on Facebook, Instagram, or TikTok ads.
FIND THE RIGHT E-COMMERCE BUSINESS MODEL
There are many ways to start a drop-shipping business. Before starting, you're going to want to make sure you pick the ideal eCommerce business model that suits you.
If you're asking yourself dropshipping vs. private label, you'll want to take a count on how much of a budget you have, what types of products you are selling, and how much risk you're willing to take when starting your business.
For beginners, we recommend dropshipping initially. Once you have a product that's proven to sell, you can then move forward with private label dropshipping.
So, in essence, what you're doing is testing products using dropshipping. Once you have a product that's proven to sell, you can go ahead and start private label dropshipping to grow your brand.
To summarize how to start a private label dropshipping business. Provided below are the steps you'll need to take.
Market Research and Finding Your Product Idea
Find private label dropshipping suppliers
Create and Setup An Online Dropshipping Store
Launch and Promote Your Private Label Dropshipping Store
Whatever decision you select, keep in mind that business takes time and that you should never stop learning at any point along the way.