Short Answer: Our choice for the best dropshipping website builder is Shopify.
If you're looking to build a dropshipping website, you'll need a reliable and easy-to-use website builder. If you're running a dropshipping business, it's essential to use a website builder that is also built on a strong ecommerce platform.
Fortunately, many great options are available, even if you have no experience with web design.
This article will explore 12 of the best dropshipping website builders for those new to ecommerce. These solutions will let you build a professional dropshipping store quickly and easily without needing any coding or design experience.
So, if you're ready to get started building your dropshipping business, here are the best dropshipping website builders.
Shopify is one of the most popular dropshipping website builders. It offers many features, including a customizable platform, third-party app integrations, and powerful automation tools to help you build your dropshipping website.
Shopify has all the necessary tools to create an efficient Dropshipping website. Anyone can design their dropshipping store using Shopify, including beginners without coding experience. Shopify supports thousands of third-party apps that include several dropshipping features.
One thing that sets Shopify apart as a dropshipping website builder is its vast community. They offer tons of resources and support on their platform, and countless free dropshipping tutorials are available online.
From YouTube videos to free courses, you can easily find the information you need to navigate Shopify and start building your dropshipping business. And with such a large community, it's also easy to connect with other dropshippers and get advice or insights from successful entrepreneurs.
Overall, Shopify's thriving ecommerce community is a major advantage for anyone looking to start their own dropshipping journey.
Shopify Features
Hundreds of online store themes to choose from
Over 75+ payment gateways
Most popular dropshipping website builder
Multi-platform selling and selling through an online marketplace (Amazon, eBay, Google Shopping)
Thousands of dropshipping apps are available
24/7 customer support through live chat, phone, and email support
Connects to hundreds of verified dropshipping suppliers
Shopify Pricing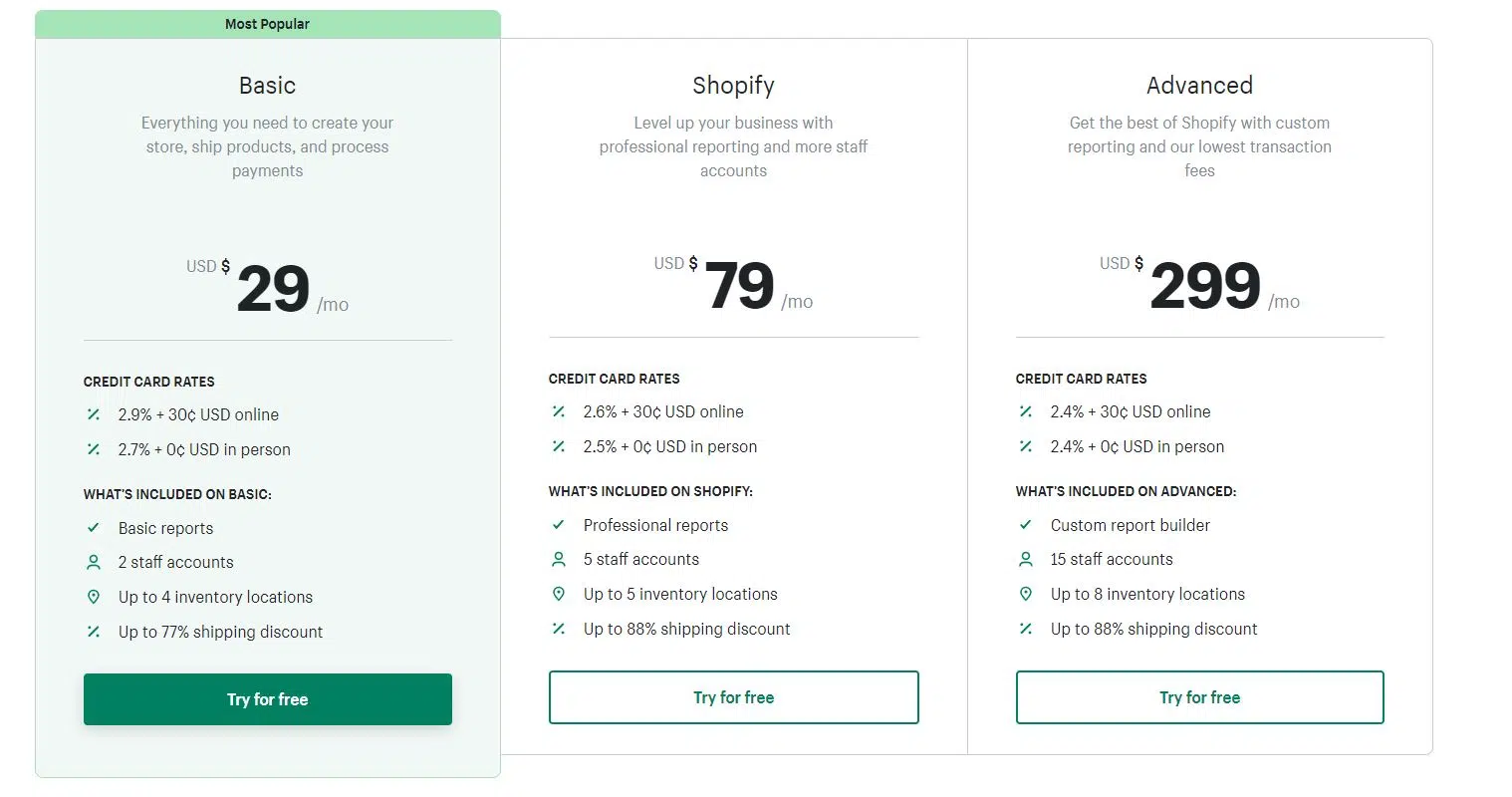 Shopify offers four plans to choose from Starter, Basic, Shopify, and Advanced Shopify. The Starter plan is excellent for new businesses because it's free and includes a limited number of features. If your online business is growing and you need more features, you can upgrade to the Basic plan for $29 per month. The Basic plan includes features like an online store, unlimited products, and a custom domain name.
If you're looking for even more features, you can upgrade to the Shopify plan for $79 per month. This plan includes all of the features from the Basic plan, plus additional features like gift cards and abandoned cart recovery. Finally, the Advanced Shopify plan is the most expensive option, with a price tag of $299 per month. This plan includes all of the features from the other plans, plus additional features like advanced report builder and third-party shipping rates.
Ecwid is a dropshipping website builder that lets you create an online store and sell across multiple sales channels, including your website, social media platforms, and online marketplaces like Amazon.
Ecwid makes it easy to manage your inventory, orders, and pricing from a single dashboard. And with fast implementation and no monthly fees, Ecwid is one of the market's most affordable dropshipping website builders.
Ecwid Features
Free to use dropshipping website builder
50+ payment gateways to accept payments
Sell subscriptions and digital products
Automated Tax Collection
Integrated Marketing Automation
Ecwid Pricing
Ecwid offers three pricing plans: Venture, Business, and Unlimited. The Venture plan costs $12.50 monthly and allows you to sell 100 physical or digital items. The Business plan costs $29.17 a month and gives you 2,500 items. The Unlimited plan costs $82.50 a month, removes item limits, and includes all sales channels.
WooCommerce is a customizable eCommerce platform built on WordPress. It's flexible and scalable, making it an excellent option for dropshipping ecommerce stores of all sizes. WooCommerce dropshipping plugins can automate many tedious tasks associated with running a dropshipping business, such as order fulfillment and product management.
And with WooCommerce's vast ecosystem of themes and plugins, you can easily customize your own online store to match your brand.
Woocommerce Features
Add Unlimited Products to your Online Store
Templates focused on conversions
Order management from the dashboard
#1 ecommerce plugin for WordPress
Hundreds of plugins to customize your store
Woocommerce Pricing
WooCommerce pricing can be a little daunting, but it's important to remember that you get what you pay for. The basic plugin is free, but if you need more features or want to customize your site, you'll need to pay for add-ons or hire a developer.
Annual costs for larger WooCommerce sites can run into thousands of dollars, but for most businesses, the expense will be worth the added functionality and flexibility WooCommerce provides.
Are you looking for a dropshipping website builder that offers freedom and versatility? Look no further than the Wix platform. With Wix, you can create, design, manage, and develop your online dropshipping store exactly as you envision it.
Plus, our built-in marketing and business solutions make scaling and converting seamless. And with over 900 free, customizable templates to choose from – strategically researched for various industries – getting a headstart on your dropshipping journey has never been easier.
Additionally, Wix is designed for performance to ensure faster loading times for your site. Our SEO capabilities also give you the power to optimize your dropshipping store for maximum search visibility. On top of all that, Wix's multi-cloud hosting ensures reliability with 99.9% uptime, even during traffic spikes.
Wix Features
Dropshipping website builder with some of the industry's best features
Over 400+ templates for your online store
Unlimited products and unlimited bandwidth
Logo generator for your business
Drag and drop editor to customize your online store
Wix Pricing
Wix pricing is very affordable, with plans starting from just $16 per month. This makes it a great choice for small businesses and entrepreneurs who want to create a professional dropshipping website without spending much money.
The most expensive plan is the $59 per month Business VIP plan, but this still represents great value for money, especially when you consider the included features. All of Wix's plans include a free domain name and unlimited storage, so you don't have to worry about running out of space.
BigCommerce is another popular e commerce website building tool with over 100,000 users, including Sony and some of the largest brands. In addition to offering customizable storefronts and integrations with external applications, BigCommerce also has dropshipping capabilities for online businesses looking to streamline their supply chain.
BigCommerce website builder allows for quick and easy set-up of a dropshipping store, ensuring that merchants can start selling as soon as possible. And with its robust security and scalability features, merchants can focus on growing their dropshipping business without worrying about potential vulnerabilities or being unable to keep up with increasing demand. That's why leading dropshippers trust BigCommerce as the commerce solution provider of choice.
BigCommerce Features
One of the best dropshipping website builders
App integrations to build and sell however and wherever you want.
Dropshipping Website builder used by some of the world's largest brands
One of the most trusted ecommerce platforms
BigCommerce Pricing

BigCommerce pricing is competitive and affordable, with four subscription options. The cheapest Standard plan supports up to £41,000 worth of sales a year and comes in at £24.55 a month. A Plus plan starts at £65.53 a month (£58.97 with annual billing), and the high-end Pro plan comes in at £245.83 a month (£221.50 with annual billing). Custom Enterprise solutions are also available for the largest stores.
Are you an entrepreneur looking to launch your very own dropshipping website? Look no further than Squarespace's industry-leading templates, fonts, and color palettes. Squarespace offers easy-to-use tools, and setting up an online store has never been simpler.
Plus, Squarespace offers endless customization options so that your website can perfectly reflect your personal style and brand image. And with integrated email campaigns and social media tools, it's a breeze to attract customers and grow your audience.
Squarespace Features
One of the top dropshipping website builders
Easy to use interface for building a dropshipping website
Comes with a Domain name and SSL certificate for security
customer support is available 24/7
Hundreds of website templates to choose from
Fully featured blogging platform
Squarespace Pricing
Squarespace offers a variety of pricing plans to fit the needs of any ecommerce business. The cheapest option is the Basic Commerce plan, which is $27/month and best for small online stores. This plan includes all the features from the Business plan but removes transaction fees and adds extra ecommerce features, such as POS and customer accounts.
The Advanced Commerce plan is $49/month and best for growing stores. It includes all the features of the Basic Commerce plan, as well as transaction fees, the ability to sell on Instagram, and more storage space.
No matter which pricing plan you choose, Squarespace is always a better value than using another platform or building your own website from scratch. Plus, with 24/7 customer support and a wide range of templates and features, you can be confident that your store will look great and function flawlessly.
Shift4Shop is a dropshipping website builder with everything you need to successfully run and grow your online store. The platform offers a suite of marketing, inventory management, SEO, and customer tools – all built into the core software for free – and has over 100 professionally-designed themes to choose from, continually adding more.
Shift4Shop offers free migration assistance to make the transition smooth and hassle-free for those who already have an eCommerce website. Plus, their industry-leading fraud protection powered by Kount ensures your store stays safe while doing business online.
Shift4Shop Features
Fast-growing dropshipping website builder
Customize your online store with their Core Theme Editor
Great website builder for any dropshipping niche
Shift4Shop accounts let you add unlimited products
Shift4Shop Pricing
Shift4Shop offers three pricing plans: Basic Store, Plus Store, and Pro Store. The price ranges from $29 to $229 per month. You can get a 10% discount if payment is made one year in advance. All the packages have some common features, such as Unlimited Bandwidth, API Access, 24×7 Tech Support, and so on.
The most important thing to note about Shift4Shop's pricing is that they offer a special deal called End-to-End Ecommerce for U.S merchants only. This package includes everything you need to get your business online, including design services, hosting, and payment processing.
Look no further than PinnacleCart's all-in-one eCommerce solution. PinnacleCart's innovative "point and click" website builder lets you add unlimited images, videos, and more with no coding experience required.
Our conversion-focused templates make it easy to create a visually stunning online store, or you can customize your own design. And with 15 years of experience in the eCommerce industry, you can trust that PinnacleCart has the tools and support team necessary to help grow your dropshipping business.
What's more, there are no transaction fees or extra charges. When it comes to flexibility, scalability, and control for dropshipping websites, PinnacleCart is unmatched. Give your dropshipping business a boost with PinnacleCart's powerful eCommerce solution.
PinnacleCart Features
Beautifully designed, conversion-focused templates
Designed to attract customers and increase your sales
Complete ecommerce Solution for your dropshipping store
Every template is mobile friendly
PinnacleCart Pricing
PinnacleCart offers a free 14-day trial for interested clients to put the service to the test before making a decision to buy. Using the trial period before making a subscription would be good because PinnacleCart does not offer refunds.
PinnacleCart offers three payment options:
The Startup plan is $45 per month.
The Standard plan is $95 per month.
The Advanced plan is $200 per month.
All plans have unlimited products and services, backups, SSL certificates, and customer support.
EKM is the UK's number one dropshipping website builder. With their easy-to-use platform, you can easily set up your dropshipping website and import products. And with over 70 customizable themes, finding the perfect design for your dropshipping website is a breeze.
Not to mention, you'll have a dedicated account manager available to help you every step of the way. As if that wasn't enough, EKM also offers powerful tools to manage orders, track performance, and view your trending products.
For UK based ecommerce businesses, EKM is a great dropshipping website builder that allows
you to expand your dropshipping business and start selling online
EKM Features
Dedicated Account Manager to help you get setup and sell online.
Add unlimited products and a free domain for your dropshipping business
Connect your ecommerce store to online marketplaces like eBay and amazon
Sell your products through Google Shopping, get found on search engines
EKM Pricing
EKM pricing is very straightforward, with each monthly plan charge including VAT. The cheapest plan starts at £5 per month, and the most expensive plan is £25 per month. This makes EKM one of the more affordable ecommerce platforms available on the market.
Big Cartel is a great way for artists and makers to set up an online store. The website builder is easy to use, and you can customize your dropshipping website to set the look and feel you want.
With Big Cartel, you can manage your online store, fulfill orders, import products, and check stats from any device, so you can always stay on top of your dropshipping business. Big Cartel is a tight-knit company that cares about its team and artists and will be around for years to come.
Big Cartel Features
Automated sales tax
Shipment and Inventory management
Free customizable themes
No listing fees
Big Cartel Pricing
Big Cartel pricing is simple and affordable. You can choose from three plans, each with different features and the ability to sell a different number of products. The free plan is great for starting out small, with five product slots. If you need more product slots or want additional features, the paid plans are affordable and offer a lot of value. Overall, Big Cartel's pricing is a great deal for small businesses and entrepreneurs.
Weebly is one of the most popular dropshipping website builders available today. It's simple to use yet still powerful enough to create professional-looking websites. Weebly makes it easy to get your website online and start growing your online business.
With Weebly, you can choose from a wide range of templates to get started. You can then easily customize the design of your website to match your brand. Weebly also includes a wide range of features to help you grow your dropshipping business. These features include eCommerce tools, marketing tools, a drag and drop editor, and more.
Weebly is perfect for small businesses that want a professional website without spending much money. With Weebly, you can create a website for free and then upgrade to a premium plan as your dropshipping business grows.
Weebly Features
Drag and drop editor and easy to use dropshipping website builder.
Responsive templates for your Commerce Store.
Free subdomain with every online store
Domain Registration
Weebly Pricing

Weebly has three price plans: Personal, Professional, and Performance. The Personal plan starts at $6 per month (paid yearly). The Professional plan costs $12 per month and includes video and membership capabilities. It also removes the Weebly ad and comes with a free domain name for 1 year. Finally, Weebly Performance is designed for online stores that need serious power and costs $25 per month.
Frequently Asked Questions (FAQs)
What is the best free dropshipping website builder for beginners?
Our choice for one of the best free dropshipping website builders for beginners would be Weebly. It is simple to use, has a free plan with no ads, and includes a free domain name for 1 year with the Professional plan.
What is the best dropshipping website builder for small businesses?
The best dropshipping website builder for small businesses would be Shopify. It has simple and affordable pricing, customizable themes, a huge app store to add functionality to your store, and over 100+ payment gateways.
Where can I purchase prebuilt dropshipping stores?
If you're looking to start dropshipping but don't want to go through the hassle of building your own store, you can purchase prebuilt dropshipping stores at Brandafy.com.
How can I start a dropshipping business for free?
If you're looking to start dropshipping for free, we recommend using Shopify's free trial. This will give you 14 days to build your own online store and start dropshipping. You can also use Weebly's free plan to create your dropshipping store. However, note that Weebly will display ads on your free plan.
What is the best free dropshipping website builder?
The best free dropshipping website builder would be Shopify. It has a 14-day free trial with no credit card required, so you can build your ecommerce store and start dropshipping without any upfront costs.
Can I use any website builder for dropshipping?
Dropshipping is an easy way to start your own business! You can use any ecommerce website builder, and there are no special requirements for doing so.
It's important to choose a website builder that is compatible with the dropshipping business model. Shopify has been reported as the most popular among them because it's compatible with dozens of apps or extensions that will help you set up your dropshipping website easily on the go.
Conclusion: Best Dropshipping Website Builders
Overall, all the dropshipping website builders mentioned above are great choices for starting your successful dropshipping business. However, your best one will depend on your specific needs and budget.
Shopify is the best choice for those looking for a comprehensive eCommerce solution to build their dropshipping website. It has simple and affordable pricing, customizable themes, a huge dropshipping app store to add functionality to your dropshipping website, and over 100+ payment gateways.