Online ecommerce businesses cannot easily ignore Amazon if they plan to start selling online. Since its founding 25 years ago, Amazon has developed into the leading ecommerce marketplace in the nation. Well over 197 million individuals use their devices to access Amazon.com every month.
Moreover, Amazon's market share in the US ecommerce sector reached 49% in 2018, representing 5% of national sales. To put things in perspective, this surpasses the combined sales of its top three rivals, eBay (6.6%), Apple (3.9%), and Walmart (3.7%).
Thus, undoubtedly, Amazon dominates online sales and shows no signs of slowing down.
So, why is amazon such a successful business? What attracts such a massive amount of amazon sellers to sell on amazon and consumers to purchase on amazon? Furthermore, why do so many individuals want to start selling on amazon rather than any other ecommerce business?
To understand why it can attract customers and sellers efficiently, let's examine Amazon's story.
The Brand Story Amazon business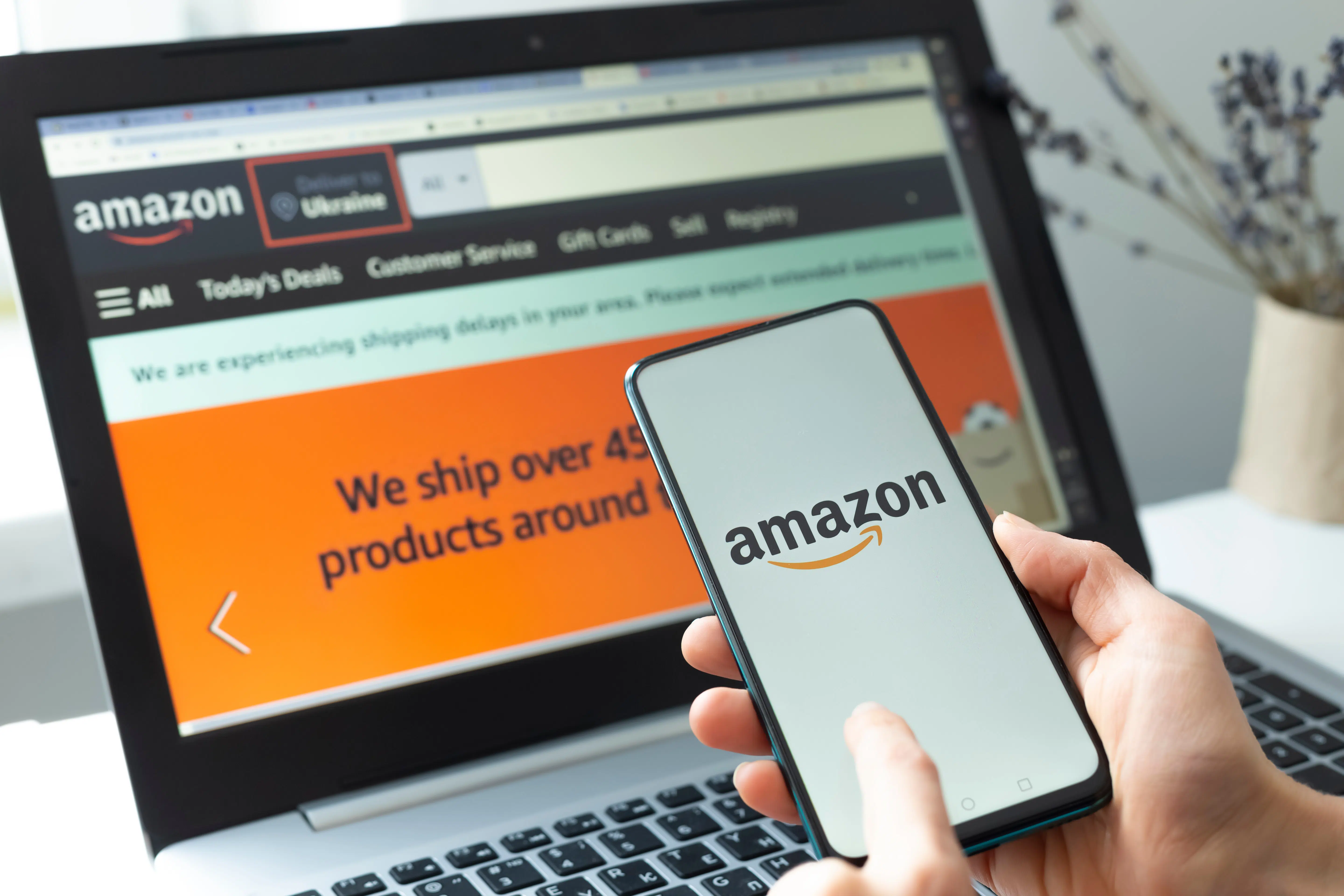 When Amazon first pitched in 1995, the website only offered books for sale. Consequently, Amazon could send books to more than 40 nations a month after starting. However, the following reasons turned it into the top ecommerce business in the market today.
Progressive Mindset
The innovative technology and procedures Amazon adapts are mainly responsible for the company's success. For example, take Amazon's remarkable voice command gadget, the Echo.
You can use Echo to play music, look up information about your favorite sports teams, and even check the weather with only a few spoken phrases. The ecommerce behemoth significantly invested in this ground-breaking technology, producing extraordinary outcomes.
Amazon's innovative philosophy might not always pay off. However, successes like the Echo show that innovation may significantly impact an e-commerce business's performance.
Customer Service
Because of its dedication to providing top-notch customer service, Amazon has created several practical tools. Thus, customers can use them to monitor parcels and simplify their shopping experience for customers.
The devotion of Amazon's Customer Service staff to avoiding and promptly resolving issues for consumers has earned them several honors. Being the most customer-focused firm globally is one of Amazon's main objectives. Moreover, the brand's commitment to this objective has been fruitful.
Another effective technique this ecommerce business uses to generate sales and raise the bar for its customer care is social media. Amazon uses social media platforms to help with addressing consumer complaints.
Consequently, they can aid in establishing a solid base of devoted supporters to promote their brand.
User Experience
Identifying product and product categories efficiently are essential for any online business wanting to sell products quickly. Because of this, Amazon has a whole UX team that includes user research, interface design, and web development experts.
These specialists work with Amazon's product managers and executives. They provide an intuitive user experience and professional selling plan to help amazon e-commerce businesses.
Going Through the Basics
Now, let's get to the primary question, "how to sell on amazon?" Selling on Amazon might not be a piece of cake. However, starting an Amazon store shouldn't be impossible either.
Now, let's see how you can sell online using your brand as an Amazon seller.
Seller Central
You'll access your Seller Central account after you sign up to sell on Amazon. So, consider Seller Central to be your primary selling resource on Amazon.
Moreover, it allows you to do the following:
Monitor your inventory and change your listings
Download personalized business reports and save frequently used templates
Utilize seller performance tracking tools
Monitor the daily sales of every product you market on Amazon
Listing Your First Product
Establish a product listing before you can sell something on Amazon. Depending on your marketing strategy, you may offer your items in a variety of ways:
Individual sellers: Who offer items one at a time
Professional sellers: Who allows for mass uploading and third-party selling
Your product will be accessible to B2C and B2B clients after successfully listing it. Consequently, you may quickly broaden your reach with only one account and no additional expenses.
Requirements for Listing
A Global Trade Item Number (GTIN), such as a UPC, ISBN, or EAN, is often required for items. Their purpose is to let Amazon recognize the specific item you're selling. However, you won't need to supply a product ID if you meet a listing.
Nevertheless, you might need to buy a UPC number or apply for an exemption if you're introducing a new product to Amazon.
Below are a few crucial attributes that go into each item listing in addition to the product ID:
SKU
Products name
Description of the item and bullet points
Pictures of goods
Key phrases and pertinent search terms
How To Start Selling on Amazon
The first thing you must do to start selling on Amazon is to choose a selling plan. Amazon has more than one selling plan to help you set up your seller account.
Thus, if you're wondering how to sell on Amazon, you must first select between two plans:
Individual Amazon Seller Account
The individual Amazon seller account has the following characteristics:
Costs $0.99 per item sold with additional selling fees
For an Amazon seller who wishes to sell below 40 articles per month
For sellers who still have to choose what they are selling on amazon
For sellers unwilling to use advanced Amazon tools
Professional Seller Account
The professional seller account has the following characteristics:
Costs $39.99 in monthly subscription fee with additional selling fees
For an Amazon seller trying to sell over 40 items per month
For a brand owner looking to advertise
Sellers who want to be eligible for top positioning on product detail pages
Brand owners looking to utilize sophisticated selling tools, such as APIs and reports
Sellers who desire to market items within prohibited categories
The professional seller account plan allows the sellers to:
Attempt to sell in more categories on the Amazon account
Create bulk pricing to save time
Utilize feeds, charts, and reports to manage inventory
Obtain the highest position possible on product category detail pages
Boost sales productivity by integrating APIs
Choose delivery costs For non-media goods
Use the options for on-site advertising to attract customers
Run campaigns with free zero shipping costs
Include more users in your professional account
In addition to the selling fees, Amazon also charges referral fees for each product you're selling on Amazon. This is a small percentage of the total earnings. However, it may be different for each product category.
Selecting a Selling Strategy
You can become one of two types of sellers when choosing to sell on Amazon.
Resellers: These third-party sellers select existing products, perform retail arbitrage, and sell them on their Amazon seller account.
Brand Owners: This seller brings their own brand to sell on Amazon. Moreover, they use private labeling for their own products. Thus, customers get an exclusive experience buying from a seller's own products.
Also, Amazon offers various free tools to help launch your own site and brand. Once you enroll yourself in the brand registry, you can access some exclusive perks to sell on Amazon.
Some of the brand registry perks it offers include:
5% return for the first $1,000,000 you make for branded sales
Up to 30 dependable evaluations for one product on Vine for free (a $200 value)
Up to 2000 free Transparency coupons (worth $100) for nothing
Tools
A+ Content:
A+ Content lets companies use rich text and photos on the Amazon detail page. This helps highlight brand narrative and product attributes. Consequently, this may assist conversion and perhaps boost traffic and sales.
Stores:
Stores is a free, self-service, brand-specific location on Amazon. Here advertisers may curate material that motivates, informs, and directs users to the brand's product listing.
Sponsored brands:
Through personalized cost-per-click advertisements, Sponsored Brands can assist shoppers quickly finding product recommendations. In addition, they aid in discovering and engaging with a brand when they conduct market research on Amazon.
Brand analytics:
Now you can satiate your internal data demands. Thus, utilize demographics, more potent data, and aggregated search phrases to make wise judgments.
Launching Your Brand
Once you have figured out your selling strategy, you can move on to launching your brand. For this, Amazon has a strategy feature known as "The Perfect Launch."
The first 90 days are crucial for a new Amazon seller account to speed up performance after its debut. Thus following five points make up this strategy:
Brand Registry
When you get the Amazon brand registry, you have access to a set of tools for selling. These include automatic protection and practical search tools. Moreover, this helps detect and report infringements to help you secure and distinguish your brand.
A+ Content
On Amazon product description pages, use A+ Content to highlight your company and product detail. Next, you may conduct product research to identify variations of the same product. You can also check enhanced brand content and product set-up.
Later with your product research, use the "Manage Your Experiments" tool to perform A/B testing to optimize conversion.
Fulfillment by Amazon
Before we get into the details of selling on Amazon, it's essential to learn about the newest feature of this business. This feature is known as the Amazon FBA.
Amazon has launched its FBA service to meet the growing demands of Amazon sellers. Amazon FBA stands for "Fulfillment by Amazon." Moreover, it refers to the process through which the enterprise stores your items in the Amazon warehouse.
Next, it carries out inventory management at the Amazon warehouse to process your orders and provide customer assistance. However, before they start selling on the platform, Amazon sellers must register for an Amazon seller account.
Next, the Amazon seller must add FBA to their account to use the FBA service. As an Amazon seller, it's crucial to set up your professional seller plan according to the instructions of the ecommerce business.
New sellers must make their product listings and inventories and connect them with the Amazon platform if they like. Next, an Amazon seller can send products to the Amazon warehouse with the delivery-ready goods.

The Perks of FBA
You won't have to deal with the procedures related to inventory, packaging, and shipping orders as an Amazon seller. With this technique, you may start selling internationally, thanks to Amazon's reliable FBA platform. Additionally, you'll pay zero shipping cost on orders above $25 for books and $49 for other items.
Further, if you are eligible for the Amazon Prime program, buyers will receive unlimited free one- or two-day shipping. Compared to other amazon fulfillment center facilities, the Amazon FBA price is relatively low.
With Fulfillment by Amazon (FBA), Amazon will choose, pack, ship, and handle your customer support. Meanwhile, you can keep your goods at one of Amazon's many fulfillment centers around the globe.
You may grow your own amazon business with the aid of FBA, reach new clients, and acquire Prime members with your offers.
Automated Pricing
You may increase your chances of being the Featured Offer by using an automated pricing tool. This helps to rapidly and automatically modify your sales rank and rates compared to your rivals.
While centralizing other company components, select the Amazon listings you wish to enroll in. Further, establish price caps, and allow Amazon to help maintain your pricing competitive every day of the week.
Advertising
Sponsored Products advertisements that appear in relevant search results and product pages pay only when consumers click on them. Thus, you can assist customers in finding your products.
Use relevant keywords to increase your presence in search results and product pages. To assist in better conversion, run promotions or provide discounts.
Unlike other sellers, sellers who achieve Perfect Launch typically produce 6.3 times greater first-year income.
Your Very First Amazon Seller Account
You can start selling on Amazon with your customer/personal account. Otherwise, you can use your business email to create a separate account to sell on Amazon.
You must have the following for your registration process to sell on Amazon:
A consumer Amazon account or a business email address
The credit card that may be valid abroad
Government identification
Tax information phone number
A bank account; This bank account should be the one where Amazon may transfer your sales revenue
Seller Central
Amazon Seller Central is a tool made for sellers' convenience. Moreover, Amazon Seller Central is the webpage that sellers use to log in and check the status of their Amazon transactions.
Plus, you can control inventory, alter prices, check the status of your account, and speak with selling partner support. Thus, sellers gain better accessibility and control to sell on Amazon with Seller Central.
Therefore, regarding enhancing your user experience, Seller Central is the tool for you.
The Amazon Mobile App
The Amazon Seller app helps manage your business from your phone. This includes:
Tracking sales
Completing orders
Finding things to sell
Answering inquiries from customers
Taking and editing high-quality product photographs
Creating product listings
Choosing Your Product
What products can you sell on Amazon? The reply counters according to the brand, category, and product.
A Professional seller account is vital for some classes. Meanwhile, you can sell some without it. Moreover, some categories contain items that third-party sellers can't sell.
You're probably worried about the vast selection of things on Amazon. Which of the roughly 12 million items Amazon sells will give you a high investment return? Clothing? Cooking utensils? Skiing equipment?
Fortunately, it's not as demanding as you may believe in deciding what to sell on Amazon and how to sell it. You may conduct most of your research for free on the website.
However, you should attempt to select a product with minimal risk and a significant return. So, let's first check some of the best-selling items on Amazon for ideas.
The list of best-sellers is compiled by Amazon and is updated hourly. It includes anything from gadgets to books to video game consoles.
Here are a bunch of the current leading picks:
Books
Given the continued demise of traditional book shops, books are a wildly popular category on Amazon. Older classics, best-sellers, and recent releases are all frequently on sale for even less than $20.
Books are an excellent alternative for sellers since you can frequently purchase them in large quantities. Next, you can resell them on Amazon for a healthy profit.
Apparel and Accessories
The Clothing, Shoes, and Jewelry area is probably one of the most well-liked. However, it is also one that is overrun with products. Therefore, you must ensure you can provide something distinctive at a competitive price.
Instead of turning to Amazon for expensive name-brand goods, customers hunt for deals. A simple sleeveless tank top and high-waisted tights are among the hottest things right now, all of which are under $17.
Thus, use this mindset to sell your product quickly.
Gadgets and Electronics
A Fire TV Stick plus the Echo speaker featuring Alexa (priced around $50) are two of the most popular gadgets in the world. We know this because they are featured in the electronics category on Amazon. This is a potential field if you can purchase gadgets in large quantities.
Toys
The simplicity of some of the most popular video games on Amazon may surprise you. For example, Monopoly's introductory $6 deck is the third-highest item.
Toys usually sell well if they are already well-liked or sold in large quantities. For example, Play-Doh is among the best-selling toys in a 10-pack.
In addition to specific products, you should look at which categories do well on Amazon. In order of popularity, these are the top three markets on Amazon and the Marketplace:
Making Your Product Choice
Examining available quantity, bulk pricing, Amazon seller fees, shipping options, and prices is crucial. This will assist you in making a more informed choice. For example, a two or three-pound item can save money on shipping.
You should also consider things that won't break easily while transported and weighed. Accordingly, you should also ensure your product fits your shipping options.
Most of Amazon's products cost between $10 and $50. Therefore, you should pick goods you can sell for under that range and still turn a profit.
You can employ the four approaches below to choose your product.
Manual Amazon Product Research
You should start by looking at Amazon's top-selling products in a particular category if you want to study popular things on the site personally. This may help you determine which item you wish to sell. Then after investigating a class and its subcategories, you should ideally focus on a specialty.
You may also glance at the "Customers also bought" section while viewing Amazon's best-sellers list. This helps receive suggestions for related goods.
Next, you should create a list of the goods you want. Later, use Google Keyword Planner to see whether there is any search volume for those items, which suggests a degree of demand.
Search for a suitable market gap
Simply conducting an organic search on Amazon may reveal a gap. For example, almost 100,000 results for "women's leggings." However, only 1,000 results are for "cycling leggings women pink."
Although this is a simple representation, there are occasions when you need to focus your product search. This crucially helps discover a location to stand out on Amazon.
There are currently many people selling leggings, but it's possible that a specific design, color, or kind of legging isn't available on the website.
Additionally, monitoring customer feedback for your product's target market might help you identify a market gap. Even when there are currently many items that are identical to yours, you can discover that buyers are dissatisfied with the existing brands. Therefore, they desire something you can offer.
Look for things with less competition.
It can be exceedingly challenging to stand out from the competition and get the desired sales. This is primarily valid if you're attempting to sell a commodity with 100,000 search results.
Fortunately, it's relatively simple to identify a less-competitive niche within a larger market. Thus, it ensures that searchers more readily discover your product. Moreover, since they had to use a more specific keyword to find your product, those searchers are probably more willing to make a purchase.
Let's take the example of wanting to sell cookbooks. A search for "cookbooks" yields almost 70,000 results.
In contrast, there are just 3,000 hits for the search keyword "Cookbooks for rapid pot cooking." In addition to having a higher chance of being a best-seller in this area, the keyword "Cookbooks" is also more specific.
Thus, if someone searches "Cookbooks," they may be looking for anything from "Kiddie cookbooks" to "Holidays cookbooks." However, if users search for "cookbooks for quick pot cooking," they are more inclined to be pleased with your offering.
Utilize Best Sellers Rank to look for classifications with a minimum of three results
A high BSR demonstrates that the product is in great demand. This is essential since Amazon's Best Sellers Rank (BSR) considers recent and past sales of an item. It's not a good indicator, though, if only one item in a category has a high BSR and none of the other products are best-sellers.
Let's imagine, for example, that you wish to offer sporting goods. However, you discover that the category "soccer balls" only contains one product with a high BSR. In contrast, further investigation reveals that the category "basketballs" features several of the top-selling items on the first page.
This is a positive indicator since it implies that there isn't just one "best" product. Further, it shows the user's desire to investigate several options before deciding.
Ultimately, you want to see a product with a raised BSR because it shows a market for it. However, you also want to see other products in the same category with high BSRs. This is because it indicates that there is still potential for your product to flourish.
When Finalizing Your Product
It's undeniable that selling goods on Amazon may bring in a sizable profit. Still, to flourish there, you must be able to provide distinctive, reasonably priced goods with little competition.
Selling on Amazon just for selling on Amazon is not a wise strategy. This is because of the market's oversaturation. Accordingly, it's harder than ever to stand out. Instead, you should make sure that you can provide something of value.
If you already have a product in mind, use the advice mentioned above to hone your approach. Later, choose a target market within a more significant demographic.
Start with the fundamentals if you don't have a specific product. Ask questions like "what are the top Amazon search terms?" and "what are the most profitable products?"
Lastly, consider similar items that the consumer would find more engaging or helpful. Additionally, don't go for items already offered on Amazon after you have a list derived from keyword research.
The Product Detail Listings
You must first establish product listings in Seller Central. Furthermore, an item listing contains:
A product identification to describe the exact item you're selling. For example, a GTIN, UPC, ISBN, or EAN. You can obtain a UPC code directly from GS1 or ask for an exception.
To keep track of your inventory, you may generate an SKU or a product ID
Details of the offer, such as the cost, the state of the goods, the available amount, and the possible delivery choices
The product title, brand, category, description, and the photographs
Search phrases and keywords to guide customers to your product
You'll match an existing listing if another seller has previously made the same product available. This means some details, like the product identifier, will already be in place. However, you'll make a new listing if you are the first seller to offer a product.
Consequently, you'll have to insert a new product identifier and other details.
The Product Detail Page
A "product detail page" will show the information about your offer. Hence, customers may learn all critical data about a specific product on the product detail page.
When many vendors offer a product, Amazon compiles the information from each offer on a single detail page. Sellers that provide the goods can add information to the detail pages. Otherwise, they can ask for evaluations if the page information is inaccurate.
Consider signing up for Amazon Brand Registry. This free service allows you more discretion over product detail pages that utilize your brand name. Moreover, it helps if you sell your goods under a registered trademark.
Title
Two hundred characters are allowed, with the initial letter of each word capitalized
Images
500 x 500 /1,000 x 1,000 for better listing quality
Variations
Variety of colors and sizes
Bullet Points
Key features and advantages are highlighted in succinct terms
Featured Offer (Buy box)
The highlighted deal is on a detail page. Customers can "Buy Now" or "Add to Cart."
Other Offers
Many merchants offer the same product at various prices, multiple delivery choices, etc.
Description
Keywords increase the likelihood that people will locate your listing.
Bringing in Customer Traffic
When your brand goes live on your Amazon store, it's time to get maximum traffic. You can use the following strategies to sell online and generate sales.
Quick Shipping
Customers often purchase items thanks to the Amazon Prime badge. Furthermore, you may obtain this badge by shipping products from one of Amazon's fulfillment centers. Additionally, you can employ Fulfillment by Amazon (FBA) for this.
Promotions and Advertisement
By placing advertisements in search engine results and on product pages, you may increase brand recognition and the exposure of certain items. Accordingly, another strategy for marketing your items is to run a promotion or a coupon.
Put Up Competitive Prices
Many consumers look around for the best deal. You may maintain competitiveness using Seller Central capabilities like automatic repricing and bulk marketing for Amazon Business clients.
You Made Your First Sale, Now What?
Your Amazon retail story doesn't end once you make a sale. This is where it all begins. Thus, get ready to run the actual e-commerce marathon after selling your first product.
Getting Optimum Customer Reviews
Do you ever look at a product online and find it difficult to decide whether it's worth the price? Therefore, the best way to judge products online is by reading customer reviews. These are unbiased, honest opinions that consumers post.
Therefore, from a seller's perspective, these can be your best friend or worst enemy. However, this depends on the quality of your product and service. Regardless, you should ensure you are well-rehearsed with the review policies.
This will help you avoid violations and properly get views.
Growing the Business
You can utilize various methods to help your brand prosper.
Advertising
Thanks to Amazon's advertising options, you can reach and engage customers in new ways. This is regardless of whether you're just beginning to compare items or are prepared to make a transaction.
Additionally, advertising appears where consumers notice it (for example, on the top search or product detail page). Moreover, all three of Amazon's advertising options are available through Seller Central.
Sponsored Items
Sponsored Products promote product visibility (and sales) as advertisements for specific item listings on Amazon. They may be found on product detail pages and search results pages.
Sponsored Brands
Associate Brands feature your company's name and line of goods. They are search-result advertisements that include the logo of your company, a unique headline, and up to three of your goods.
Amazon Stores
You may share your business history and product offers on Amazon Stores. Moreover, you can enable personalized multipage shopping destinations for particular companies. (And using them doesn't need any website expertise.)
Coupons and promo offers
Clients wish to save money, and sales encourage them to buy more. Further, there are three different kinds of promotions: discounts, free delivery, and purchase one, get one free deal. Moreover, with digital coupons, you may also provide percentage or dollar-off reductions.
Going Global
For every company, becoming worldwide is a significant accomplishment. It might result in a substantial increase in revenue and the acquisition of tens of new clients.
However, there are many moving elements involved in global expansion. Still, with Amazon Global Selling, you can utilize Amazon's global infrastructure to put your items in front of customers throughout the world.
Employ Amazon Global Selling to list and distribute your items on any of Amazon's online stores. These are present in Europe, Asia, and North America.
Conclusion
Now you know how to sell on Amazon, or at least the basics of it. Thus, get started on your e-commerce journey and start selling online!