Redbubble is a platform where artists and designers can sell their creations to the public. It's an excellent way for artists to make money and for customers to find unique products they can't find anywhere else. But is Redbubble legit? Are people actually making money through this platform? In this blog post, we will answer all your questions about how Redbubble works and give you some tips on making the most of this site!
What is Redbubble and is Redbubble Legit?
Redbubble is a popular online marketplace where artists and designers worldwide can showcase and sell their work on various products. This innovative platform allows to share their unique talent and reach an international audience without the hassle of managing their own inventory or shipping logistics. As a customer browsing through Redbubble, you'll find a diverse range of artistic styles and designs, making it an ideal destination for finding one-of-a-kind items that cater to your tastes.
Redbubble reviews are generally positive, with many customers praising the site for its unique offerings and vast product selection. Some negative reviews point to occasional shipping delays, but customer service is usually very responsive in addressing customer issues.
From custom apparel and home décor to tech accessories and stationery, each Redbubble product features a design crafted with passion by an independent artist. This provides the artists with a well-deserved platform and income stream and ensures that buyers receive high-quality, distinctive items that truly stand out from the crowd. Simply put, Redbubble has revolutionized how we appreciate and support the world of art while adding creativity to our everyday lives.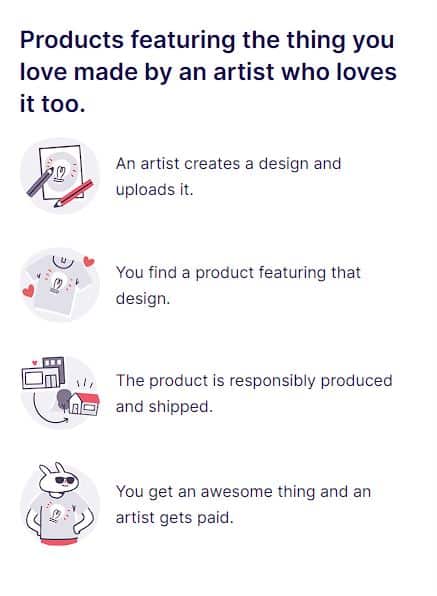 How to Make Money on Redbubble
As an artist, Redbubble offers you a terrific opportunity to make money from your artwork. All you have to do is create a profile and upload your own designs. Customers can then purchase products featuring those designs, and you'll receive a commission for each sale.
Sell Your Artwork
The first and most obvious way to make money on Redbubble is to sell your artwork. If you're an artist looking to make some extra cash, Redbubble is an excellent platform to consider. It allows you to sell your artwork on an array of products, from apparel to phone cases and stickers to home decor. The possibilities are nearly endless! But how do you make money on Redbubble? The key is to create original, high-quality designs that people will want to buy.
Take some time to research current trends, then put your unique spin on them. Once you've created some designs, start by setting a reasonable price point – not too high, but also not too low. Then, promote your work on social media and other channels to help get the word out. With some effort and patience, you'll be well on your way to making a profit on Redbubble!
Join an Affiliate Program
If you're an artist, designer, or photographer looking to monetize your creativity, Redbubble is a fantastic platform to showcase and sell your work. But did you know that you can make even more money on Redbubble by joining their Affiliate Program? The program allows you to earn a commission by referring people to Redbubble's website. All you have to do is place unique tracking links on your website, social media accounts, or blogs, and when someone clicks on the link and makes a purchase, you earn a sales commission.
The best part is that it's free to join, and commissions are paid monthly through PayPal. So, not only can you make money by selling your own products on the Redbubble store, but you can also earn a small percentage of passive income by promoting other products on their website. Don't miss your chance to increase your revenue and join the Redbubble Affiliate Program today.
Sell Through a Third-Party Marketplace
If you want to make extra cash on Redbubble, you can increase sales by selling through a third-party marketplace. By utilizing a marketplace, you open up your designs to a larger audience, increasing your chances of making a sale. Some popular marketplaces for Redbubble users include Etsy and Amazon, both of which have millions of active buyers.
Additionally, selling through a third-party marketplace can provide extra exposure for your designs, further promoting your brand and increasing visibility for the legitimate website. Keep in mind that there may be additional fees associated with selling through a third-party marketplace, so be sure to read the fine print before getting started.
Using a third-party marketplace can be an excellent option for those looking to expand their reach and increase their income on Redbubble.
Use Social Media
If you're an artist or designer looking to earn extra cash, Redbubble may be your platform. And the key to making money on Redbubble? Utilizing social media. By sharing your Redbubble products on platforms like Instagram, Twitter, and Facebook, you can expand your reach and draw in potential customers.
With each share, you're advertising your art to a broader audience, increasing the chances of someone stumbling upon and purchasing your work. Additionally, interacting with other artists and customers on these platforms can help build relationships and a loyal following.
So, if you're serious about making money by selling art only on Redbubble, it's time to establish a strong presence, sell art on social media, and start sharing your creations with the world.
Collaborate With Other Artists
Collaborating with other artists is another great way to get exposure to your work. Not only can this help you expand your audience, but it can also lead to more sales and exposure. When you collaborate with other artists, you're tapping into their network of followers and customers, providing you with a new set of eyes on your work.
Additionally, working with others can spark new ideas and approaches to your art, leading to more unique and appealing designs. Don't be afraid to reach out to fellow artists on Redbubble or other social media sites to discuss potential collaborations – it could be the key to boosting your earnings on the platform.
How to Set up an Account on Redbubble
Redbubble is a popular online marketplace for artists, designers, and photographers to showcase their work and sell their creations. Setting up an account on Redbubble is a straightforward process you can do in just a few easy steps.
First, visit the Redbubble website and click on the Sign-Up button in the homepage's top right corner. Next, choose your desired sign-up method by using your existing Google or Facebook account or by creating a username and password. Once you have completed the required sign-up information, including your email and name, you will be asked to verify your email address. After confirmation, you can personalize your account by including a profile picture, bio, and links to your social media accounts.
From there, you can upload your artwork, choose the products you want to feature your designs on, and start selling your work on Redbubble. With millions of potential customers worldwide, Redbubble will showcase your creativity and expand your art business.
7 Reasons Why Redbubble is Legit
Once you've created a Redbubble account, the sky's the limit when selling your products and other best-selling items to make money. But with so many online marketplaces out there, how do you know that Redbubble is legit? Well, here are 10 reasons why Redbubble is one of the best platforms for art makers, digital artists, and sellers looking to make some extra cash:
A Wide Variety of Products
One of the many reasons Redbubble is a legitimate online marketplace is its wide variety of products. The website offers an extensive range of items that independent artists and designers uniquely design. Customers can find various products such as clothing, phone cases, stickers, tote bags, wall art, and even home decor. The best part is that these products are customizable, adding an extra touch of personalization to each item.
Not only does Redbubble provide customers with a diverse product selection, but they also ensure quality in every item they sell. From the materials used to the printing process, Redbubble carefully reviews and examines the production process to ensure its customers receive only the best products. With such a good reputation and a vast array of items, it's no wonder why Redbubble has become a trusted and reliable platform for those seeking unique and affordable products.
Guarantees Protection Against Art Theft
Redbubble is a reputable company and online platform that guarantees protection against art theft. This platform fosters creativity, ingenuity, and innovation by providing a safe and secure space for artists to showcase their work. Redbubble takes art theft seriously and has implemented various measures to protect its users' intellectual property. One of these ways is by offering a stringent infringement reporting process.
With this process, artists can report any infringement, and Redbubble will promptly investigate and take action to mitigate the situation. Additionally, each artwork uploaded to the platform is checked against a database of over 100 million copyrighted works to prevent any unauthorized use.
High-Quality Products
If you're looking for unique and high-quality products, Redbubble is the place to be. With an impressive selection of products ranging from t-shirts, phone cases, stickers, and posters, Redbubble offers something for everyone. But what makes Redbubble stand out is the quality; every product is made from premium materials, ensuring they are durable and long-lasting.
Furthermore, the printing process is high quality, ensuring the designs are vivid, sharp, and true to the original artwork. Rest assured, purchasing print-on-demand products from Redbubble means you're investing in products that not only look great but are also made to last.
So, if you're in the market for top-tier, unique designs on high-quality products, Redbubble is the perfect option.
Excellent Customer Service
When it comes to online shopping, the idea of poor customer service can be a daunting thought. However, Redbubble takes customer satisfaction seriously and ensures its customers are happy with their purchases.
Excellent customer service is one of the reasons why Redbubble is legitimate, and they strive to make the shopping experience as seamless as possible. Whether it's answering customer complaints and queries, purchasing products, processing replacements, or managing returns, their customer support team is always on hand to assist. Their 24/7 team remains attentive to every customer's needs, ensuring a hassle-free experience.
With Redbubble, you can always rely on their commitment to outstanding customer service to give you peace of mind while shopping.
A Risk-Free Shopping Experience
Redbubble is truly a unique platform for artists and shoppers alike. If you want a risk-free shopping experience, look no further than this online marketplace. Unlike other online marketplaces, Redbubble ensures that all the items sold on their site are authentic, original creations made by independent artists. Furthermore, the site regularly monitors its sellers so all transactions are honest and above board.
Additionally, Redbubble has a fantastic return policy making it easy for buyers to get their money back if they are unsatisfied with their purchase. All in all, shopping on Redbubble is a great way to support independent artists and get unique, high-quality products at the same time – all while enjoying complete peace of mind thanks to the site's commitment to authenticity and customer satisfaction.
Fast Shipping
If you're an avid online shopper, chances are you've experienced the frustration of a long shipping process. Luckily, Redbubble is one platform that falls outside this category. With lightning-fast shipping times, customers can enjoy their new purchases almost immediately. This is one reason Redbubble is a go-to website for unique and personalized art, clothing, home decor, and more.
Unlike some other online marketplaces, Redbubble prides itself on being a trustworthy and legitimate platform for both buyers and sellers. With easy-to-use and secure payment systems and excellent customer service, it's no wonder that Redbubble continues to gain popularity within the online shopping community.
So, whether you're searching for a quirky tote bag or a statement piece for your living room, you can rest assured that Redbubble will deliver your purchase quickly and with the utmost care.
Offers Secure Payment
At Redbubble, they understand the importance of a secure and reliable payment system for many users. That's why they use a combination of trusted third-party providers such as PayPal and Stripe to ensure that all of their customers' payments are processed quickly and safely.
Furthermore, these third-party sites also provide buyers with additional security features that Redbubble requires, such as fraud protection and money-back guarantees. So, when you shop with them, you can trust that your payment information is always in safe hands. And, with the added peace of mind provided by these third-party sites, you can relax knowing your payments are secure and protected.
Frequently Asked Questions About Redbubble
The last part of our guide takes a look at some frequently asked questions about Redbubble.
What types of products does Redbubble offer?
If you're a creative soul looking to showcase your artwork, Redbubble is perfect for you. Here, you can find many unique products ranging from clothing to home decor, stationery, stickers, phone cases, and much more. Are you an artist looking for an opportunity to sell your art as custom-made products? Redbubble offers you the chance to do just that!
Whether you're an illustrator, painter, graphic designer, or photographer, there are numerous options to exhibit your skills and monetize your creativity. With Redbubble's user-friendly interface and seamless customer service, you can conveniently design, upload, and sell your artwork on various products while allowing Redbubble to take care of production, shipping, and customer support.
Is Redbubble a good way to make money?
Redbubble is an online store platform that allows people to create and sell artwork, apparel, phone cases, décor items, and more. People worldwide are looking for an easy way to make money from their creative artwork, so it's no surprise that Redbubble has garnered so much attention. The quality of prints you get from Redbubble products varies, but it can be a great way to make supplemental income from creative projects like designs and illustrations.
Although there's no guaranteed success with this venue, entrepreneurs have earned impressive incomes by finding their niche and mastering the business side of things. Although there are many benefits associated with Redbubble, it's important to note that there are costs associated with registering your work and credit card fees for sold items. Ultimately, whether using Redbubble as a way to make money proves successful will depend on individual diligence and effort.
How long does Redbubble take to deliver?
Redbubble is an excellent choice for anyone looking for unique products with lightning-fast shipping times. However, the actual delivery time will depend on your location, product availability, and processing time. Most Redbubble orders are shipped within 1 to 4 days of purchase and should arrive within 7-14 business days of placing an order (U.S.).
International orders may also take longer to arrive due to customs and will likely experience longer shipping times. That being said, Redbubble is committed to delivering your order as quickly and safely as possible. And, with their secure payment systems and excellent customer service, you can rest assured that they will deliver your purchase with utmost care! So, if you're looking for unique items with quality control and speedy delivery, Redbubble is the choice.
How to track Redbubble orders?
Redbubble makes tracking your order and seeing when it's expected to arrive easy. Once you complete an order, Redbubble will email you a confirmation with a unique tracking number. You can use this number on the carrier's website to track your shipment from their warehouse directly to your doorstep.
If you have any questions about the tracking information or your order, contact Redbubble, whose customer service team can assist you. With their excellent customer support and speedy delivery times, you can trust that your order will arrive with the utmost care.
So, if you're looking to purchase on Redbubble or need help tracking an existing Redbubble order, feel free to contact their helpful customer service team. With Redbubble, you can trust that your order will arrive safely and on time!
What is the downside of Redbubble?
Redbubble's biggest downside is that standing out on the platform can be challenging. With an overload of artists and their work, it can be difficult for your artwork or design to get noticed. In addition, many products on Redbubble may require purchase minimums or have limited availability based on stock levels. Furthermore, credit card and PayPal processing fees may also be applicable.
Overall, Redbubble is a terrific option for entrepreneurs looking to display and sell artwork online. Still, it's essential to consider this platform's possible downsides before making any commitments. It's also wise to keep track of your sales and expenses to ensure that you are staying profitable. However, with diligence and hard work, entrepreneurs can make a successful living off of Redbubble!
Who sets the price on Redbubble?
If you're considering selling your art or designs on Redbubble, you may have questions about how the pricing system works. One common question that arises is who sets the price on Redbubble? The short answer is that the artist sets the base price, but Redbubble also has a default markup for the retail price for each product that takes into account factors like production costs and website maintenance.
As a seller, you can have competitive prices and adjust your markup amount to increase or decrease your potential profit margin. It's critical to remember that setting prices too high may deter potential buyers, so finding the right balance is key. Ultimately, your product's price on Redbubble is a collaborative effort between the artist and the marketplace platform, allowing for flexibility and customization in the pricing process.
Is Redbubble better than Etsy?
When it comes to the world of online marketplaces, Redbubble and Etsy are two of the biggest players out there. Both platforms offer unique opportunities for artists, designers, and creators to showcase their work and sell their products directly to consumers. But the question remains: Is Redbubble better than Etsy? 
While there are certainly pros and cons to using both platforms, there are a few key factors that may make Redbubble the superior choice for some creators. For one, Redbubble has a broader range of products for sale, including clothing, phone cases, and stickers, whereas Etsy primarily focuses on handmade and vintage goods.
Additionally, Redbubble's global reach and established reputation can lead to more exposure and potential sales for artists. However, Etsy's focus on unique and personalized items could attract a more niche audience willing to pay a premium price for handmade products. Ultimately, the choice between Redbubble and Etsy comes down to individual needs and preferences, so weighing the pros and cons before deciding is crucial.
Final Thoughts
Redbubble is an excellent platform for selling artwork, joining an affiliate program, or simply shopping for unique and high-quality products. With a wide variety of products, high-quality materials, excellent customer service, a risk-free shopping experience, and fast shipping, it's easy to see why Redbubble is a legitimate and trustworthy company.
Whether you're a customer or an artist, Redbubble is the best choice for meeting all your needs.