In the dynamic digital landscape, the question "How do I find a profitable blog niche?" has become increasingly prevalent. Is blogging still profitable in 2023? For aspiring blog owners and entrepreneurs looking to make money online, the answer is a resounding yes. With the right strategies and a well-chosen niche, a successful blog can be a lucrative online business.
But choosing a niche isn't as straightforward as picking a random topic. Your blog niche should be a unique intersection of your passions, skills, and the demand in the market. You need to identify an area where you can offer unique value while catering to a significant demand. So, here are 13+ profitable blog niche ideas that make money in 2023.
How do I find a profitable blog niche?
Finding a profitable blog niche requires careful consideration and research. To identify a niche that has the potential to make money, start by assessing your interests, passions, and expertise. Look for areas where your knowledge can provide value to a specific audience. Research market demand, competition, and monetization opportunities within each potential niche. Understand your target audience's needs, pain points, and preferences to create compelling and engaging content.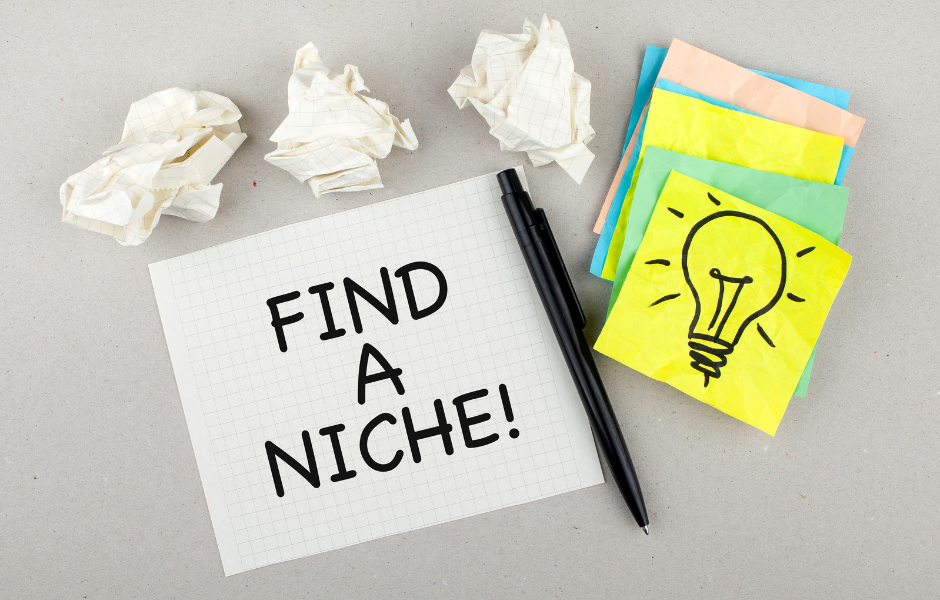 Is blogging still profitable in 2023?
Absolutely! Blogging continues to be a viable and profitable online business model in 2023. As the digital world evolves, more people turn to blogs for information, entertainment, and inspiration. Successful bloggers monetize their platforms through various means, including sponsored content, affiliate marketing, digital products, advertising, and collaborations. With dedication, persistence, and strategic planning, blogging can be a lucrative venture.
Health and Fitness
One of the most profitable blog niches in 2023 continues to be health and fitness. In a world increasingly conscious of well-being, people are always looking for advice, tips, and products to help them lead healthier lives. From exercise regimens and nutrition advice to mental health and mindfulness, there are plenty of sub-niches within this sector. It also opens doors to various monetization methods like affiliate marketing for fitness products, sponsored posts, and even your own digital products like eBooks or courses.
General Travel Tips
Even in the post-pandemic world, the wanderlust hasn't faded. People are eager to explore, and they need trusted advice and tips to help them plan their journeys. As a travel blogger, you could share experiences, provide insights into different cultures, or offer practical tips like budgeting for trips, finding hidden gems, or navigating new cities. Profitable partnerships could include collaborations with travel agencies, hotels, or tourism boards.
Investment Property
With the explosion of interest in real estate investment, blogging about investment property can be a lucrative niche. You could write about topics like the real estate market, tips for buying investment properties or managing rental properties. Monetization can come through sponsored content, partnerships with real estate firms, or even affiliate marketing for related products and services.
Blogging and Making Money Online
Ironically, one of the most profitable blog niche ideas is blogging about making money online. People are always looking for ways to boost their income, and the promise of a successful blog or online business is attractive. As an experienced blogger, you can share insights, tips, strategies, and tools that have helped you succeed. Profit avenues include selling eBooks, courses, consulting services, or affiliate marketing for blogging tools and platforms like WordPress.
Affordable Fashion
In the age of social media, fashion is no longer exclusive to the runway. An affordable fashion blog can attract a wide range of readers interested in looking chic on a budget. You could share fashion tips, style guides, DIY fashion hacks, and affordable fashion finds. You can profit through collaborations with fashion brands, affiliate marketing, sponsored content, or even by launching your own clothing line.
Personal Finance and Investing
The demand for reliable, easy-to-understand personal finance and investing advice is growing. As a blogger, you can help readers navigate complex topics like budgeting, saving, investing, and retirement planning. Monetization opportunities include affiliate marketing for financial tools or platforms, sponsored posts from financial institutions, and even selling your own financial planning courses or eBooks.
Personal Development and Self-Care
Personal development and self-care have seen a significant surge in interest in recent years, making this an incredibly profitable blog niche idea. As life becomes more demanding, people are seeking ways to grow emotionally, professionally, and personally. This niche could include blog posts about goal setting, productivity, emotional intelligence, mindfulness, and self-care routines. Monetization options include selling eBooks, hosting webinars, affiliate marketing for self-help courses, or even collaborations with wellness brands.
Interior Design
As more people aim to make their living spaces functional and aesthetically pleasing, there's a growing demand for interior design advice. If you have a knack for creating beautiful spaces, consider blogging about interior design. You can share DIY decorating tips, home organization hacks, or reviews of interior design products. Your blog can make money through partnerships with design brands, sponsored posts, or affiliate marketing for home décor products.
Industry News
Covering industry news in a specific sector is a brilliant way to position your blog as a go-to resource for the latest updates and insights. Whether it's tech, fashion, finance, or entertainment, if you're passionate about an industry, you can create a blog dedicated to news within that field. You can monetize through sponsored articles, display ads, or partnerships with businesses within your chosen industry.
Running a Startup
Startups are the lifeblood of the modern economy, but running one is no easy task. There's a growing demand for practical, first-hand advice on startup challenges – from raising funds to hiring talent. As an experienced entrepreneur, you can share your experiences, advice, and tips on running a startup. Monetization can be achieved through selling eBooks, offering startup coaching services, or affiliate marketing for business tools and services.
Luxury Travel
Travel blogging is a popular niche, but luxury travel is a sub-niche that offers a chance to reach a high-end, affluent audience. Sharing experiences about five-star hotels, first-class flights, and exclusive destinations can attract luxury travel enthusiasts. Monetizing this type of blog can be achieved through collaborations with luxury travel brands, sponsored content, or affiliate marketing for high-end travel products and services.
Mental Health
With the growing focus on mental health awareness, a blog centered around this topic can prove to be highly profitable. This blog niche can cover mental health resources, coping strategies, personal stories, and advocacy. Monetization can include partnerships with mental health organizations, affiliate marketing for mental health resources, or sponsored posts from related healthcare brands.
Brand and Product Reviews
Product reviews are a time-tested, profitable blog niche. Whether it's tech gadgets, makeup, parenting products, or fitness equipment, people seek out reliable reviews before making a purchase. Monetization can come through affiliate marketing for reviewed products, sponsored posts, or partnerships with brands.
Personal Training
With a growing global emphasis on physical fitness, personal training is a lucrative blog niche. If you're a certified trainer or have significant fitness knowledge, you can provide workout routines, nutrition advice, and fitness tips. Monetization can be achieved through selling workout plans, affiliate marketing for fitness products, or collaborations with fitness brands.
Photography
In the age of Instagram, interest in photography has skyrocketed. If you have a passion for photography, blogging about techniques, gear reviews, and tips can draw in a vast audience. Monetization can include selling photography courses, affiliate marketing for photography gear, or offering photo editing services.
Craft Beer
Craft beer has a devoted following of enthusiasts always on the hunt for the latest brews. If you're a craft beer aficionado, blogging about beer reviews, brewing methods, or the craft beer industry can be profitable. Monetization strategies include affiliate marketing for beer-related products, sponsored posts and social media posts.
Video Game Tutorials for Beginners
The gaming industry is burgeoning, and beginners are always seeking guides and tutorials to improve their gameplay. A blog focusing on creating video game tutorials can be a profitable niche, especially if it covers popular games. Monetization options could include partnerships with gaming companies, ads, and affiliate marketing for gaming accessories.
Kitchen Equipment
For those passionate about cooking and kitchen gadgets, a blog focusing on reviewing and suggesting kitchen equipment could be a lucrative niche. From reviewing the latest blender to suggesting the best affordable pots and pans, there's a wide range of topics to cover. Monetization could involve affiliate marketing for kitchen products or sponsored content from kitchenware brands.
Finding Your Dream Career
Career advice is always in demand. A blog providing guidance on finding and landing dream careers can gain a significant audience. This blog niche can cover topics like resume tips, interview strategies, or insights into various career paths. Monetization options include selling career coaching sessions, ebooks on career guidance, or affiliate marketing for career development courses.
Extreme Sports
An extreme sports blog can attract a dedicated, passionate audience. This niche can include articles on training advice, gear reviews, or personal experiences. Monetization could come from affiliate marketing for sports equipment, sponsored posts from sports brands, or advertising revenue.
Pet Health and Care Tips
As pet ownership continues to grow, so does the demand for reliable pet health and care advice. A blog in this niche could cover anything from breed-specific care tips, dietary advice, or behavioral training tips. Monetization can be achieved through sponsored posts from pet care brands, affiliate marketing for pet products, or selling pet care ebooks.
Recipes and Cooking Tutorials
Food blogs are a staple in the blogosphere, and for a good reason. Everyone loves food, and people are always on the hunt for new recipes to try. This niche could include step-by-step cooking tutorials, themed recipe collections, or meal-planning tips. Monetization options include sponsored posts from food brands, affiliate marketing for cooking products, or selling your own cookbook.
Study Hacks
With the increasing pressures of academic life, students are seeking effective ways to study smarter, not harder. This niche could cover topics like note-taking techniques, productivity hacks, or advice on maintaining a study-life balance. Monetization options could include affiliate marketing for study tools, selling study guides, or sponsored content from educational institutions.
Managing the Family Budget
With the fluctuating economy, managing a family budget is a critical skill many people are seeking to master. A blog providing practical tips on budgeting, frugality, and financial planning could attract a large audience. Monetization could come from affiliate marketing for budgeting tools, sponsored posts from financial brands, or selling budget planning templates.
Card and Board Games
The love for traditional card and board games never goes out of style. Blogging about game rules, strategies, and reviews can attract a dedicated audience. Monetization could come through affiliate marketing for game products, sponsored posts from game manufacturers, or ad revenue.
Professional Social Media Tips
As businesses increasingly rely on social media for marketing, advice on leveraging these platforms is in high demand. A blog providing tips on creating engaging content, boosting follower count, or utilizing paid ads can prove highly profitable. Monetization options could include selling social media consulting services, affiliate marketing for social media tools, or sponsored posts from relevant brands.
College Life
College years represent a significant transition phase in the lives of many, and a blog focused on portraying these experiences can draw a substantial audience of students. Subjects could encompass tips for studying effectively, ingenious hacks for dormitory living, or guidance on maneuvering through the college's social scene. Potential revenue streams might encompass paid promotional content from brands that resonate with students, or affiliate marketing for resources related to studying or dormitory essentials.
Political Satire
In today's polarized world, political satire serves as a refreshing take on current affairs, offering readers an opportunity to digest news with a touch of humor and wit. If you have a knack for comedy and staying updated with politics, then starting a political satire blog can be a rewarding blog niche. Monetization could come through ad revenue, sponsored content, or even through selling related merchandise like satirical comics or prints.
Conclusion
Blogging in 2023 remains a viable and lucrative pursuit for anyone looking to create a platform, share their passion, and potentially make money online. The key is to choose a profitable blog niche that aligns with your interests, skills, and the needs of your target audience. From personal finance and health & fitness, to political satire and board games, there's no shortage of niche ideas out there.
But remember, success in blogging doesn't come overnight. It takes time to build a loyal audience, create compelling content, and establish a revenue stream. Consistency, quality content, understanding your audience, and effective marketing are as important as choosing a profitable blog niche.
The blogging world is wide and diverse, filled with endless opportunities. With the right niche, an engaging WordPress blog, a clear understanding of your target audience, and a solid monetization strategy, you are well on your way to running a successful blog that doesn't just make money online, but also adds value to your readers. So take these profitable blog niche ideas, carve your unique path, and begin your exciting blogging journey.