Shopify POS is the perfect point of sale solution to streamline and simplify your retail business. It integrates seamlessly with Shopify's e-commerce platform, offering a comprehensive suite of features that are user friendly and powerful. In this blog post we explore why it could be an ideal choice for you by looking into its pricing, benefits, and other details about how it works!
Key Takeaways
Shopify POS is a customizable point-of-sale system designed to integrate with an online store.
It offers competitively priced plans for businesses of all sizes, with features such as inventory management and payment processing.
Shopify POS provides comprehensive solutions for retailers looking to optimize operations and customer experience across multiple platforms.
What is Shopify POS?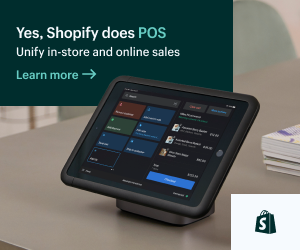 For those looking for a retail POS system that integrates with their existing online store, Shopify's Point of Sale is the ideal solution. It enables retailers to customize their in-store experience by setting up features such as frequently accessed products and collections, apps and more, all backed by free guides from experts on current trends in retail business. Regardless if you are running an independent shop or part of a larger chain organization, there are multiple advantages provided through Shopify POS when compared to other point-of-sale services on offer. Shopify POS also provides fully integrated hardware and a customizable POS app to suit individual business needs.
Shopify POS Pricing
Shopify POS has a cost advantage over other POS systems providers. It's Basic plan is just $29/month and comes with more developed features as you go up in their available plans. To figure out the best option for your business, we can review Shopify's pricing tiers along with what they include to aid in making an informed decision about which one works for you.
Basic
Pricing for Basic plan is $39 per month.
The Basic plan includes secure and encrypted payments with unlimited registers as well as manual order creation. It also provides an array of POS features like discount codes for the convenience of customers when starting their own store to sell online. Inventory management is unified across all channels making it easy to manage your stock while fast payouts are available so you can get paid quickly! Users have everything they need to construct and customize their ecommerce stores in no time – allowing them to start selling right away!
Shopify
Pricing for Shopify plan is $79 per month.
For businesses looking for advanced features Shopify plan is a great option. With this package, you will have access to unlimited registers as well as omnichannel selling capabilities, meaning that products can be sold across multiple platforms and in multiple locations too. Having these many registers permits efficient scaling of business activities without any hassles or limitations. When it comes to unified customer experience through online and offline sales channels – inventory management & order fulfilment are eased with integrated solutions offered in this payment plan from Shopify!
Advanced
Pricing for Advanced plan is $299 per month.
For businesses looking for more customization and reduced transaction fees, the Advanced plan provides a comprehensive solution. This package includes custom payment types, online sales options, offline cash payments, staff PINs along with retail staff permissions & management. Users of this plan can benefit from 0.2% lower per transaction fee costs compared to other plans – an attractive cost-saving option! To help monitor business performance, there are also reporting capabilities as well as analytics that could identify expansion opportunities available in the Advanced Plan too.
Shopify Plus
Pricing for Shopify Plus plan is $2000 per month.
Shopify Plus is a tailored solution that has been designed for big retailers and those conducting high-volume sales. This enterprise plan brings advanced features to online stores as well as retail locations. Perfectly suitable for businesses in the fashion, electronics or beauty industry looking for an all-encompassing solution. Shopify Plus provides them with exactly what they need. For existing establishments that already have an online store, this sophisticated package ensures Success by offering exclusive tools aimed at optimizing their services on both regular stores and the internet.
Shopify POS Features and Functionality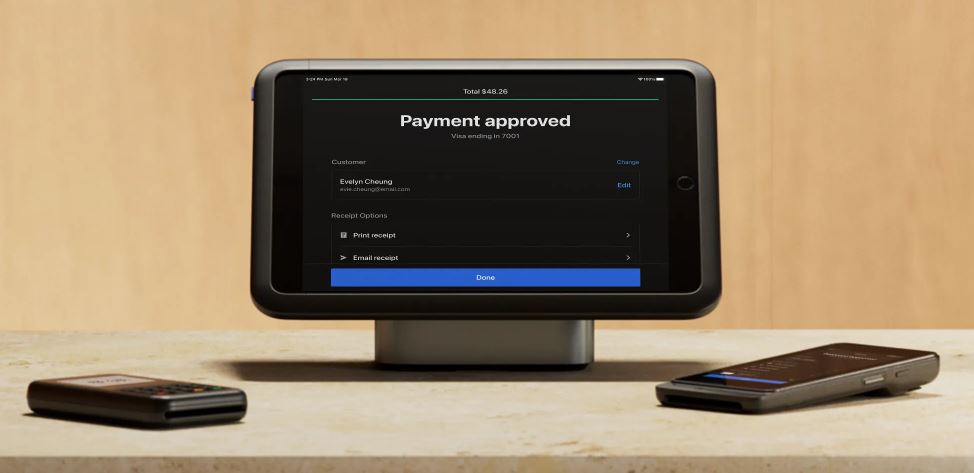 Shopify POS let's you sell to customers online and in person while keeping everything organized in one centralized dashboard. You're able to process orders, handle shipments, handle in store pick ups, manage staff and take care of exchange items for online or in store purchases.
POS Hardware
Shopify POS offers a range of shopify hardware to meet the needs of your business. These include integrated terminals, card readers and accessories such as barcode scanners, cash drawers and iPad/tablet holders, enabling quick checkout for customers while making it easy for staff to manage inventory and transactions. Shopify also supports different types of card readers like its Tap & Chip Card Reader or WisePad 3 giving secure payment options.
Omnichannel selling
Shopify POS is a tool used to facilitate omnichannel selling. It unifies online ordering, in-store and app purchases into one customer experience. With its extensive reporting features, Shopify makes managing and analyzing both online orders and sales data from different outlets much easier. It also allows businesses with multiple stores or sites (such as an eCommerce site) to track their inventory across all channels – making sure that customers always have access to the products they desire at any time! By collecting information about orders, stock levels & clientele habits on each platform together, merchants are able to give great service wherever their items may be bought.
Inventory Management
For retail businesses, having effective inventory management is key. And Shopify POS can make it happen. With the inventory control features available through this system, companies are able to track their stock levels, create purchase orders, manage purchase orders, and synchronize inventories across channels, simplifying your entire process of managing things while providing centralized customer data access. The platform makes sure that all connected sales outlets have real-time information about product availability with its multi-channel inventory system integration feature.
Store Management
Shopify POS offers an array of store management features which help businesses streamline their operations and improve the customer experience. This includes staff permissions for managing what employees have access to in the system, as well as creating detailed profiles that document contact information and purchase history with regards to customers. By leveraging this data stored on customer profiles, retailers can better personalize service offerings while also giving them the ability to save shopping carts accordingly.
Shopify's Point Of Sale solution provides loyalty programs email marketing, tailored to monitoring purchases made by clients so they may be contacted through personalized emails or SMS messages depending on these recorded activities related specifically to a particular consumer.
Payment Processing
Shopify POS is a highly efficient payment processing solution for retail businesses. Its range of supported and popular payment methods, such as credit cards, contactless payments like Apple Pay and Google Pay, Visa and Mastercard, makes it easy to securely process in-person transactions with competitive transaction rates. This helps the business provide a smooth experience that customers love while keeping costs low at the same time.
Reporting & Analytics
Shopify POS can help businesses optimize their operations and become more profitable by providing them with insightful reports and analytics. This feature offers up-to-date information about sales patterns, busy times of the day, as well as overall performance levels to aid decision making for Business success.
It allows owners access to real time product data tracking, which guarantees efficient inventory management that customers will be satisfied with. With Shopify POS's detailed database and quick reporting functions, you always have a handle on all your locations and stock status so you know when decisions need to be made quickly in order to maximize profitability now and into the future.
Shopify POS Integrations
Shopify's Point of Sale (POS) system stands out for its extensive ability to integrate with third-party apps and services. Businesses have the opportunity to create a tailored POS solution that meets their specific needs, facilitated by popular integrations like Square, Lightspeed Vend, WooPOS and Clover POS.
This integration provides enhanced performance capabilities as well as functionality improvements in the Shopify pos setup. From customizing applications just right for your business or rearranging order entry processes. These add ons allow customers more control over how they manage their point of sale experience.
Business owners can confidently look into this platform knowing it comes equipped with many ways to extend its reach so each store has an efficient way possible without additional cost of conducting transactions while staying organized and secure at all times – a key attribute when utilizing any form technology related service provider's product such as shopify's POS System!
Shopify Customer Service
Shopify is renowned for its high-level customer service and this extends to their POS (Point of Sale) system as well. Businesses using the Shopify POS app can access helpful tools like chatbots, comprehensive self-help resources and support teams dedicated to higher tier plans so that any difficulties or queries are quickly sorted out. Enabling them to concentrate on building up their business. While taking care of customers' needs.
Shopify POS Pros and Cons
For businesses looking to both sell online and make in person sales, Shopify POS offers significant advantages due to its smooth integration with the company's ecommerce platform. This service provides an array of features which can be valuable for retailers regardless of size – such as inventory management, payment processing, and reporting & analytics capabilities.
On the other hand, there are some downsides that must also be noted: no free version is available, lower tier plans have more hardware costs, limited customization options, certain features including returns or exchanges may not be accessible at all times.
Despite these drawbacks though, when it comes to streamlining retail operations plus driving up sales growth, Shopify POS remains a strong yet multifaceted option worth considering!
Shopify POS Lite vs Pro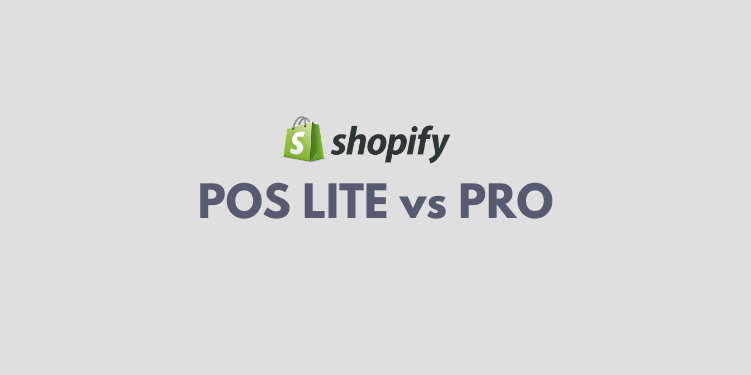 When evaluating the Shopify POS Lite and shopify pos Pro, one should take into account what their business needs. The first option is the free Shopify POS Lite that comes included with all shopify plans offering important features for businesses just getting started or those with smaller retail stores. Thus being an attractive choice for budget-conscious companies wanting to gain access to advantages of using a point-of-sale system.
On the other hand, if you're looking for more in depth functionalities, it's worth considering investing in the Shopify POS Pro plan, at $89 per store location monthly. It has been specially tailored towards organizations requiring complex elements as well as aiming to expand its operations by providing features such as advanced inventory management, hardware customization possibilities staff with custom roles/permissions along with analytics & reporting integrated loyalty program and multi-location admin capabilities too! So overall this plan stands out when deciding between higher end systems – making positioning your brand ahead much easier than ever before on shopify so make sure weigh up pros vs cons carefully according to personal business goals.
Shopify POS FAQs
We hope to provide answers to typical questions about Shopify POS so that you can make a knowledgeable decision on if it's the correct solution for your business. By answering these queries, we wish to help you gain an understanding of what features and capabilities are available with Shopify POS.
Is the Shopify card reader free?
The Shopify card reader can be obtained for $49 either as a stand-alone product or in combination with other hardware. It is available through the official Shopify website, Amazon, Walmart and eBay. Plus there could be discounts or promotions that make it free to certain merchants.
Can you use Shopify as a POS?
"Shopify point of sale) can act as a POS system for both online and physical stores. The Shopify Point of Sale app, available on Android and iOS mobile devices, includes everything necessary to take payments and process orders. This application operates alone or can be linked with an existing shopify store in order to keep track of all the transactions occurring through it – giving merchants quick access between their digital retail platform and brick-and-mortar store locations everywhere. With its convenience and reliability, combining Shopifys's pos features creates a streamlined sales experience that is second to none.
How much is Shopify POS app?
The Shopify POS app is provided with a monthly fee for all plans offered by the company, starting from the Basic one which costs $29 monthly. There aren't any additional expenses connected to using this app. Hardware purchases and transaction charges may add extra cost based on your plan selection.
What is the difference between Shopify and Square POS?
The two Point of Sale (POS) systems – Shopify and Square – are different when it comes to pricing, features available and their target market. Primarily focusing on providing omnichannel shopping solutions with a complete ecommerce package designed for business growth, the POS system by Shopify has various additional advanced features too. In contrast, Square's POS ecosystem offers great scalability options specifically tailored towards small businesses, which also involve both offline retail stores as well as online commerce service coverage.
Do Shopify apps work with POS?
Shopify POS is able to work with a variety of apps, offering extra features and tools for businesses. Examples include SMSBump, ConnectPOS, ERP Integration and Stocky. All these platforms are integrated into Shopify's point-of-sale system, allowing customized options depending on their individual needs. This makes the performance capabilities greater while still keeping specific requirements in mind.
Final Verdict of Shopify POS
Overall, Shopify POS is an advantageous tool for any business seeking to expand and thrive. This system offers seamless synchronization with the associated e-commerce platform of a Shopify account as well as a variety of features that give businesses options when it comes to success. Of course, there are few drawbacks such as not having a free subscription or limited customization at lower plans, but ultimately those should be ignored because benefits from using this software outweigh them greatly.
For anyone wanting flexibility in their POS solution while receiving comprehensive services catered to your individual needs – then look no further than what Shopify has on offer!
Summary
When evaluating options to support their retail operations and bolster sales, businesses should consider the advantages of Shopify POS. Integrating seamlessly with the ecommerce platform, this powerful solution offers plenty of customization possibilities through third-party app integrations. To numerous features that would be beneficial for any business size. The range of benefits makes it clear why choosing Shopify POS is a smart choice in today's competitive marketplace.
Frequently Asked Questions
Can you use Shopify as a POS?
Shopify POS is a POS system that can be used on both Apple and Android devices to take payments, manage inventory, accepting payments, provide user-friendly checkout options and offer plenty of management features. It's a great way for merchants everywhere to process orders not just online but also in person.
What is the difference between Shopify and Square POS System?
The major differences between Shopify and Square POS are their pricing plans. Another major difference is that Shopify also comes with features such as Payroll and loyalty which are not included in the no-cost option provided by POS but come at an extra price.
Do Shopify apps work with POS?
Shopify's POS system is completely compatible and integrates with apps from the Shopify app store, allowing employees to make use of all that it offers. There are no changes needed for Shopify apps in order for them to be able to work on this point-of-sale platform.
Can I use Shopify POS with my existing online store?
Shopify POS is perfect to use with your existing store, enabling you to easily manage and sell items from the same place, both on-site and online. It integrates fully with any pre-existing webstore, allowing customers access whether they're browsing in person or virtually!
Is Shopify POS suitable for businesses of all sizes?
No matter what your business size may be, Shopify POS offers a range of subscription packages to match all types of revenue. This point-of-sale system is perfect for businesses looking for an easy to use and efficient solution.