Are you a drop shipper or eCommerce business looking for reliable product sourcing and research tools? Have you been searching for an alternative to Pexda that fits within your budget? Look no further! In this post, we will explore some of the best and most cost-effective Pexda alternatives so that you can make informed decisions on which options are right for your business.
We'll review different features such as pricing plans, revenue tracking capabilities, product research tools, and data analysis abilities to see what makes each platform unique in helping you achieve better results in your online dropshipping store. Keep reading to learn more about how Pexda's competitors can boost your success.
Overview of Pexda
Pexda is a popular product-hunting platform designed to assist drop shippers and eCommerce businesses in finding winning products. It curates a variety of profitable products from multiple online platforms, saving users countless hours of manual research. These products are meticulously selected based on numerous factors such as order volume, trending status, and profitability, ensuring that listed items have a high potential to generate sales.
Pexda offers a range of useful features to streamline the product sourcing process. Its powerful search functionality allows users to explore products by niche, keyword, or sales performance. Moreover, each product listing on Pexda is supplemented with comprehensive details such as costs, selling prices, profit margins, and sources, giving users a clear insight into the product's profitability. Additionally, Pexda provides Facebook ad targeting suggestions, competitor analysis, and product videos, amplifying the chances of a successful product launch.
In terms of pricing, Pexda offers three plans. The Basic plan starts at $14.95 per month, providing access to limited features. The Standard plan, priced at $24.95 per month, provides complete access to all features, albeit with a two-day delay on new products. The Premium plan, priced at $99.95 per month, gives users immediate access to all new products and features, ideal for businesses that prioritize having the first-mover advantage.
How to find the right Pexda alternative for your needs
While Pexda is an excellent tool for eCommerce businesses, it may not be the perfect fit for everyone. Hence, it becomes imperative to explore Pexda alternatives that could better align with your specific needs. When shopping for a Pexda alternative, there are a few key factors to consider.
Firstly, assess the variety and quality of products the platform offers. The success of your drop shipping or e-Commerce business largely hinges on the products you sell. Therefore, the product sourcing tool you choose should provide access to a wide range of high-quality, trending, and profitable products. It should also have an efficient system to update its product list regularly to ensure you always have fresh items to choose from.
Secondly, scrutinize the platform's search functionality. A good Pexda alternative should have a robust search feature that allows you to explore products based on different parameters such as niche, keyword, profitability, and sales performance. This functionality will enable you to find the right products quickly and efficiently.
Finally, consider the platform's additional features and benefits. These could include competitor analysis, ad targeting suggestions, product videos, and detailed profitability analysis. These features can be instrumental in launching successful products and staying ahead in the competitive eCommerce landscape. Ecom Key gives access to Winning Product Finder Dropshipping Training Videos.
The right Pexda alternative should offer a broad range of quality products, robust search functionality, and beneficial additional features. It should also align with your budget and business goals. By considering these factors, you can find a Pexda alternative that suits your needs and contributes to your eCommerce success. Curators hand-pick quality products with great style, amazing prices, and free or low shipping.
The Pros & Cons of Using Pexda
Pros of Using Pexda:
Pexda saves time and effort by eliminating the need for manual product research and identifying profitable products from multiple sources.
Each product listing is comprehensive, providing crucial details such as costs, profit margins, and selling prices.
Pexda provides useful insights like Facebook ad targeting, competitor analysis, and product videos.
Pexda offers three pricing plans to cater to different business needs and budget constraints.
Cons of Using Pexda:
Access to all features and immediate product updates is only available in the premium plan, which is relatively expensive.
The standard plan, although more affordable, comes with a two-day delay on new product updates, which can be a significant drawback for businesses that rely on staying ahead of the market trends.
Pexda focuses only on product sourcing, lacking integrated features for store management or order fulfillment.
There is a reliance on Pexda's algorithm and selection criteria for product selection, which may not always align with a business's unique needs or target market.
Top alternatives to Pexda
There are several robust alternatives to consider if you're searching for comprehensive dropshipping solutions. Some are applauded for their affordable pricing tiers without compromising on feature accessibility. Others stand out for their broad coverage not just in product sourcing but also in areas like store management and order fulfillment, providing a more holistic solution for e-commerce businesses.
Moreover, some platforms offer more customized product selection options, ensuring that the identified products align well with your unique business needs and target market. It's crucial to assess the unique offerings of each tool and weigh them against your specific business requirements to find the best fit.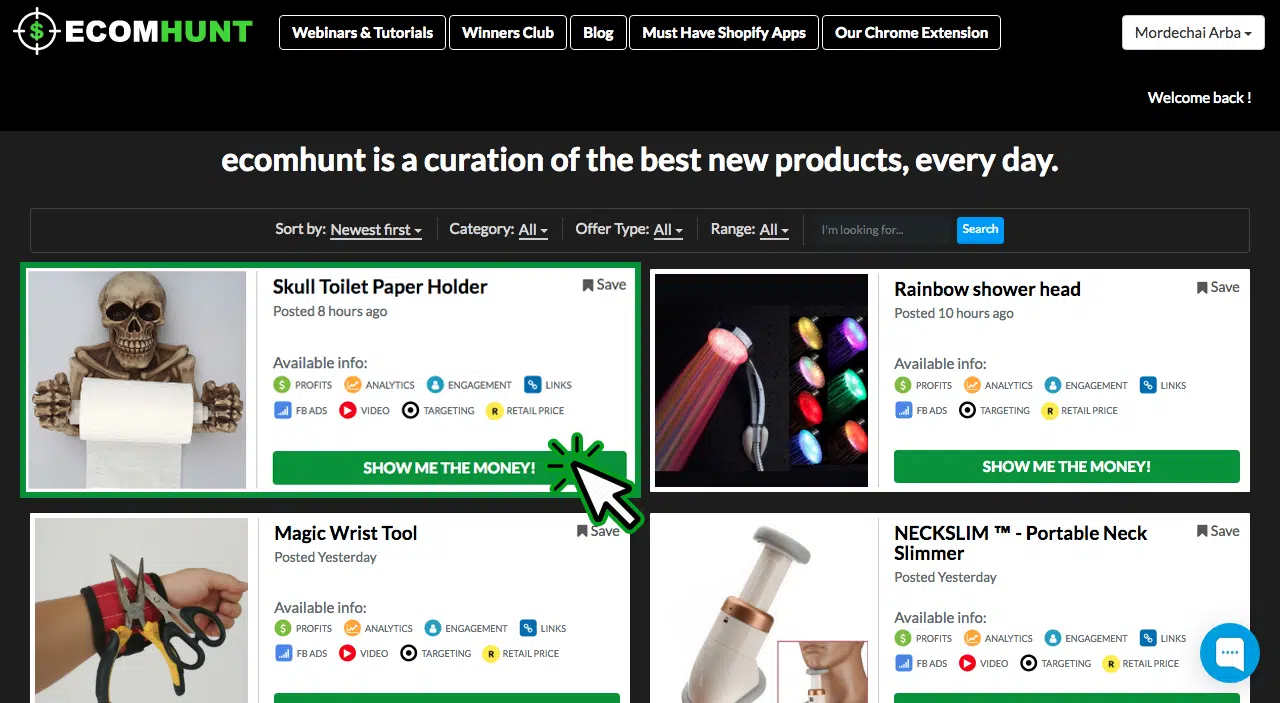 Ecomhunt is a distinguished pexda pricing alternative that helps dropshippers find winning products. It boasts a user-friendly interface and an extensive database of handpicked products, updated daily. Ecomhunt's features include in-depth analytics, product descriptions, profit calculations, and Facebook ad insights, providing a comprehensive view of each product's performance potential.
On the pricing front, it offers two plans – a free plan with limited features and a Pro plan priced at $29 per month. The Pro plan opens up unlimited access to all products, advanced analytics, and ad-hunting tools.
DropshipMe is another reliable alternative, primarily known for its curated list of over 50,000 best-selling AliExpress products in various niches. It stands out with its professionally edited titles and descriptions, high-quality images, and read customer reviews, which significantly save time usually spent on dropshipping products, research and listing.
DropshipMe is free for the first 50 product imports, making it a cost-effective solution for beginners. After that, pricing plans start at $29 for 100 product imports, going up to $199 for 1000 imports.
FindNiche is a leading choice among Pexda alternatives, boasting a database of over two million profitable dropshipping products and 20,000 tested winning products. This platform stands out for its powerful analytics features, providing insightful data on product performance, competitor analysis, and niche discovery. Moreover, it offers detailed Shopify store analytics, revealing top-selling products and potential trending products.
FindNiche's free version grants access to a limited number of queries and tracked products, while their Pro version, priced at $29 per month, unlocks unlimited queries, tracked products, and access to all niche and store analytics.

AliInsider is another robust alternative to Pexda, primarily catering to AliExpress drop shippers. This platform offers an extension as pexda chrome extension that lets users analyze product potential directly on AliExpress pages, simplifying product selection. AliInsider provides detailed product information, including daily sales, total orders, and ePacket availability.
In terms of pricing, AliInsider operates on a freemium model. The free version offers limited features, while the premium version, priced at $20 per month, provides full access to all features, including comprehensive product analytics and tracking.

CJDropshipping is a comprehensive dropshipping platform that doubles as a great Pexda alternative. This platform not only provides a wide range of products but also offers an all-in-one solution for sourcing, stocking, and shipping products. It features a robust analytics tool providing data on product trends, hot-selling items, and detailed product performance.
Furthermore, it also offers customizable packaging and branding services to help businesses stand out. As for pricing, CJDropshipping does not charge any membership fees. Instead, users pay for individual services such as product sourcing, dropship, and fulfillment services, with prices varying depending on the specific need.
Spocket is a highly-rated alternative to Pexda that focuses on US and EU-based suppliers, ensuring high-quality products and speedy delivery times. This platform provides a plethora of features, including real-time inventory updates, currency exchange, global pricing rules, and shipment tracking. Users can easily import products into their online stores with only a few clicks.
Spocket operates on a tiered subscription model with four pricing plans. The Starter package is priced at $24 per month, the Pro at $49 per month, the Empire at $99 per month, and the Unicorn at $299 per month, each offering varying levels of features and benefits.

DSM Tool stands out as a Pexda alternative by offering not just product sourcing but also an automated listing and ordering system, making it a comprehensive dropshipping management solution.
With features like bulk product listing, optimized product titles, image editing, and a repricing tool, DSM Tool ensures the efficient operation of your dropshipping business. DSM Tool offers a free plan for beginners, and its premium plans start at $24.97 per month.
Niche Scraper is a product-hunting tool that serves as a solid Pexda alternative. It uses an algorithm to scrape popular products from e-commerce giants and presents a handpicked list of trending products.
Users get access to product videos, descriptions, and profitable ad targeting. Niche Scraper operates on a freemium model with a basic free plan and a Pro plan priced at $39 per month, offering full access.
Dropship Spy is another robust Pexda alternative offering a suite of tools to support dropshippers. It features winning product suggestions, audience building, store and product reviews, and an Instant diagram influencer database to help businesses grow.
Dropship Spy offers three pricing tiers: the Basic plan at $15 per month, the Premium plan at $25 per month, and the Professional plan at $35 per month.
Investigating Product Research Tools
While discussing Pexda alternatives, it's essential to delve deeper into keyword research tools that can streamline your dropshipping business. One such effective tool is SaleSource. This platform, apart from being a solid Pexda alternative, prides itself on its advanced AI technology that enables it to analyze thousands of products daily, presenting only those with high-profit potential best free dropshipping tips and Guides. Perfect for Dropshipping Beginners. SaleSource offers detailed product analysis, store analysis, and a comprehensive database of trending products. Its plans start at $29 per month.
Another promising tool is Ecomhunt. This product hunt tool offers a daily curated list of winning products, complete with their selling cheapest price, profit margins, and advertising insights. It also provides a platform for user interaction, allowing users to share experiences and learn from the community. Ecomhunt is a great Pexda alternative for its budget-friendly plans, with the Pro plan priced at only $29 per month.
Finally, let's consider SpyCom. This multi-use tool is an ideal Pexda alternative for those seeking comprehensive market research. SpyCom provides exhaustive insights into trending products, competitor analysis, profitable niches, and potential suppliers. It also includes ad insights, showing the best-performing ads for particular products. SpyCom operates on a one-time payment model, priced at $49.95, making it an affordable choice for small businesses and startups.
Why do we use Pexda alternative
Choosing a Pexda alternative is advantageous for several reasons. First, it allows dropshippers to explore a wider variety of options, each offering unique features and capabilities. For instance, while some alternatives may excel in presenting a daily list of hot products, others might be superior in providing in-depth product and store analysis.
Second, considering alternatives can result in substantial cost savings. Different tools have varying pricing models – some offer a subscription-based model, while others follow a one-time payment setup. By evaluating these alternatives, businesses can identify which tool offers the most value for their budget.
Third, each tool has its own user community and support system. By opting for a Pexda alternative, businesses can leverage these diverse communities, gaining access to unique experiences, insights, and advice, thereby enhancing their decision-making process and business growth.
Analyzing Competitor Product Research Tools
When evaluating Pexda alternatives, it's crucial to analyze competitor research tools in detail. These tools can provide insights into competitors' strategies, enabling businesses to make informed decisions and adjust their approach accordingly. For example, tools like Niche Scraper and Ecomhunt not only help identify trending products but also reveal how competitors are marketing these products.
They provide information on the most effective ad copies, targeted audiences, and advertising durations – valuable intelligence for any successful dropshipping business. Moreover, competitor research tools offer a peek into the overall performance of competing stores.
Metrics such as traffic volume, conversion rates, and customer reviews help businesses benchmark their performance and identify areas for improvement. Dropship Spy, another Pexda alternative, stands out in this regard by offering extensive store analytics and an exhaustive range of products.
Lastly, it's worth mentioning findings from these tools should be used as a guide, not a rule. While they provide valuable insights, each business is unique and should develop strategies tailored to their specific market, resources, and goals.
Exploring Niche Finder
When diving into the world of Pexda alternatives, it's important to explore competitor research tools. These tools are instrumental in understanding the strategies and tactics that successful stores in your niche are employing. Tools such as Niche Scraper and Dropship Spy stand out in this arena. They not only provide actionable data on top-selling items but also deliver comprehensive information about competitive stores.
This includes their traffic sources, social media strategies, and customer reviews. Leveraging these insights, businesses can craft strategies that resonate with their target audience and stand out from their competition. Another category within Pexda alternatives to consider is niche finder tools.
These platforms, such as Ecomhunt and Sell The Trend, specialize in identifying lucrative and less competitive niches. Using sophisticated algorithms, these tools scan millions of products across various e-commerce platforms and determine their popularity, demand, and profitability.
They also provide data on market trends, enabling businesses to make informed decisions about niche selection. By identifying high-potential niches, businesses can focus their resources effectively, drive targeted marketing campaigns, and maximize their profitability.
Examining Product Launch Monitor
Continuing our journey through the realm of Pexda alternatives, we now turn our attention towards another crucial segment – Product Launch Monitor Tools. These platforms, such as Commerce Inspector and Store Leads, are particularly potent for businesses eager to stay ahead of the curve. These tools meticulously monitor the e-commerce landscape, reporting on new product launches almost instantaneously.
This real-time information allows businesses to be at the forefront of emerging trends, capitalizing on them before the market becomes saturated. Commerce Inspector, for instance, offers an extensive database, tracking over a million e-commerce stores and their product launches. This tool provides a wealth of data, including a store's best-selling products, new product additions, and even their Facebook advertising strategies.
Similarly, Store Leads give businesses access to a vast directory of e-commerce stores split into various categories, making it easier to monitor specific niches. It provides information about a store's launch date, the platform they use, and their contact information. Increase profits by stop wasting money on bad products.
In the fast-paced world of e-commerce, having a clear view of the latest product trends and newly launched items is vital for staying competitive. With these Product Launch Monitor Tools, businesses can keep their finger on the pulse of the market, making data-driven decisions that boost their growth and profitability.
FAQs
What are some alternatives to Pexda for monitoring product launches in e-commerce?
There are multiple alternatives to Pexda for tracking product launches. Two notable options include Commerce Inspector and Store Leads, both renowned for providing real-time information on emerging trends and fresh product additions.
How can Commerce Inspector aid in my e-commerce venture?
Commerce Inspector offers an extensive database tracking over a million e-commerce stores. It provides valuable data like a store's best-selling products, recent product additions, and even their Facebook advertising strategies, enabling you to make informed business decisions.
How are Store Leads useful for my business?
Store Leads provides access to a vast directory of e-commerce stores categorized by niche. It offers information about a store's launch date, the platform they use, and their contact details. This tool can help you monitor specific niches and understand your competition better.
Why is real-time tracking of product launches important in e-commerce?
In the fast-paced world of e-commerce, staying abreast of the latest product trends and newly launched items is critical for maintaining your competitiveness. Real-time tracking allows businesses to seize opportunities quickly, react to market shifts, and maintain a strong position in their chosen niches.
How can Product Launch Monitor Tools boost a business's growth?
By providing data-driven insights on emerging market trends and new product launches, these tools help businesses make informed decisions. This can lead to better product selection, improved marketing strategies, and, ultimately, an increase in growth and profitability.
Conclusion
I hope this guide has given you a better understanding of the benefits and uses of product launch monitor tools. While Pexda is undoubtedly a popular choice, it's essential to know that there are several other great alternatives available in the market. Don't be afraid to explore different options and find the one that best suits your business needs.