Are you looking for an easy-to-use website builder that will help take your business or creative project to the next level? If so, Squarespace is the perfect solution for you. With its easy-to-use drag-and-drop interface and slick design capabilities, Squarespace can help bring your business's branding to life on the internet.
Its customizable themes allow you to create a stunning website for any purpose – an educational hub, information site, or even an ecommerce store where customers can purchase products from all over the world. So, no matter what industry sector you're in, Squarespace has got you covered!
With this amazing platform at hand, let us show you why it is one of the best ways to launch and develop a successful online presence.
Overview of Squarespace Platform
Squarespace, a leading website building and hosting platform, stands out for its cutting-edge features and modules. It offers a suite of tools that cater to various needs – be it blogging, ecommerce, or portfolio showcases. Users can leverage the platform's in-built Search Engine Optimization (SEO) tools to enhance their website's visibility, driving more organic traffic.
These tools help users optimize their site content, meta tags, and site descriptions, effectively improving their search rankings. This is particularly beneficial for businesses aiming to increase their online reach. Moreover, Squarespace offers robust ecommerce capabilities for users looking to sell online products or services.
It effortlessly handles product listings, inventory management, sales, and even tax calculations. The platform allows for seamless integration with multiple payment gateways, enabling businesses to accept payments from customers around the globe.
Users also benefit from varied shipping options, facilitating a smooth shopping experience for their customers. Above all, Squarespace is well known for its sleek, designer-quality templates. These templates are fully customizable, allowing users to create a unique website that truly reflects their brand's personality and vision.
Plus, the platform's user-friendly interface makes it easy even for novices to create a professional-looking website, eliminating the need for advanced coding skills. All in all, Squarespace's comprehensive features make it an ideal choice for anyone seeking to establish a strong online presence.
Benefits of Using Squarespace
Easy-To-Use Interface
One of the major advantages of Squarespace is its intuitive and user-friendly interface. Regardless of your technical proficiency, Squarespace makes it easy to create and manage your website. The drag-and-drop functionality enables you to effortlessly add elements, such as text, images, and videos, to your webpage.
You can also easily manage your website's SEO settings, ecommerce functionalities, and analytics from the same dashboard. The platform offers a host of tutorials and guides to assist you through the process, ensuring an easy and stress-free website creation experience.
Sleek Design Capabilities
Squarespace stands out for its plethora of sleek, designer-quality templates. The platform offers a multitude of themes, each exuding a unique aesthetic and design. These templates are also responsive, meaning they automatically adjust to different screen sizes, so your site looks equally stunning on desktops, tablets, and mobile devices.
This not only lends your website a professional look but also enhances user experience by providing a consistent appearance across devices.
Customizable Themes For Any Purpose
Whether you're building an ecommerce store, a blog, or a portfolio, Squarespace's themes are highly customizable to cater to your specific needs. You have complete control over your website's look and feel, from the layout and color scheme to fonts and imagery. You can tweak every aspect of your chosen template without needing to write a single line of code.
This level of customization empowers you to create a website that truly aligns with your brand's personality and the purpose of your site, making Squarespace a versatile choice for businesses and individuals alike.
Example of How Squarespace Can Help Different Industries
ecommerce
Squarespace is an excellent tool for ecommerce businesses, regardless of the size or scope. The platform offers a complete suite of ecommerce features, including integrated inventory management, secure payment options, and customizable product pages. It allows businesses to create an online store that is not only visually appealing but also functionally robust.
This is a boon for businesses that want to establish a strong online presence and reach a wider audience. Furthermore, Squarespace's ecommerce features are user-friendly, which means even those with no technical experience can set up and manage their online stores with ease.
Blogging
For bloggers, Squarespace offers an intuitive and powerful blogging platform complete with all the necessary features. Users can easily add blog posts, categorize them, include high-quality images, and enable comments for audience engagement. What sets Squarespace apart is the ability to customize blog layouts and the provision of built-in SEO tools, which aid in increasing the visibility and reach of the blogs.
These features, coupled with the platform's seamless integration with social media platforms, make Squarespace an ideal choice for bloggers looking to make an impact on the web.
Professional Services
Professional services, such as consultants, therapists, lawyers, and more, can greatly benefit from Squarespace's offerings. The platform enables these professionals to create a sleek, professional website that effectively communicates their services and expertise. With a variety of templates to choose from, professionals can create a website that resonates with their brand and appeals to their target audience.
Moreover, Squarespace's scheduling feature allows these professionals to manage appointments and consultations directly from their website, providing convenience for both the service provider and the clients. The platform also offers a secure payment system, making it easy for professionals to receive payments for their services.
Artists and Creatives
Squarespace's beautiful templates and customizable layouts make it an ideal choice for artists and creatives looking to showcase their work online. From photographers to graphic designers, Squarespace offers a visually appealing platform that allows users to display their portfolios in the best way possible. The website can include high-quality images, videos, and even audio tracks for musicians or podcasters.
Additionally, Squarespace's built-in ecommerce features provide a seamless way for artists to sell their creations directly from their website. With the ability to track inventory, manage orders, and process payments all in one place, Squarespace makes it easy for artists to turn their passion into a profitable business.
Non-Profit Organizations
Squarespace also caters to non-profit organizations, providing them with the tools needed to create an impactful online presence. With customizable donation forms and fundraising features, non-profits can easily collect donations and showcase their impact through their website.
Squarespace's intuitive design allows these organizations to effectively communicate their mission and goals, helping them attract supporters and volunteers. With built-in SEO features and social media integration, non-profits can reach a wider audience and make a bigger impact on their cause.
Latest Features and Updates to Squarespace Platform
Squarespace persistently invests in enhancing its platform, continually rolling out new features and updates that improve its user experience. One of the most recent updates is the addition of Member Areas, a feature that allows site owners to create private areas on their websites.
This is an excellent tool for businesses or individuals who want to offer exclusive content, courses, or resources to specific members. Subscribers can gain access to these Member Areas through either a one-time purchase or a recurring membership fee, providing an additional revenue stream for Squarespace users.
Another notable update is Squarespace's Email Campaigns feature. This tool enables users to design and send professional, stylish emails that match the aesthetic of their websites. With a variety of customizable templates to choose from, users can create stunning email newsletters, announcements, and promotions that not only look great but also help drive engagement and increase website traffic.
Additionally, the Email Campaigns feature integrates seamlessly with other Squarespace tools, such as Commerce and Analytics, for a streamlined, all-in-one solution. Squarespace has also made significant improvements to its ecommerce functionality and capabilities, introducing new features that make it easier for online shops to manage their products and orders. For instance, the platform now supports more payment options, including Apple Pay and PayPal, providing customers with more flexibility and boosting conversion rates.
Squarespace has also introduced an inventory management tool that enables vendors to track their stock levels in real time, helping keep their online shops running smoothly. These latest updates underscore Squarespace's commitment to providing its users with the tools they need to succeed online.
Tips For Setting Up Your Squarespace Site
When setting up your Squarespace websites, it is vital to start with a clear purpose in mind. Understand the needs of your target audience and ensure that your site fulfills them. Squarespace provides various templates designed specifically for different industries and use cases, which can serve as a fantastic starting point for your website. Each template is fully customizable, allowing you to add, remove, or rearrange elements to suit your preferences and needs.
Your website's aesthetic should reflect your brand's identity. Squarespace offers a suite of design tools and features that can help you create a visually compelling and professional-looking site. Using the Style Editor, you can tweak your site's colors, fonts, and layouts until you achieve the desired look. Moreover, Squarespace's Image Manager lets you upload, edit, and manage images effectively, ensuring your visuals are always at their best.
Next, consider how to organize your site's content for the best user experience. Squarespace allows you to create multiple pages, each with its unique URL, and manage them using the Pages panel. Your site's navigation should be intuitive and straightforward, guiding visitors to the information they seek with minimal clicks. If you plan to sell products or services online, make sure to set up your online store using the Commerce feature. Squarespace scheduling supports various payment methods and currencies, facilitating transactions for customers worldwide.
Search engine optimization (SEO) is another crucial aspect to consider. Squarespace's built-in SEO tools can help your site rank higher in search engine results, increasing its visibility to potential visitors. Remember to use relevant keywords in your site's content and meta descriptions, and create SEO-friendly URLs for your pages.
Lastly, don't neglect to set up your site's analytics. Squarespace's robust Analytics feature provides insights into your site's performance, helping you understand your audience better and make data-driven decisions. Monitor key metrics such as site traffic, visitor behavior, and conversion rates to assess your site's effectiveness and identify areas for improvement.
How to Promote Your Squarespace Website Once It's Launched
Promoting your Squarespace website involves several key strategies. One of the most effective ways to attract visitors is through content marketing. Regularly publish high-quality, relevant content on your site's blog section to engage your audience and enhance your site's SEO. Squarespace's Blogging feature makes this process simple with its intuitive interface and powerful tools.
Consider also leveraging the power of social media. Squarespace integrates seamlessly with various social platforms, allowing you to share your content directly from your site to your social media accounts. This increases your site's visibility and encourages social sharing, driving more traffic to your website.
Email marketing is another powerful promotional tool. Squarespace's Email Campaigns feature enables you to create compelling, branded emails directly from your website. You can send announcements, share blog updates, or promote special offers to your subscribers, fostering a direct line of communication with your audience.
Don't underestimate the importance of offline promotion. Include your website's URL on your business cards, flyers, and other printed promotional materials. Similarly, ensure that your website URL is clearly visible on your physical storefront if you have one, helping to turn local visitors into online ones.
Finally, consider running paid advertising campaigns on platforms like Google Ads or social media networks Google Analytics. Squarespace's metrics can help you track the effectiveness of these campaigns, allowing you to refine your advertising strategy based on actual data. Through comprehensive promotion strategies, you can help ensure your Squarespace sites reach as many people as possible, driving engagement and conversions.
Services Squarespace offers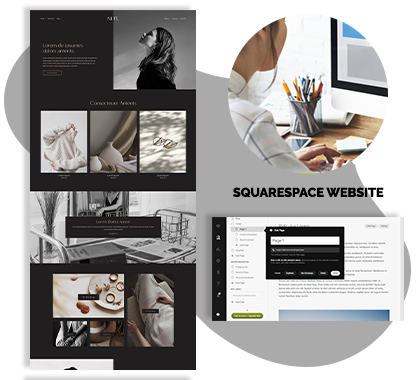 Squarespace offers a wide range of services to support your online presence and business operations:
Website Building:
Squarespace provides a variety of customizable templates to help you create a professional-looking website tailored to your needs.
ecommerce Platform:
With Squarespace, you can set up an online store, manage inventory, process orders, and even handle customer inquiries all from one platform.
Blogging:
Squarespace's blogging tool allows you to share updates, post articles, and engage with your online community.
Domain & Hosting Services:
Squarespace offers domain registration services and web hosting, ensuring your site is secure and accessible.
Email Marketing:
Squarespace's Email Campaigns tool lets you send out branded emails straight from your site, keeping your audience informed and engaged with your brand.
Analytics & SEO:
Squarespace provides powerful analytics and SEO tools to help you understand your website's performance and optimize your site for search engines.
Appointment Scheduling:
For businesses offering services, Squarespace's scheduling tool allows clients to book appointments directly from the website.
Social Media Integration:
Squarespace integrates with popular social media platforms for seamless content sharing and enhanced website visibility.
What tools and features make Squarespace so unique?
What sets Squarespace apart from its competitors are its distinctive tools and features designed to optimize user experience and provide comprehensive website management solutions.
One of its unique offerings is the Drag-and-Drop Builder, a user-friendly tool that facilitates the design process by allowing users to drag and drop elements onto their web pages. This feature eliminates the need for complex coding, making website creation accessible even to those without technical proficiency.
Squarespace also offers the Style Editor, a tool that empowers users to customize their website's aesthetics down to the minutest detail. From font styles to color schemes and page configurations, this feature provides extensive personalization options.
Another unique attribute of Squarespace is its In-Built Mobile Optimization. This feature ensures that websites look appealing and remain fully functional across all devices – from desktops to smartphones. With mobile traffic increasingly playing a significant role in website success, this is an invaluable tool.
Lastly, Squarespace provides 24/7 Customer Support. Recognizing that questions and issues can arise at any time, Squarespace maintains a dedicated team ready to assist users around the clock. This commitment to customer service is a testament to Squarespace's client-centric approach.
Pros and Cons of Squarespace
Squarespace Pros
Intuitive User Interface
Squarespace is renowned for its user-friendly and intuitive interface, making it simple for users of all skill levels to create and manage their websites.
High-Quality Design Templates
Squarespace provides a broad range of professionally designed templates. These designs are not only aesthetically pleasing but also highly customizable, giving users the flexibility to create unique websites.
SEO-Friendly
Squarespace's platform is designed to be SEO-friendly, which can help increase the visibility of websites in search engine rankings.
Squarespace Cons
Limited Third-Party Integrations
Squarespace does not support as many third-party integrations as some of its competitors. This can limit the functionality of websites to some extent.
No Free Plan
Unlike some other website builders, Squarespace does not offer a free plan. Although they do provide a 14-day free trial, users must select a paid plan to continue using their services.
Limited Export Options
Squarespace restricts the exporting of sites to only certain types of content. This could be a potential drawback for users wanting to migrate their site to a different platform in the future.
Is Squarespace helpful to do fast work
Squarespace undeniably aids in accomplishing tasks swiftly. The platform's intuitive user interface eliminates the need for extensive technical expertise, enabling users to quickly set up and design a professional-looking website. Its array of high-quality templates simplifies the process of website creation, saving users the time and effort of starting from scratch. Additionally, the templates are highly customizable, allowing users to rapidly modify designs according to their preferences.
Moreover, Squarespace's SEO-friendly nature means that users don't have to spend extra time optimizing their website for search engines. The platform already incorporates SEO best practices, which can expedite the process of improving a site's visibility on search engine rankings.
Furthermore, Squarespace's commitment to customer service ensures that users receive prompt assistance whenever they encounter any issues, thus minimizing potential work delays.
However, it's worth noting that some aspects of Squarespace may potentially slow down work. The platform's limited support for third-party integrations means users may need to spend additional time finding workarounds or alternatives. Also, the lack of a free plan means that users need to make a financial commitment from the outset, which could lead to delays in starting a project.
Lastly, Squarespace's restricted exporting options could cause potential time-consuming difficulties for users considering migrating their site to a different platform in the future. Despite these potential drawbacks, Squarespace review remains a robust platform that generally enables quick and efficient work.
Conclusion
I hope this guide has provided you with a better understanding of Squarespace and its features. As a popular website builder, Squarespace offers users a range of customizable templates, SEO tools, and integrations. Whether you're creating a personal portfolio or an ecommerce site, Squarespace has the potential to help you achieve your online goals.
However, it's important to thoroughly research and consider your options before committing to any website platform. Keep in mind that while Squarespace is user-friendly, it may not be the best fit for every type of website or business.
FAQs
How customizable are Squarespace templates?
squarespace's templates are highly customizable, offering users a significant degree of control over the appearance and functionality of their website. Users can modify the layout, colors, fonts, and images, enabling them to create a website that aligns with their brand image and business goals.
Does Squarespace help improve my website's SEO?
Absolutely, Squarespace incorporates SEO best practices into its platform. This means that basic SEO features are automatically applied to your website, which can help improve its visibility on search engine rankings. However, there are also advanced Squarespace SEO options available for users who want more control.
Can Squarespace integrate with third-party applications?
Squarespace has limited support for third-party integrations. While it does provide some native integrations with popular services, users may need to find workarounds or alternatives for certain applications. It's always best to check with Squarespace's support team for specific integration queries.
Does Squarespace offer a free plan?
No, Squarespace does not offer a free website hosting plan. All Squarespace plans are paid and come with a range of features and benefits, including access to customer support, free custom domain, and more.
Can I migrate my Squarespace website to another platform?
While it's possible to export certain content from your Squarespace website builder to another platform, the options are somewhat limited. This could potentially lead to difficulties if you decide to migrate your site in the future. It's recommended to consult Squarespace's support resources for detailed information on exporting content.